Posted on
Wed, Jun 19, 2013 : 2:18 p.m.
Why Michelle Chamuel may be the big winner on 'The Voice,' despite her second-place finish
By Jenn McKee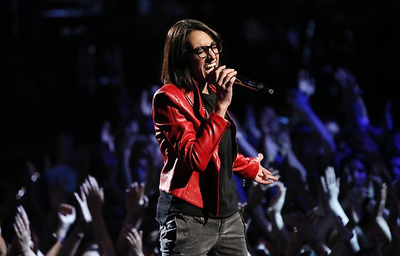 University of Michigan grad and former
My Dear Disco/Ella Riot
front woman
Michelle Chamuel
may have
come in second
on Tuesday night's season finale of
"The Voice"
; but she may also prove, in the long run, to have more staying power in the brutal, flavor-of-the-month music industry than her competitors.
There's no denying that winner Danielle Bradbery has powerhouse pipes; and watching a young person with talent and poise far beyond her years never fails to captivate Americans.
But this latter point is key. Despite the show's title, "The Voice" is, in the end, not just about a performer's vocal ability. (Judith Hill's baffling elimination? Exhibit A.) As the field narrows throughout the season—to the point where nearly everyone left in the contest is a pretty strong, talented performer—the competition, more and more, becomes about which contestants charm and captivate viewers.
The show's judges—this season, Shakira, Adam Levine, Blake Shelton, and Usher—even seemed to acknowledge this tacitly by, at a certain point in the season, offering only praise after each contestant's performance. (This is what they ended up sounding like to me: You were great. She was great, too. And those brothers? Great. You guys are all so great.)
So it's less than surprising that the vocalists left standing in the end were the people who most captured our imagination: a come-from-nowhere, wildly self-possessed teenager with a gorgeous voice and a genuine, "aw shucks" level of humility; a bespectacled, quirky alternative rock chick who seems shy and awkward until the moment she gets the microphone in her hand and cuts loose; and a wise-cracking brother duo whose country music harmonies conveyed their palpable, appealing connection to each other as best friends and siblings.
But after the dust settles from "The Voice"'s season finale, the Swon Brothers may struggle to distinguish themselves when the focus lands more narrowly on their music (their cut-up video segments were no small part of their charm); and Bradbery, as a young blond country singer, inevitably calls to mind those who've already blazed a similar trail (like LeAnn Rimes and Carrie Underwood).
Chamuel, though, looks and sounds like no one else. From her first appearance on the show, when she sang a slow-build version of Katy Perry's "I Kissed a Girl," Chamuel demonstrated that she wouldn't just hit the right notes while working through the contemporary pop catalog that "The Voice" primarily showcases; she'd breathe new, sometimes surprising life into them and re-make them in her own image - signature glasses and all.
And speaking of glasses, Chamuel, before singing a single note, connected with many of us as a slightly awkward, nerdy-looking person who, despite her shyness, fiercely held on to her hard-earned sense of self. (While singing Pink's "Raise Your Glass," she unabashedly pointed down at her own head while singing, "So if you're too school for cool." That's someone I can get behind.)
So now that Chamuel's music choices won't be limited to songs that "The Voice" considers highly marketable on iTunes, I'm really excited to see where she goes next.
I think a lot of people are.
But while we're looking back at Chamuel's season on "The Voice," let's revisit 5 key moments/things that made us love her.
• Her re-enactment, with sock puppets, of a coaching session with Usher:
• Her anti-diva-ness. Apparently, she always wanted as little hair and makeup work as possible - she addresses this 1:20 into this clip - and it's refreshing to see a female artist resisting these conventions, and striving instead to present herself as she naturally looks.
• Her hard-rocking, passionate performance of Taylor Swift's "I Knew You Were Trouble." In this memorable performance, Chamuel may have improved on the original.
• Her pushup showdown with Usher, which begins 50 seconds into this clip. And she suggested it!
• The friendship and deep sense of respect that developed between her and her coach. Seeing Usher jump up and cheer after Chamuel's performances was kind of touching; and in this segment, when they performed U2's "One" together, Chamuel showed she can hang with the best.
Jenn McKee is an entertainment reporter for AnnArbor.com. Reach her at jennmckee@annarbor.com or 734-623-2546, and follow her on Twitter @jennmckee.