Posted on
Mon, Apr 30, 2012 : 5:57 a.m.
My irreconcilable differences with 'The Five Year Engagement'
By Bob Needham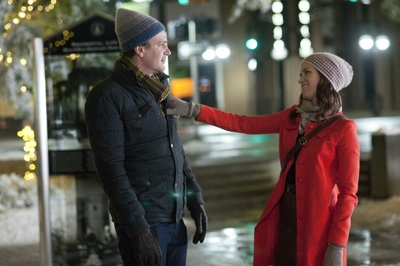 Universal Pictures
What did you think of the movie? Leave a comment and / or vote in the poll at the end of this post.
I'm overly concerned with public image.
Not my own. I mean the image of the place I live.
It's probably rooted in growing up in Metro Detroit—and loving it. I've never even lived in the city proper, but I still get annoyed and defensive whenever I hear a crack about Devil's Night, or abandoned buildings, or the quality of American cars (my 1993 Ford Ranger has 160,000 miles on it and still runs fine, so there).
Believe it or not, I still carry around that attitude as a present-day resident of Ann Arbor, regularly acknowledged by the Bureau of Pointless Unverifiable Lists as one of the most awesome places in all of history. (What? We dropped to No. 8 this year? Damn you, Paris in the 1920s! You suck!)
So as I sat down to watch "The Five Year Engagement," the major new romantic comedy that was largely shot in and takes place in Ann Arbor, I was interested—overly interested—to see how our more-than-fair city comes off.
And, well... did you catch the scene where Jason Segel repeatedly shouts "I hate it here!"?
Of course, it's all played for comedy, and the movie needs a conflict, and Emily Blunt's character seems pretty content. Still...
The town doesn't exactly look bad, though the filmmakers certainly didn't go out of their way to show off any of its physical appeal (the movie never shows the Huron River, or the Arb, or even a nice establishing shot of Main Street). The San Francisco scenes are all photographed with a reverent beauty; Ann Arbor, not so much. (Oddly, I'm almost certain—and I've seen the movie twice now—that the words "Ann Arbor" are never actually spoken, though that's clearly where it's set.)
What bothers me, I guess, is just that "The Five Year Engagement" doesn't quite seem to understand Ann Arbor. And while I should probably just shrug that off, let's face it: Potentially millions of people will have their impression of our town colored by this movie.
So if only to make myself feel better, and trying not to be too defensive about it, here are a few things about Ann Arbor that "Engagement" just gets wrong:
• Foodie culture. This is what I found most annoying. I'm not sure I can think of a subject that Ann Arbor takes more seriously than food. Yet somehow, we're supposed to believe that a sous chef from San Francisco—Segel's character, Tom—would feel wildly out of place here. Why exactly does the local restaurant staff find his move so hilarious? Come on—aside from Chicago, is there anywhere else in the heartland where he'd actually be more likely to fit in?
He winds up working at Zingerman's—a "cool place," as his fiancee, Violet, understatedly notes, and one that seems suited to Tom's personality. It's a place that's frequented by the likes of Mario Batali and universally praised by food experts, even those from the almighty coasts, yet he thinks it's beneath him? Besides, if he really didn't like it there, surely his credentials could eventually get him a job at a high-quality restaurant (we do have some).
If Tom were the rising culinary star he's supposed to be, he'd be treated like royalty here.
Yet the movie features a scene at a faculty party where everyone keeps mentioning the animated movie "Ratatouille." Because, apparently, that's the only frame of reference Michiganders have when someone says he's a chef.
All this wouldn't matter to anyone who hasn't lived here, but to me the whole premise just rings false. I think the mistake was in making the character a chef—it would have worked better if his job had been something that really would make him feel out of place here, like a Republican strategist or a recruiter for Ohio State.
• Weather. The movie makes it look like winter lasts at least six months in Ann Arbor, when those of us who live here know it's barely more than five. No, no, now I'm doing it.
But really, it would have been nice to have more than fleeting glimpses of our gorgeous falls and summers. Especially since many of the snow scenes were faked during filming last June. (If you think I'm exaggerating about the effect this stuff can have, an article about the movie on philly.com—this is a writer in Philadelphia, remember, not Miami—refers to the couple's move "from the beautiful Bay Area to snowbound Ann Arbor." Come on! "Snowbound"?)
• Hunting. As Segel's character starts to really lose it, under the guidance of a couple of buddies he becomes obsessed with deer hunting. Obviously hunting is big in Michigan, but it's certainly not anything I would associate specifically with Ann Arbor—if anything, just the opposite. It's almost as if the filmmakers got hip to Jeff Daniels' now-classic Yooper comedy "Escanaba in da Moonlight" and decided to swipe some of that flavor for a few cheap laughs.
But Ann Arbor isn't Escanaba. Wouldn't it have been much truer (both to the character and the community), and potentially even funnier, if Tom had become obsessed with something like coffee roasting, or backyard chickens, or organic gardening? (The vermicomposting scene practically writes itself.)
• This is a minor point, but it's odd and a little disappointing that Tom and Violet spend five years in Ann Arbor and we never see any sign of the two things the city is probably best known for—Michigan football games and the Ann Arbor Art Fair.
• One other thing: Those frat guys who halfheartedly run across Liberty Street a couple of times carrying a giant stuffed fish—What exactly are they doing? If that's just supposed to be random Wolverine hijinks, they need to look way more drunk.
Overall as a movie, I actually liked "The Five Year Engagement" quite a bit. It may be a little long, but it involves some very talented people, it offers a lot of real humor, and its structure makes it different from a typical romantic comedy.
But it could have been so much better. The director and producer have said nice things about Ann Arbor (and so has Segel)—even that the movie was partly intended as a "love letter" to the city. Actually watching the thing, though, I got a funny feeling that they're really just not that into us.
Check out previous AnnArbor.com coverage of "The Five Year Engagement" here.