Posted on
Tue, Jul 27, 2010 : 11:49 p.m.
Natalie Merchant offers a great concert at the Michigan Theater — and a painless poetry lesson, too
By Roger LeLievre
Singer/songwriter Natalie Merchant's concert Tuesday night at the Michigan Theater was musical and educational. Who knew I would have a lesson in 19th and 20th century American and British poets, and enjoy myself in the process?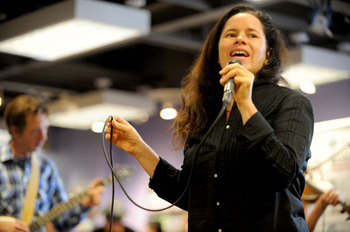 Angela J. Cesere | AnnArbor.com
That's exactly what happened as the former 10,000 Maniacs leader, back from a 7-year break brought about by the birth of daughter Lucia, spent the majority of the show, offering songs from "Leave Your Sleep," her new album of poetry by various writers set to music.
Although for some folks, the combination could be yawn-inducing, I found it just the opposite. Before each song, Merchant cued a slide showing a photo of the featured poet and also took the time to talk a bit about the composer's history. Most everyone probably knows about e.e. cummings or Ogden Nash, but I'm guessing not so many are familiar with Arthur Macy or Nathalia Crane.
At times, the concert seemed like performance art, as Merchant glided about the stage, gestured theatrically and, during "The King of China's Daughter," danced with an orange Chinese lantern.
The songs ranged from blues (Macy's "The Peppery Man") jazz (Crane's "The Janitor's Boy") to bluegrass (Edward Lear's "Calico Pie") and klezmer (Albert Bigelow Paine's delightful, waltzy"The Dancing Bear").
Natalie Merchant performing "Calico Pie" live in Philadelphia last week:
As enjoyable as the main part of the concert was, it fell to the two encores to really show off Merchant's talents, thanks to some fresh takes on some of her best-known songs. If she seemed a little constrained by the format she chose for presenting the tunes from the new album, it was just the opposite where the older material was concerned. Merchant was noticeably looser, bantering with the audience, forgetting a lyric here and there (no big deal — at one point a fan shouted them out), and encouraging the crowd to sing along.
"Caravan," "Don't Talk" and "Wonder" were all delightful, with "Kind and Generous" a fitting end to the show, the audience on its feet, swaying and singing along. The new arrangements sounded so good, my concert companion said he wished Merchant would release them on CD, and I had to agree.
We also agreed that, performing for two and a half hours and with no opening act, Merchant gave the crowd its money's worth and then some.
Backed by a tight band that deployed woodwinds, banjo, violin, cello and even a tuba alongside the more traditional guitars, keys and percussion, Merchant's powerful voice remains a compelling instrument, perhaps poetry in itself. And with that, we're back to the theme of the evening. See? That lesson wasn't so painful, was it?
Roger LeLievre is a free-lance writer who covers music for AnnArbor.com.