Posted on
Mon, Feb 25, 2013 : 10:48 a.m.
Vintage Hollywood Affair returning to benefit Neutral Zone
By Jenn McKee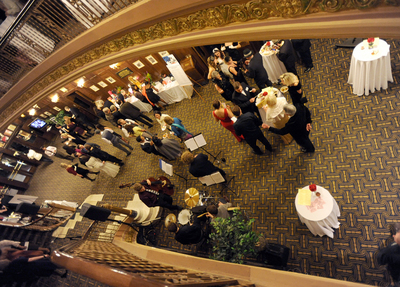 File photo | AnnArbor.com
Hollywood had its big night on Sunday, when the
Oscars
aired on ABC, but locals looking to have their own Hollywood experience might consider walking the red carpet at the
Michigan Theater
on Friday, March 1, when the young philanthropists that make up the group freNZ of
Neutral Zone
host the fourth annual Vintage Hollywood Affair.
"People get dressed up, which is part of the appeal, and why it's so fun," said NZ development director Amy Milligan. "This year, we're showcasing teen talent more than we have in the past, so, from the Neutral Zone, we have a singer/songwriter who will perform, as well as an MC, a DJ, break dancers and poets."
PREVIEW
Vintage Hollywood Affair 4: A benefit for Neutral Zone
Who: FreNZ of Neutral Zone, a group of young professionals that contributes time, skills and donations to NZ.
What: An evening of red carpet glamor, music, food and drinks. Attendees can have their photo snapped by "paparazzi," and enjoy a silent auction, performances by NZ teens, and a dance party with a DJ, with all proceeds going to support NZ's programs for teens.
Where: Michigan Theater, at 603 E. Liberty St. in Ann Arbor.
When: Friday, March 1 from 7-11 p.m.
How much: $35 in advance, $40 at the door. Tickets available at www.neutral-zone.org; pre-purchase is recommended.
Attendees will be able to get their photo snapped with "paparazzi" while on the red carpet; enjoy appetizers from
Sava's restaurant
, as well as beer and wine and desserts; participate in a silent (teen art) auction; and step into a photo booth.
Last year's Vintage Hollywood Affair netted about $15,000 for NZ programs for teens, and organizers hope to raise even more this year, in addition to selling out the event's 300 tickets.
FreNZ, an organization of young professionals that hosts the event, used to throw small fundraising events for NZ at bars around town, but as their contributions grew, so did their role in NZ's fundraising efforts.
"One of the things we realized … is that people in their 20s and 30s, as they became more established in the community, were looking ways to work with nonprofit organizations," said Milligan. "Yes, they could buy a $200 ticket to an event, but everyone there will probably be their parents' age. There's nothing wrong with that - those events are great - but young people were not finding a place for themselves when engaging themselves this way. By creating this program, where young people can use their own networks and connections, have a lot of fun, and pay maybe $35 instaed of $200, there's less of a risk."
This year's Vintage Hollywood Affair will also offer a party bus, which will transport attendees who wish to go to an after-party at Live, where Domino's pizza will be available for a late-night snack.
"This is an event that's grown significantly over the last few years," said Milligan.
Jenn McKee is the entertainment digital journalist for AnnArbor.com. Reach her at jennmckee@annarbor.com or 734-623-2546, and follow her on Twitter @jennmckee.