Posted on
Wed, Mar 20, 2013 : 10:19 a.m.
NPR-highlighted 'Leviathan' part of the Ann Arbor Film Festival
By Jenn McKee
• Related story: Full Ann Arbor Film Festival preview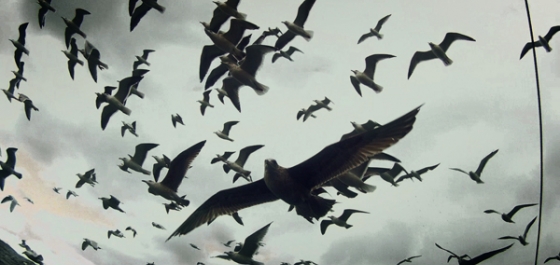 Many local
National Public Radio
fans may have heard
Pat Dowell
's
Weekend Edition story about an experimental, 90-minute film called "Leviathan"
that's being released in theaters—but these faithful listeners may not know that the film will have one local screening this week as part of the
Ann Arbor Film Festival
.
Described by Dowell as "a near-wordless, almost abstract depiction of an 80-foot groundfishing boat heading out of New Bedford, (Massachusetts)," "Leviathan" is the creation of Harvard University's Sensory Ethnography Lab.
Here's a trailer for the film.
The AAFF program description reads, "Lucien Castaing-Taylor (co-director of 'Sweetgrass') and Verena Paravel (co-director of 'Foreign Parts') paired up with sound artist Ernst Karel to create one of the most acclaimed films of the past year. In the very waters where Melville's 'Pequod' gave chase to Moby Dick, 'Leviathan' captures the collaborative clash of man, nature, and machine. Shot on a dozen cameras - tossed and tethered, passed from fisherman to filmmaker - it is a cosmic portrait of one of mankind's oldest endeavors."
A. O. Scott recently published a review of the film in the New York Times, stating that "Leviathan" "is committed, above all, to capturing the profound strangeness of an ancient and embattled way of existence, for man and fish alike."
The AAFF's screening of "Leviathan" happens Thursday at 7:15 p.m., in the Michigan Theater's main auditorium at 603 E. Liberty St. in Ann Arbor, and admission costs $9 ($7 for students and seniors). The film's sound wizard, Ernst Karel, will be in attendance at Thursday's screening.
Jenn McKee is the entertainment digital journalist for AnnArbor.com. Reach her at jennmckee@annarbor.com or 734-623-2546, and follow her on Twitter @jennmckee.