Posted on
Sat, Nov 21, 2009 : 12:15 a.m.
Old Crow Medicine Show brings down the house at Michigan Theater
By Will Stewart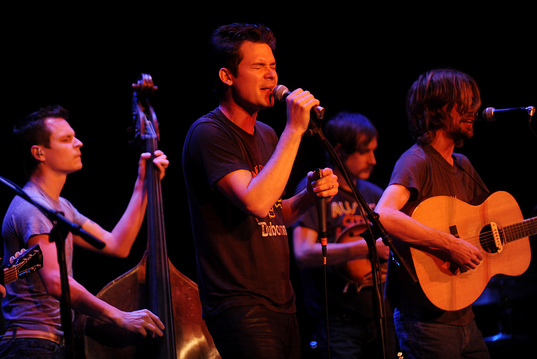 Melanie Maxwell | AnnArbor.com
The
Old Crow Medicine Show
left it all on the
Michigan Theater
stage on Friday, raging through two sets that touched on classic country, bluegrass, hippie jams and the American Songbook — and even included some Hollywood star power.
But more on that later.
The Nashville-based sextet is a strange hybrid. It's too sloppy for pure bluegrass and too subversive for country radio. Yet it has found its own niche playing good-time Americana and, as was clear on Friday, having a good time doing it.
Fiddler and harmonica whiz Ketch Secor gets most of the attention, thanks to impressive skills on both instruments (as well as banjo, guitar and keyboards), his strong singing voice and engaging way with the audience. But it's guitarist Willie Watson, a diminutive dervish whose long hair hangs over his eyes, that is OCMS' not-too-secret weapon. His high harmonies and lead vocals are the strongest in the group, and his pure energy on Friday was contagious for the band and audience alike.
At times, he threatened to transform the stage into a mosh pit, running around, playfully bumping into his bandmates and dropping to his knees, as if possessed by the spirit of the music.
Playing without an opening act, the band used its 45-minute opening set almost as a warmup, racing through a handful of bluegrass breakdowns and some folk numbers, before hitting its stride on the feel-good "Humdinger" and the gorgeous protest song "Vietnam," sung by multi-instrumentalist (and newcomer to the band) Gill Landry.
After the short break, the band rose to life, proving why it has become a huge live draw among younger hippies as well as old folkies. For the next 90 minutes, they raced through nearly 20 tunes, showcasing a range of songwriting and musicianship that whipped the audience into a frenzied dance party (much to security's chagrin).
Lamentful tunes like "Methamphetamine" and "Crazy Eyes" showed that OCMS is more than just a party band, while "Carolina" and "Alabama High-Test" displayed its edgy side and celebrated its members' songwriting chops.
Old Crow Medicine Show performing "Alabama High-Test" on their live DVD, "Live at the Orange Peel and Tennessee Theatre":
By the time the band hit the last chord of a frenzied "Ain't Nothin For a Poor Man in this World," you wouldn't have thought the energy level could have risen any higher.
But when Ed Helms — yes, "The Office"'s Andy Bernard, in town shooting the film "Cedar Rapids" — strolled onstage with his banjo, the place went mad. Helms joined in for a handful of tunes, including fan favorite "Wagon Wheel," looking slightly uncomfortable, yet playing serviceable banjo rolls throughout, and adding harmonies on the closer, "Cocaine Habit."
After a short electric encore that included a mostly pointless cover of the Beatles' "Get Back," Helm returned to sing a jokey song of his own on piano before returning to the banjo to join in on a rollicking "Union Maid," which Secor dedicated to Michigan's struggling families.
When the house lights came up, Helms was in line with the rest of the band to take a bow — but it was clear that he was just another star on a stage filled with them. Will Stewart is a free-lance writer for AnnArbor.com.