carla milarch column
on stages:

'Avenue Q' at A2 Civic Theatre and two shows worth traveling for

Posted on Wed, Sep 14, 2011 : 8:22 a.m.
Ann Arbor may be football crazy right now, but did you know that just as many people attend arts and cultural events nationwide as attend sporting events?

According to Americans for the Arts, nationally, the nonprofit arts and culture industry generates $166.2 billion in economic activity every year—$63.1 billion in spending by organizations and an additional $103.1 billion in event-related spending by their audiences. The $166.2 billion in total economic activity has a significant national impact, generating the following:

• 5.7 million full-time equivalent jobs
• $104.2 billion in household income
• $7.9 billion in local government tax revenues
• $9.1 billion in state government tax revenues
• $12.6 billion in federal income tax revenues

The arts aren't just good for your soul—they're good for the economy. Now get back out there and stimulate!

Theater listings through Sept. 18

Show: "The Light in the Piazza" by Craig Lucas and Adam Guettel, through Oct. 2
Company: The Encore Musical Theatre Company
Type of Company: Professional Equity (Guest appearance contract)
Venue/location: 3126 Broad St. Dexter, 48130
Recommended ages: All
Description: "The Light in the Piazza" takes place in Italy in the summer of 1953. Margaret Johnson, the wife of an American businessman, is touring the Tuscan countryside with her daughter, Clara. While sightseeing, Clara, a beautiful, surprisingly childish young woman, loses her hat in a sudden gust. The hat lands at the feet of Fabrizio Naccarelli, a handsome Florentine, sparking an immediate and intense romance between the young people. As the story unfolds, a secret about Clara is revealed. Unable to suppress the truth about her daughter, Margaret must reconsider not only Clara's future, but her own hopes as well.
Online reviews
Fun fact: The composer of "The Light in the Piazza," Adam Guettel, is the grandson of Richard Rodgers of Rodgers and Hammerstein.
For tickets and information: www.theencoretheatre.org, 734-268-6200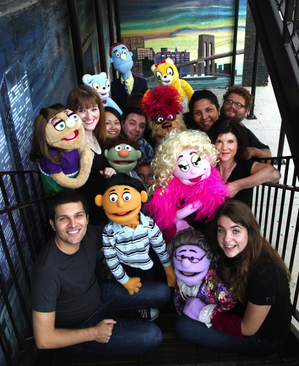 Show
: "Avenue Q" by Robert Lopez, Jeff Marx, and Jeff Whitty, through Sept. 18
Company:
Ann Arbor Civic Theatre
Type of Company:
Community
Venue location:
Lydia Mendelssohn Theatre, 911 N. University, Ann Arbor, MI 48109
Recommended ages:
16+
Description:
"Avenue Q" tells the story of Princeton, a bright-eyed college grad who moves to NYC with big dreams and a tiny bank account. The only apartment he can afford is way out on Avenue Q, where everyone's looking for the same things he is: a decent job, a stable relationship, and a "purpose." Eventually, Princeton learns to embrace the ups and downs of city life and realizes that "the real world" isn't so bad, after all.
AnnArbor.com preview
Fun fact:
This is the first locally produced production of "Avenue Q" in the area.
For tickets and information:
www.a2ct.org
; 734-971-2228

Worth traveling for:
We may be off to a slow start here in Washtenaw County, but elsewhere in Southeast Michigan things are heating up with a couple of dynamite openings in Northville and West Bloomfield. If you're up for a short trip (25 minutes and 45 minutes respectively) either of these shows will be a good start to your theater season!

Show: "The Mystery of Irma Vep" by Charles Ludlam, through Oct. 9
Company: Tipping Point Theatre
Type of Company: Professional Equity (SPT)
Venue location: 361 E Cady St., Northville, MI 48167
Recommended ages: 16+
Description: Strange things are going on at Mandacrest, the Hillcrest estate of Lord Edgar and Lady Enid near Hamstead Heath. Lady Enid is Lord Edgar's second wife, but he's not quite over the death of his first, Irma Vep. The house staff also has its own opinions about the new lady of the manor. Throw in vampires, mummies, werewolves, travels to Egypt and two speedy actors who play all the characters and you have a clever, ridiculously-funny, side-splitting comedy with gothic plot twists -and who doesn't love a surprise ending?
Encore Michigan article
Fun fact: A "penny dreadful," this show is a satire of several theatrical and film genres, including Victorian melodrama, farce and the Alfred Hitchcock film "Rebecca" (1940). The actors play roles of both sexes, and in order to ensure cross-dressing, rights to perform the play include a stipulation that the actors must be of the same sex.
For tickets and information: www.metatheatres.org/theatres/tipping-point-theatre/event/34/mystery-irma-vep, 248.347.0003

Show: "The Whipping Man" by Matthew Lopez, through Oct. 2
Company: Jewish Ensemble Theatre
Type of Company: Professional Equity (SPT)
Venue location: Aaron DeRoy Theatre at the Jewish Community Center, 6600 W. Maple, West Bloomfield 48322
Recommended ages: 16+
Description: It is the first night of Passover, 1865. Time for a Seder. Where? A half-destroyed house in Richmond, Va. The wine? Stolen. The matzo: a small square of hardtack, the tough soldier's bread. Uncooked collard greens play the role of the bitter herbs. The three unlikely participants: all Jewish: two newly freed slaves and a Confederate soldier. This arresting new play blazes with intelligence, making everything we think we have always known new again as they hauntingly intone, "Let all who are in need come celebrate Pesach. This year we are slaves, next year may we be free."
Encore Michigan article
Fun fact: The play had its New York premiere at The Manhattan Theatre Club, starring the recently Emmy-nominated Andre Braugher ("Men of a Certain Age," "Homicide: Life on the Streets.") The Michigan premiere features Detroit legend Council Cargle, one of the most beloved actors in the area.
For tickets and information: www.metatheatres.org/theatres/jewish-ensemble-theatre/event/36/whipping-man, 248-788-2900.