Posted on
Wed, Jun 19, 2013 : 5:47 a.m.
'Becky Shaw' at Performance Network, 'Miles and Ellie' at The Purple Rose
By Carla Milarch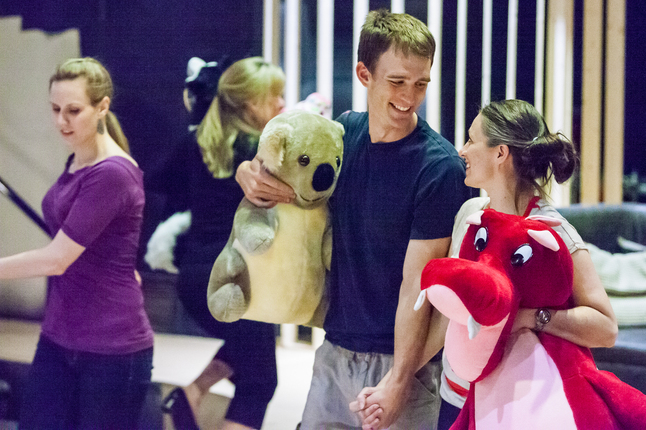 photo by Sean Carter Photography | courtesy of the Purple Rose Theatre Co.
A romantic comedy is defined as "a funny movie, play, or television program about a love story that ends happily." Indeed, summer romance is in the air this week's theater listings, with four great date-night shows.
Whether you're in the mood for a nostalgic comedy about young love revisited, or a sexy, crazy comedy about new love gone wrong, this weekend is a great time to grab a babysitter and get out for a night on the town!

After the first week with kids home from school, who doesn't need a mom and dad's night out?
Show: "Much Ado About Nothing" by William Shakespeare, through June 23
Company: Shakespeare in the Arb
Type of Company: Higher Education, Community
Venue/location: Nichols Arboretum, box office is located at 1610 Washington Hts., Ann Arbor
Recommended ages: 6+
Description: An environmental staging of Shakespeare's comedy about love and loyalty. Directed by Kate Mendeloff and played by University of Michigan students and local actors, the beloved Shakespeare in the Arb draws thousands of devoted Shakespeare fans every summer from Ann Arbor and beyond. What makes Shakespeare in the Arb unique is the way the productions are staged, with scenes and audience moving through the Arboretum during the play. All the Arb's a stage!
http://www.annarbor.com/entertainment/review-shakespeare-in-the-arb-much-ado-about-nothing/
Fun fact: After the theaters re-opened during the Restoration, Sir William Davenant staged "The Law Against Lovers" (1662), which inserted Beatrice and Benedick into an adaptation of "Measure for Measure." Another adaptation, "The Universal Passion," combined "Much Ado" with a play by Moliere (1737).
For tickets and information: http://www.lsa.umich.edu/mbg/
Special ticket offer: MBGNA members get a discount and can purchase tickets at 5 p.m., before others at 5:30 p.m. Tickets for Shakespeare in the Arb are sold directly before each show. Limited seating available; arrive early. For ticket updates follow us on Twitter. Parking is available after 5 pm in University blue lots on Washington Hts., or in the U-M Hospital P2 parking structure on E. Medical Center Dr., or in metered spots on Washington Hts. or Observatory. Ann Arbor city buses also pick up an drop off on Washington Hts and E. Medical Center. Visit the AATA website for more information.

Show: "Cymbeline," by William Shakespeare. Regular performances June 14-29 at 7 p.m.
Company: The Blackbird Theatre
Type of Company: Professional non-Equity company employing Equity actors under guest contract
Venue/location: West Park Band Shell, 300 N. Seventh St., Ann Arbor.
Recommended ages: 13+
Description provided by the company: "Shakespeare's brutal, dark, and wildly funny epic comes to Ann Arbor's West Park Band Shell. A cast of six brings the madness to life in Michigan's most beautiful outdoor venue. The story: Chaos breaks out across Europe when King Cymbeline (Lynch Travis, Member of Actors Equity Association) learns that his daughter Imogen (Jamie Weeder) has married poor courtier Posthumus (Alastar Dimitrie). She flees the wicked Queen (Qamara Black) and her depraved son (also Alastar Dimitrie) for the wild countryside. Imogen's conniving page Pisanio (Jesse Arehart-Jacobs) has unwittingly poisoned her, while the exiled Posthumus falls under the spell of a corrupt and dangerous Italian (Dan Johnson). In the days leading up to the Roman invasion of Britain, secrets and lies will lead everyone down a path of self-destruction. Heads will roll as the disasters unfold." Directed by Barton Bund. Set design by Joshua Parker. Costume and special effects makeup by Jeannie Arquette. Patrons are encouraged to bring chairs, blankets, picnics.
Preview from AnnArbor.com
Facebook event page
Tickets: $15-$20. All tickets available at the gate.

Show: "Becky Shaw" by Gina Gionfriddo, through July 28
Company: Performance Network Theatre
Type of Company: Professional Equity SPT
Venue/location: Performance Network Theatre, 120 E. Huron, Ann Arbor
Recommended ages: 16+ (contains adult language and content)
Description: The New York Times called it "a tangled tale of love, sex and ethics…as engrossing as it is ferociously funny, like a big box of fireworks fizzing and crackling across the stage." Step-siblings Suzanna and Max couldn't be more different. When the shy sister fixes the cocky brother up with her husband's sexy and sweet co-worker, the blind date takes a dark turn and crisis and comedy ensue. Mixing sharp wit and humor with the taut suspense of a psychological thriller, this comedy of romantic errors keeps audiences on the edge of their seats.
http://www.annarbor.com/entertainment/performance-network-to-showcase-family-dysfunction-in-becky-shaw/
Fun fact: Playwright Gina Gionfriddo has been a writer on television series "House of Cards," "Law and Order" and Cold Case
For tickets and information: 734-663-0681, www.performancenetwork.org

Show: "Miles & Ellie" by Don Zolidis, through August 31
Company: The Purple Rose Theatre Company
Type of Company: Professional Equity SPT
Venue/location: The Purple Rose Theatre Company, 137 Park Street, Chelsea
Recommended ages: 17+ (contains adult language and content)
Description: Miles and Ellie are two teenagers in love when a youthful misunderstanding breaks them apart. Flash forward 20 years and a disenchanted Ellie has come home for what she expects to be a typical dysfunctional family Thanksgiving. Not long into the family shenanigans, however, Ellie learns that Miles is still in town and carrying a torch for her. Is it possible to get a second chance at your first love? This charming romantic comedy will make you wonder "what if?"
http://www.annarbor.com/entertainment/purple-rose-tweaks-romantic-comedy-with-don-zolidis-world-premiere-miles-and-ellie/
Fun fact: This world premiere comedy was written by the same author as last season's "White Buffalo."
For tickets and information: purplerosetheatre.org, 734-433-7673