Posted on
Sat, Jun 8, 2013 : 1:33 a.m.
Shakespeare in the Arb has fun with 'Much Ado About Nothing'
By Jenn McKee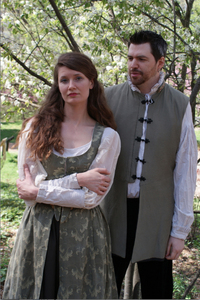 photo by Aleah Douglas
"Much Ado About Nothing" - now being staged by
Shakespeare in the Arb
, a troupe composed of U-M students and community members - is among Shakespeare's most beloved comedies partly because of the witty verbal sparring between seasoned equals Beatrice and Benedick; and partly because the play demonstrates how even sophisticated, seemingly well-armored adversaries become like gullible children when love suddenly enters the picture.
For how else to explain the nearly instant reversal of both Benedick's and Beatrice's feelings when their friends decide to trick them each into thinking that the other is secretly pining for them?
Of course, the play has a dark tonal counterpoint by way of the love story of young Claudio and Hero, whose surface-level, storybook romance is unmoored (with humiliating results) by the trickery of Don John, who convinces Claudio that Hero is, well, "used goods."
Director Kate Mendeloff stages Don John's deception scene on a hill, with Claudio watching as Don John's co-conspirator Borachio enjoys a nearly literal "roll in the hay" with a lady's maid who's dressed like, and answers to the name of, Hero.
The short scene not only demonstrates how inventive, unconventional staging options abound when you move a play outdoors; it also - because the audience remains standing, as it does during Hero's fake funeral scene - offers variety in terms of the audience's experience.
For although the traveling production generally moves, between scenes, to different locations around the Arb, and audience members settle (and re-settle) onto blankets or lawn chairs to watch the play's action unfold, these short standing scenes work nicely to break things up while also maintaining the production's pace. (In the past, the re-seating process sometimes took longer than the scene the audience had sat down to watch.)
Mendeloff and her cast use the landscape to great advantage in other ways, too - whether it's Benedick hiding his face behind foliage, leaping back and forth over a downed tree, and throwing bits of bark, or vocabulary-challenged constable Dogberry and partner Verges galloping with toy horses up and down a steep hill. Experiencing these real world dimensions is always part of the charm and appeal of this annual event.
And the two and a half hour "Much Ado" has some personal touches as well, such as Benedick saying the line, "Hide me in the arbor," before adding, "Etum"; three actors, on Friday night, decided to be Elizabethans flabbergasted by a plane flying overhead instead of trying to yell over the noise; and Beatrice and Benedick take turns dipping each other for a dramatic kiss in the final scene, visually emphasizing their equality (a staging choice I adored).
The production is double-cast, so the actors I watched on Friday may not be the same ones you see. That having been said, Friday night's cast featured Graham Atkin and Carol Gray as Benedick and Beatrice; the two ably anchored the production and landed, with consistency and clarity, the play's funniest lines. Courtney Tipton and Declan Sheahan, meanwhile, believably played wide-eyed young lovers Hero and Claudio; and Dan Cox and Brittany Battel had a ball playing Dogberry and Verges (as did Sam Dodge as Borachio), and their transparent joy rubbed off on the crowd.
Yes, the show sometimes lacks polish. Any time an ensemble dance was about to begin, things looked (and felt) awkward, as actors openly look for their marks; some of the performed music was shaky (though a vocal ensemble's work following Hero's fake funeral, as the crowd walked to the next location, was quite lovely); and at times, the dialogue got fuzzy as actors momentarily lost the thread. (And those who read AnnArbor.com's preview for the show should note that the horse originally slated to appear in the production was absent due to "problems with Actors Equity," Mendeloff joked before the show began on Friday.)
But the cast members' line delivery was almost never stiff, and was always clear, and a great sense of fun pervades the entire production, so that you're carried along on the wave of its charms - one of which involves, of course, walking around a gorgeous park on a temperate summer night, listening to Shakespeare's poetic insights on life and love. So bring some bug spray, as well as some warm clothes to pull on as temps drop; perhaps bring a picnic or a take-out dinner; and grab a blanket or lawn chair and a loved one and get thee to the Arb.
The longest walk of the night is the one from the box office to the opening scene, and the show concludes close to the park's entrance, near the peony garden (which is in glorious full bloom just now). Snacks and beverages are available for purchase before the show at the box office.
"Much Ado About Nothing" continues through June 23. For more information, see the preview article.
Jenn McKee is an entertainment reporter for AnnArbor.com. Reach her at jennmckee@annarbor.com or 734-623-2546, and follow her on Twitter @jennmckee.