Posted on
Tue, Sep 21, 2010 : 10:20 a.m.
Enjoy the many apple orchards, cider mills and pumpkin patches throughout Washtenaw County
By Tammy Mayrend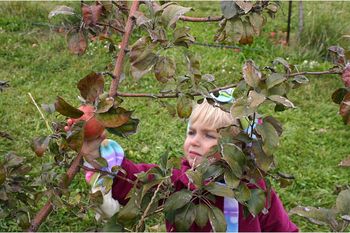 Tammy Mayrend | contributor
There is one thing that the fall instantly signals in my brain: It's time for the cider mill!
There's just something about biting into the skin of a ripe, shiny, luscious Michigan apple that can not be beat, it's juice rolling down your chin making fingers sticky and sweet.
Apple cider to me is like the nectar of the gods. And I have been reminded recently by my best friend, a Michigander who is currently stationed in Kuwait, that I am not alone in this desire.
I'm lucky to live less than two miles away from a local favorite, within walking distance or a quick trip on the bike. But there are many great places in Washtenaw County and its environs to find wonderful cider, donuts and apples. Many of them also have art fairs, carnival atmospheres on the weekends, haunted houses and hay mazes, farm animals and more — perfect family fun.
So as the weather turns like the leaves blowing gently outside your window, be sure to step out and visit one of these great local cider mills for the fall attractions. Below you will find a list with basic information for cider mills, orchards and corn mazes throughout Washtenaw County. If you have additional orchards to list, please be sure to send me an e-mail or comment on the post!
Connect with local parents!
Here are three ways to keep up with the latest local Parenting news, and share your own:
Chelsea
ChelseaMaze (2433 M52, Chelsea, MI 48118)
Find a corn maze, haunted corn maze, tractor-pulled hay rides, snacks and refreshment stand, picnic area, farm animals, birthday parties and school tours.
517-214-0613.

Dexter
Berry Hill Farm (12835 N. Territorial Road, Dexter, Michigan 48130)
Buy pumpkins or patch-pick in the field. Also find honey from hives on the farm.
734-475-1516.
The Blast Corn Maze (6175 Daly Road, Dexter, MI 48130)
Kids can patch-pick pumpkins in the field, maneuver the corn maze, straw or hay bale maze, enjoy wagon rides, snacks and refreshment stand. Restrooms, a picnic area, and farm animals are also available.
734-845-7127
Dexter Cider Mill (3685 Central Street, Dexter 48130)
The Dexter Cider Mill is the oldest operating cider mill in Michigan. Families can find natural cider, fresh apples, doughnuts, caramel apples and baked goods, seasonally available apple products, frozen slushies, jellies, apple butter, boiled cider, natural and vinegar products, barbecue sauces, mustards and pickled asparagus. Several locally grown products, such as popcorn and various flavors of packaged soybeans are also available.
734-426-8531.
Jenny's Farm Stand
734-424-3431
8366 Island Lake Road
Dexter, Michigan 48130
Read about Jenny's on my website
Lesser Farms and Orchard (12651 Island Lake Road, Dexter 48130)
Offering plums, apples, cider, homemade jams and jellies, beeswax candles, honey and pumpkins.
734 426-0606
Manchester
Alber Orchard & Cider Mill (13011 Bethel Church Road, Manchester 48158)
Families enjoy a family owned orchard that has been in business since 1890. View an old fashioned cider press and enjoy the fresh cider.
734-428-9310
Milan
Wasem Fruit Farm (6580 Judd Road, Milan 48160)
Families will find apple cider, donuts, pumpkins, squash, plums and a farm market. Pre-arranged school tours are also available.
734-482-2342
Talladay Farms (6270 Judd Rd Milan 48160)
Several corn mazes. located right next to Wasem's Apple Orchard.
734-439-2313
Northville
Three Cedars Farm (7897 6 Mile Rd., Northville 48167)
Find a pumpkin patch, already gathered pumpkins, a corn maze, tractor-pulled hay rides, prepicked produce, gift shop, snacks and refreshment stand, restrooms, picnic area and farm animals. School tours are also available.
248-437-8200
Plymouth
Plymouth Orchards & Cider Mill (10685 Warren Road, Plymouth 48170)
Find pumpkins and a U-pick pumpkin patch on weekends only. Take a leisurely wagon ride through the orchard, find fresh donuts and apple cider and visit the farm animals. School tours are also offered Monday to Friday with reservations.
734-455-2290
Salem
Donahee Farms
Enjoy a fall straw maze and U-pick pumpkins.
734-459-0655
Obstbaum Orchards and Cider Mill (9252 Currie Road, Northville, MI 48167)
Take the family for U-pick apples and pumpkins.
248-349-5569
Saline
Lutz Orchard (11030 Macon Road, Saline 48176)
734-429-5145
Windy Ridge Orchard and Cider Mill (9375 Saline-Milan Road, Saline 48176)
734-429-7111
Ypsilanti
Wiard's Orchards and County Fair
Check out the recent news on Wiard's
734-482-7744
5565 Merritt Road
Ypsilanti, MI 48197
Tammy Mayrend is a search marketing professional and mother of two who blogs on low-cost local activities, events, and Ann Arbor area freebies for families at annarbormom.com.