Posted on
Sat, Nov 13, 2010 : 3 p.m.
New website lists many volunteer opportunities around Washtenaw County
By Tammy Mayrend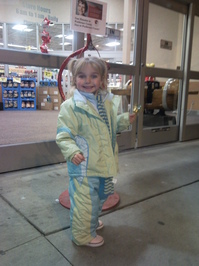 Tammy Mayrend | Contributor
I really am a big proponent of giving back through volunteering. It's a life lesson I am hopefully teaching my children as well.
Every year we have signed up as bell-ringers, been volunteer shoppers for Warm The Children, helped out at Food Gatherers and Growing Hope, and anywhere else that I can find where my children can participate. What I haven't found though, was one website that might help me find the best opportunities for volunteering locally, and, instead, I've gone directly to the individual organizations. Wouldn't it be nice to go to one place to find opportunities for volunteering? Now there is.
The Blueprint for Aging, sponsored by Catholic Social Services of Washtenaw County, is
leveraging its new volunteer website, VolunteerWashtenaw.org, to communicate holiday giving and volunteering opportunities. In addition to the website's usual formal volunteer programs, the site has been opened up to communicate one-time opportunities for individuals, families, and groups to help others this holiday season.
A wide range of holiday volunteering options awaits those who visit the site, including filling the stocking or wish list of a needy child, providing a meal or turkey to a hungry family, buying or wrapping books for a student learning to read, creating a gift basket (supplies, goodies, etc.) for an elderly person and providing something warm for a veteran to wear. The possibilities for holiday giving are as endless as a volunteer's creativity and generosity.
My quick check-in to the site revealed many opportunities to give and volunteer, and the best part is there is an area where families can look for opportunities in which their younger children can participate, So let's all give back to our communities to find, as the site's motto says, "Something Worth Doing."
I'll be back throughout the year looking for opportunities for myself, my children and, likely, my cub scout den!
Tammy Mayrend is a Ann Arbor search marketing professional and mother of two who blogs on low-cost local activities, events, and Ann Arbor area freebies for families at annarbormom.com.