Posted on
Sun, Mar 27, 2011 : 11:50 a.m.
Spring break activities for youth and teens: April 4-8, 2011
By Tammy Mayrend
Earlier this month, I posted an article on spring break camps available to parents of older children. However, for parents who don't need a full day of daycare for their children and teens, there are still plenty of great free events and activities happening throughout the Ann Arbor area.
Many of the local libraries have daily programs catering to older kids and teens that include game days, free crafts and educational programs. Below are a few events that sound especially interesting; however I have posted an entire list of events and activities during the spring break week at Ann Arbor Mom.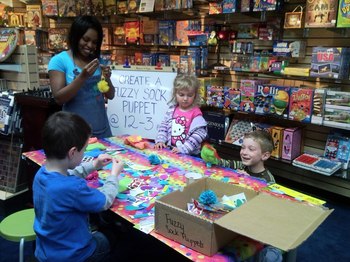 Tammy Mayrend | Contributor
On April 4 and 5 from 1:30 to 3:30 p.m., teens can "Make-a-Zine" at the Ypsilanti District Library. What's a zine, you ask? The event offers teens the opportunity to create their own small self-published periodicals or zines. Each participant will use the library's zine collection as inspiration for ways to publish teen writing. On the first day teens will be introduced to the art form with the second day focusing on printing and publishing. Registration for this free event is required. Call 482-4110 ext. 1390 or register online with a YDL library card.
There are a couple of free movie events during the week for kids of all ages. Check out Toy Story 3 at the Ypsilanti District Library (8975 MacArthur Blvd., Ypsilanti) Tuesday night at 6:30 or Tangled at the Dexter District Library (3255 Alpine St., Dexter) at 1 p.m. Wednesday.
As a sample of the many free crafts and projects being created during the week, check out Ann Arbor District Library (3333 Traverwood Drive, Ann Arbor) on Friday at 2 p.m. where kids in grade six and up can learn how to make jewelry from paper beads, or even stop by the Spring Break Extravaganza where kids can do a variety of projects at the Ypsilanti District Library (5577 Whittaker Road, Ypsilanti) daily from 3 to 5 p.m.
With so many choices of events to attend during spring break, your kids will surely never become bored!
For the latest events and activities for families, kids of all ages, youth and teens, be sure to check out the Ann Arbor Mom blog — Your source for family events and activities throughout Ann Arbor and surrounding communities!
Tammy Mayrend is a Ann Arbor search marketing professional and mother of two who blogs on low-cost local activities, events, and Ann Arbor area freebies for families at annarbormom.com.