Posted on
Mon, Feb 13, 2012 : 5:58 a.m.
Pen-and-ink blues portraits the icing on the cake at Mr. B's birthday concert
By Roger LeLievre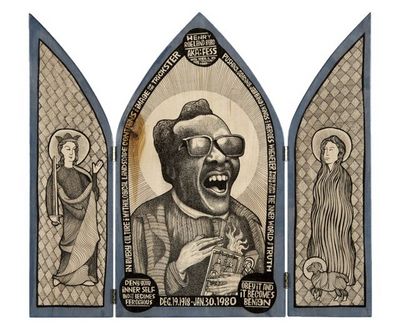 There'll be more than just music at
Mr. B
's annual Birthday Bounce, Saturday night at Kerrytown Concert House.
This year Mr. B—Ann Arbor keyboard dynamo Mark Braun—and Chelsea-based visual artist John Pappas have collaborated to provide an evening of boogie-woogie and blues piano combined with detailed pen-and-ink portraits depicting some of the blues greats whose music is being performed.
The portraits were drawn by Pappas on folding basswood panels. Sixteen portraits have been created for the performances, and each illustration is flanked with quotes from, and remarks about, the performers.
When open, the panels are roughly 24 inches wide and 21 inches tall. Braun, who is also an accomplished woodworker, made the panels, cutting them in the shape of church windows, and provided Pappas with a list of 25 influential blues and jazz pianists. Then, drawing on his own research, Pappas came up with the triptychs honoring musicians such as Jimmy Yancy, Little Brother Montgomery, Blind John Davis, Earl "Fatha" Hines, Otis Spann, Boogie Woogie Red and others.
PREVIEW
Mr. B's Birthday Bounce
Who: Ann Arbor boogie-woogie piano man Mark Braun, with artist John Pappas.
What: Boogie-woogie tunes coupled with original artwork by John Pappas paying tribute to early masters of the musical style. A reception for the artist will follow the performance.
Where: Kerrytown Concert House, 415 N. Fourth Ave.
When: 8 p.m. Saturday, Feb. 18.
How much: $30-$10. Reservations at www.kerrytownconcerthouse.com or 734-769-2999.
"I don't know if I can hold up my (musical) end of the deal," Braun, who is turning 55, said. "John's stuff is just staggering in my view. I am totally enamored with what he's done. … It's really an opportunity for me to share my passion and to celebrate the lives of these guys who are mostly forgotten musicians. It's a tip of the hat to those who inspired me."
The two met when Pappas came to a fundraising concert for Braun's Joybox Express piano-bike project in 2010. The two—both music lovers—cemented their friendship during a winter camping trip to the Porcupine Mountains.
"We started talking about a way we might work together on some kind of a collaboration that would have meaning for both of us," Braun recalled. "Eventually this is what we settled on. I have a lot of friends that are artists—they are a pretty tough crowd, very hard to impress. When I have shown them this stuff, they just gasp."
Pappas has a degree in studio art and graphic design from Michigan State, and is a graphic designer and art director for Ann Arbor's Perich Advertising + Design firm. After Braun sent along the list of musician's names, Pappas looked them up on Google, finding pictures and other information—including some of the quotes used in the drawings.
It took about 20 hours to complete each panel, Pappas said, using a Tombow Zoom pen and black ink.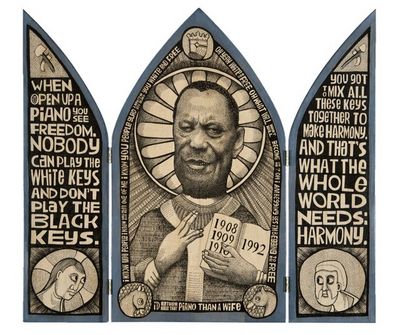 "The pen that I used was a perfect match—it was like drawing on paper. The only squirrely thing was there were a couple of knots, and a couple of (the panels) had flaws in the wood, but Mark did a real nice job prepping them. He cut them out and did some kind of routing around the edges, and sanding, so they were pretty much ready to go. I didn't have to any prep work—I just sat down and started drawing. There were no problems," Pappas added.
All the remarks and quotes that surround the portraits are negative space—Pappas filled black in around the letters, leaving them the natural color of the wood so that the letters appear. From a bit of a distance away, the effect is that of an old-style black and white photograph.
A reception for Pappas will follow after the concert, and his portraits will be on display through February at the Kerrytown Concert House. The show is also going in the road, with an additional performance and showing scheduled at the Antieau Gallery in New Orleans March 17.
Ann Arbor News file photo
"It's really going to be something different," Braun said of the show. "I'll play a piece by these guys, or possibly some original music I've written in tribute to these guys, I will be playing a lot of material I haven't played in public before. Not only will I play the pieces but I will pause and talk about the lives of each person before I play the tune by them to give people a little background information."
Braun is clearly thrilled the way the panels turned out.
"I think they are magnificent. I am totally enamored with John's abilities. … (his work) is very, very cool—there's a lot more to it than meets the eye. The perspective, the soulful feeling that is expressed through some of the writings that surround the portraits is super powerful," Braun said.