Posted on
Sat, Aug 17, 2013 : 2:26 a.m.
Performance Network's 'My Name is Asher Lev' paints a powerful family portrait
By Jenn McKee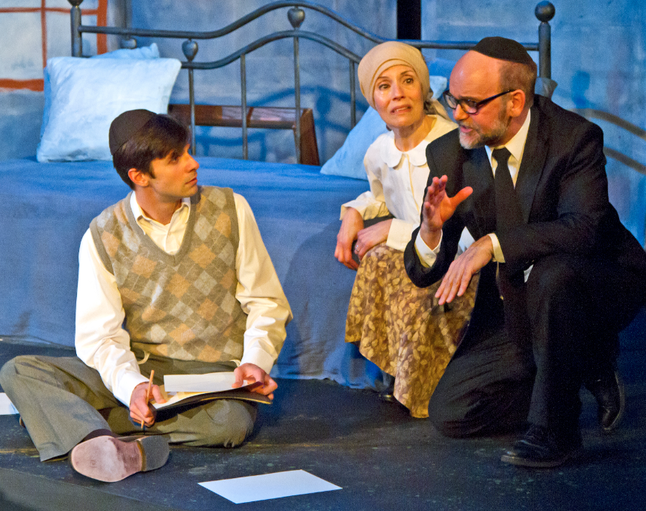 Photo provided by Performance Network/Jewish Ensemble Theatre
No matter how much distance you get from your childhood, and no matter how much you surround yourself with supportive people, no one's judgment of your life's work - and, by extension, you - seems to matter as much as your parents'; because if your own human creators don't see value in that work, it suddenly feels less meaningful, and you feel existentially, profoundly alone.
This poignant truth lies at the heart of "My Name is Asher Lev," now playing at Performance Network (a co-production with Jewish Ensemble Theatre).
Based on the 1972 book by Chaim Potok, and adapted by Aaron Posner, "Asher Lev" tells the story of a Hasidic young man (Mitchell Koory) in Brooklyn who can't stop drawing, despite his father's (John Seibert) disapproval.
As Asher grows older, his gift develops by leaps and bounds; and as an established artist mentors him, Asher realizes that his pursuits will inevitably place him at a crossroads, where he's forced to choose between the cloistered world of his observant Jewish family/community and the larger, more heterogeneous world that lies beyond.
The production runs an intermission-less 90 minutes, and while an awful lot is packed into that running time, the pace doesn't necessarily feel fleet. For this isn't a show built on narrative momentum; it's instead a drama that provides glimpses from different points in time, which gradually come together to form a cohesive portrait of a family at painful odds with itself.
Director David Magidson's 3 person cast - Koory, Seibert and Naz Edwards - stays on stage nearly the entire running time. (This creates a few awkward moments, like the father leaving for a trip without, you know, actually leaving; but such quirks are quickly forgotten and forgiven.) We watch Seibert become Asher's father, his uncle, the rebbe, and the artist Jacob Kahn with the addition of a few accessories. Effectively adopting a different voice and sense of movement for each, Seibert highlights the appealing, inherent theatricality of the play.
Edwards, meanwhile, makes you ache for Asher's mother, who anguishes over both the tragic loss of her brother and the rift between her husband and her son; Edwards also plays an art gallery owner, and a nude model that Asher's instructed to paint, making each character distinct and indelible.
But in the title role, Koory must necessarily shoulder the bulk of the play's weight, and he does so ably. Though executing more physical and vocal distinctions when playing the character at different ages might have provided a bit more dimension, Koory's commitment to the role, and his passion in conveying the character's feelings and perspectives, are never in question.
With the exception of one scene, which pretty much demands histrionics, Magidson wisely opts for restraint in most scenes, particularly those that conclude the play, making moments that could easily be overplayed instead quietly moving - even a little hopeful. And intermittent moments of levity keep the production from collapsing beneath its own earnestness.
Sara Tanner's multi-level, interior set works beautifully in concert with Jon Weaver's lighting, so that the back wall, late in the show, reveals a kind of colorful exoskeleton that wasn't previously visible; costume designer Mary Copenhagen's costumes, fittingly, have a muted, neutral palette, seeming to underscore, and even invite, our sepia-toned view of the early 20th century; and sound designer Julia Gray provides subtle aural accents.
Yes, it's a little strange that a show about the irresistible drive to create art gives the audience no art on stage to contemplate (though, after the show, there's a backstage art gallery to peruse). But in a way, this absence is fitting. Because although Asher burns to be an artist, you'll inevitably fill in the blanks (or empty frames, as it were) with reflections on the dreams and ambitions that fueled you in youth, and re-visit the role your parents played in supporting or resisting them.
For although Asher became a man in the eyes of his Hasid community at age 13, when he's bar mitzvahed, he becomes a man in a broader sense while struggling to reconcile the conflicting sense of responsibility he feels toward his parents and toward his truest, emerging self. And that's something we all can relate to.
Jenn McKee is an entertainment reporter for AnnArbor.com. Reach her at jennmckee@annarbor.com or 734-623-2546, and follow her on Twitter @jennmckee.