Posted on
Wed, Nov 11, 2009 : 1:44 p.m.
Pioneer High's 'Oklahoma!' more than OK
By AnnArbor.com Freelance Journalist
This is the first in a new series of theater reviews of local high school productions, written by local high school students, that will appear on AnnArbor.com. This week, Huron High School student Mia Ruf (see bio and more about this program at end of story) reviews the Pioneer Theatre Guild's production of "Oklahoma!"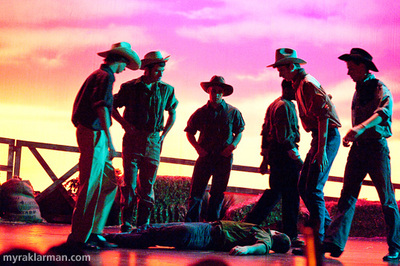 photo by Myra Klarman
Every small town has its fixtures — its "cast of characters," if you will. If a city dweller were to take a drive into the country's terra incognito and visit various backwater towns, he or she would likely reduce each town to a handful of personas. This is certainly how Rodgers and Hammerstein interpreted the West, and subsequently projected it for audiences in their first grand scale production, "Oklahoma!"
The farmhouse beauty, the dauntless cowhand, the floozy and the wistful old woman are therein depicted as metonymies, and spokespeople, of their town. However, the show's musical numbers rely on the presence of both these local fixtures and an ensemble cast of townspeople. The show's ensemble cast needs to be capable of generating the sort of charisma that will spark interest in the town's focal point characters; they need to both perform and serve as the audience's tour guides.
The Pioneer Theatre Guild has never lacked this sort of zeal. Every cast member, from up to downstage, is seamlessly integrated into its productions, exhibiting that same earnestness usually visible in leads alone. The Guild's most recent opus, an "Oklahoma!" outfitted with believable accents, tight choreography and an exceptional ensemble/lead dynamic, is hardly an exception. Among the throngs of remarkably skilled performers, the self-contained Aunt Eller, played by Emily Steward, serves her intended purpose with the utmost dexterity. Steward, as the Oklahoman den mother to whom the farmers and ranchers turn for both advice and funny retorts, can be likened to a podunk M.C. She is both ardent and collected, traits uncommon for an amateur actor.
Another noteworthy performance is that of Leo Bayless-Hall, cast as another town fixture: the shrewd, Persian mercenary Ali Hakim, whom the underexposed townies refer to as "Ally Hack-'Em." Done up like a regular swindler, in a tweed suit and a top hat, Bayless-Hall is convincing in terms of Ali's nationality and ugly predicament. The audience empathizes (not without a chuckle) with the cocky rationalist as he's backed into and forced out of engagements with both Ado Annie, the town harlot, and Gertie, the compulsive giggler (played by Maia Gleason and Hannah Pearlman, respectively).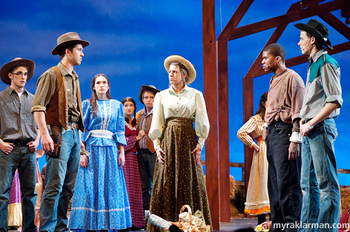 photo by Myra Klarman
The most charming aspect of the PTG's "Oklahoma!" may also serve as a deterrent for some. The town populace possesses the sort of aloofness that today's theater companies usually strive to avoid. While any spectator could easily watch Lydia Hillers' Laurey come to the romantic resolve that she must wed Tim VanRiper's Curley — they complement one another in just the way that hunks and delicate beauties should — one wonders whether or not the plot is a bit too simple-minded.
The rhythm of the show stays in tempo with Aunt Eller's mortar and pestle; we behold an unshakable, steady contentment, but also a total complacency. For example, after the musical's antagonist, Jud (played with a steadfast presence by John Spaulding), is killed during a scuffle, the townspeople assemble a makeshift trial and hastily rule in favor of the town darling, Curley. The play's want for conclusive justice leaves the audience feeling unsettled and doubtful as to whether or not the show is in keeping with modern ethics.
Conversely, any patron of classical musicals will likely ignore this questionable haste, as this sort of pithiness is quite standard of mid-century musical conclusions. As for simplicity, one cannot help but notice the artful poise and confidence with which the Pioneer Theatre Guild bolsters the otherwise shallow show. The ingenuity of the Guild's technical crew is apparent throughout: Jud's ramshackle smoke shack, the skeletal outline of the soon-to-be school house and the upstage fencing are all skillfully contrived.
"Oklahoma!"'s dated qualities disregarded, the evident craftsmanship behind the Guild's production denotes progress. The townies here depicted may lack the worldliness expected of modern musicals' subjects, but Pioneer's players compensate with a show worthy of the 21st century.
There are three more chances to catch "Oklahoma!": Friday, November 13 at 7:30 p.m.; Saturday, November 14 at 7:30 p.m.; and Sunday, November 15 at 2 p.m. All in Pioneer High School's Schreiber Auditorium, 601 West Stadium Blvd. Tickets (adults, $12; students, $9) are available an hour before the show at the box office, or in advance at Morgan & York, 1928 Packard.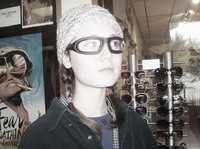 Guest reviewer Mia Ruf has spent most of her life finding the equilibrium between student and daydreamer. She prints her musings — characteristic of the latter — as a column in Huron's
The Emery.
She prefers manual printing to word processing, though she finds the clang of her Brother AX-25 satisfying, in a majestic sort of way. She plans to get over herself, one day. Ibsen's "Hedda Gabler" is her favorite play, though she would follow Ingrid Bergman anywhere.
The aim of AnnArbor.com's student-review program is to recognize, and provide more coverage for, the accomplished theatrical work that's happening in our schools while also providing opportunities for student writers with an interest in arts criticism. To encourage objectivity, our student writers will always review shows from schools other than their own. To learn more about the student-review program, contact Jenn McKee at jennmckee@annarbor.com or 734-623-2546.