Posted on
Thu, Jul 21, 2011 : 12:41 p.m.
Good places to escape the heat
By AnnArbor.com Staff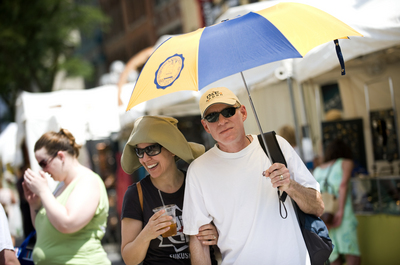 Melanie Maxwell | AnnArbor.com
It's always hot for the Ann Arbor Art Fair. But it's not always
this hot
. And today just might be the hottest day of the four.
Although a variety of strategies can help deal with the heat, a key part of enjoying the fair experience is simply taking a break, getting inside and cooling off. Don't worry, the art will still be there when you venture back out.
Although one of the official county cooling centers is adjacent to the fair, here are some alternatives — a few of our favorite places to stop for a while. Add your own suggestion in a comment at the end of this post:
• University of Michigan Museum of Art, at the corner of South State Street and South University Avenue. Most people going to the fair have at least some level of interest in art, right? So why not take a detour over to the biggest permanent collection of art in the city? Admission is free (a $5 donation is suggested) and you could easily spend hours there. If that doesn't sound like your thing, there are lots of other museums and galleries in the area as well.
• The Michigan Theater, 603 E. Liberty St. Ann Arbor's majestic movie palace makes a great place for an Art Fair break. The foyer is open to the public all day. Food and beverages are available, including grilled bratwurst sandwiches, hot dogs, popcorn, soft drinks, Bell's beers, wine and bottled water. In addition, at 1:30 each day a free concert takes place on the theater's historic pipe organ. And of course you can see a movie as well.
• AnnArbor.com. Stop by the AnnArbor.com community space, on the ground floor at 301 E. Liberty St. (at Fifth Avenue). We have public computers, free wifi, and — best of all — you can watch the creation of the CommuniTree art project being done by Leslie Sobel.
• Restaurants on non-Art Fair streets. Often, restaurants in the thick of the Art Fair throngs are very busy during fair days. On the other hand, restaurants just a block away are often not busy at all. For example, Washington Street, both east and west of Main, is one location with a number of first-rate places to cool off while enjoying a meal or a drink, and very likely no waiting.
• Borders Books and Music. The flagship downtown store at 612 E. Liberty St. faces the end of its road as the entire company liquidates. This might be a good chance to pay your respects to the store, and maybe find a bargain or two as well.
For a complete weather forecast, visit the AnnArbor.com weather page.