Posted on
Fri, Dec 28, 2012 : 10:58 a.m.
Put on something sparkly and enjoy New Year's in Ann Arbor
By Richard Retyi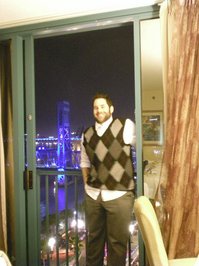 How do you plan to spend New Year's on Monday? Comment below and let me know.
New Year's Eve is so much simpler when you're a kid. My parents always went to the New Year's Eve dance at the Hungarian Hall, a social club my father belonged to. They'd get a sitter, leave money for pizza and let me stay up late.
Around middle school I was old enough to be put to good use, working the coat check at the Hungarian Hall during the big dance. I'd sit in a little room surrounded by fur coats and old man hats, drink free soda and eat free food and blow horns at midnight making $25 in the process. At midnight a huge net of balloons would open up above the dance floor and without fail right my parents would stumble to the coat check and give me boozy kisses and say something sentimental.
New Year's turns sour around high school. A series of failed plans, most involving groups and girls, each more elaborate and ultimately terrible than the last. Dinner or supervised parties at a friend's house. Then college comes and expectations increase. The lack of supervision means anything is possible. Venues fill up, crowds get bigger, there's something called "cover," and nothing is ever as exciting as it is in the movies or on TV.
At some point you decide to skip a New Year's Eve and stay at home. My first New Year's at home included a bucket of fried chicken, bad movies, and making out on my parents' couch. It's nice to erase expectations, go to bed at a reasonable hour and skip the ball drop. Until it isn't. Subsequent nights in on New Year's Eve feel sad rather than victorious. The crowds don't look so bad and the couch doesn't feel as comfortable. Sometimes you need to out something sparkly on and get your butt out there. That's my advice to you.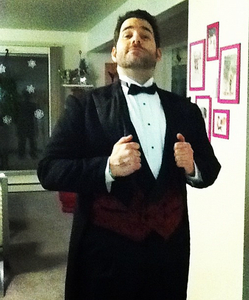 You can't spend every New Year's inside hiding from the crushing disappointment of going out. It's not fair to you or your parents who only want the best for you or the thousands of people out there trying their best to have fun. Like Valentine's Day and Sweetest Day, it's easy to crap on New Year's Eve. But it can be a lot of fun too.
Here are a few tips to maximize the amount of fun you're going to have on New Year's, because you will have fun. You might not be able to fulfill each of these requirements, but if you nail two or three you decrease the odds of going to sleep coated in shame, regret and a boozy film.
1. Dance
I made my first concerted attempt to enjoy an Ann Arbor New Year's with an ambitious multi-city plan to ring in 2008. Along with lifelong pal Jason, we drove from our home in Ypsilanti to the Bling Pig for The Bang!— the perfect place for two young-ish men to drink, dance like fools and ring in the New Year. Fun, yes. Intimate, also probably yes. The Bang! doesn't mess around with the party—the soundtrack perfectly timed before and after the clock strikes midnight thanks to expert mixtape makers. It's a hot and sweaty fun time right through the countdown. Which brings me to tip No. 2.
2. A Bad Countdown Cancels Out the New Year
If you miss the midnight countdown or it's performed poorly, the calendar doesn't turn over. You're still in the previous year. No fresh start for you. The Bang! doesn't mess around with the countdown. The music builds as the countdown, projected all over the bar, ticks closer and closer to midnight. The DJ calls out—one minute, then 30 seconds and then the final 10 seconds followed by a huge explosion of energy and hugs and shouting as people kiss and toast and, like Jason and me on the first night of 2008, lock in a sweaty man-embrace. I'll remember that countdown forever. The opposite can also be true.
The next year I celebrated New Year's at the old Elbow Room in Ypsi at a no-cover, poorly DJed dancestravaganza. The crowd was decent but organization was not the key word of the night. We checked our phones around 11:55 p.m., but since this was a New Year's party, we assumed that the DJ would take care of the ceremonial countdown. Which he did—three minutes after midnight. While bellowing "seven", someone informed the DJ that he'd missed the countdown by many, many seconds, and rather than carry through, he dropped the microphone and played another crappy song. The only thing that salvaged the evening was a drive-thru employee at the Ypsi Steak 'N Shake giving me my own personal and very enthusiastic countdown when he heard of the evening's atrocity. Sir Steak 'N Shake, I'll never forget your kindness.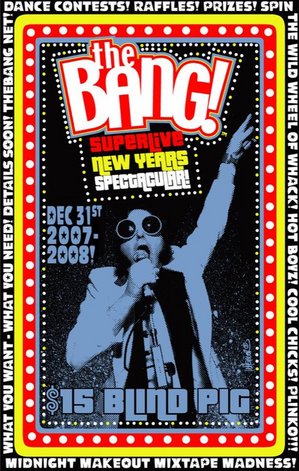 3. Wear Something Sparkly
If you decide to stay in, keep your slippers and Snuggie (is that even still a thing?) on. The ghost of Dick Clark can't see you (or can he?). But if you're going to hit the town, might as well wear something sparkly. That doesn't just go for the ladies. Fellas, put a little effort into your attire as well. You'll look so much classier sipping champagne with a tie on than wearing that hoodie with the clever saying on the front. Last New Year's I went all out, renting a ridiculous tuxedo from Fantasy Attic in Depot Town, complete with tails and a top hat. Just dress up a bit or do me one better and rent any fancy costume or uniform. Perhaps a full dress naval uniform? Something from the American Revolution? Heck, dress like Abe Lincoln! But do make the effort.
4. New Year's Eve Needs Champagne
You can't ring in a New Year without champagne. I learned this at an early age when, before my mom kissed me on the cheek to head out for the night, she'd remind me of the mini bottle of Baby Duck in the fridge ready to be popped at midnight. I don't really like champagne. I'm not sure anyone does. But it's like singing happy birthday to a coworker in the break room—you kind of have to do it. A secondary tip: Be the one to buy the champagne. This lets you feel like a big shot when you carry the big bottle and those tiny glasses to your group, and you'll get to hang on to the bottle while you all sip. Few things are classier than holding a bottle of champagne.
5: Get a Designated Driver
Aside from the practical, legal and safety aspects, a designated driver will ensure you can tackle any adversity that stands in your way of a good time. During the two-city plan in 2008, Jason was the designated driver, piloting us to Ann Arbor in his rickety Corolla. When we burst into the New Year's night just shy of 1 a.m., the streets were covered in fresh snow. Five inches of powder were dumped on the streets with more falling each minute. Jason took the wheel and slowly but surely plowed us back to Ypsilanti, driving 30 mph on I-94 through heaps of snow. It took nearly an hour, but we arrived in Ypsi and were able to attend the second half of our New Year's bash. Get your own designated driver if you can. Cabs are great, but there's nothing worse than elbowing people on the sidewalk dressed like Abe Lincoln trying to flag down a cab for you and your pals.
I'll be going out again this year, even though my natural inclination is to stay home, eat chicken wings and follow the whole mess on Twitter. I'm going to take my own advice and head to The Bang! again this year, even though I'm about eight years too old to be seen there. I don't have anything good to wear either. It's probably going to go horribly wrong. But it's New Year's. Cannonball!