Posted on
Fri, Nov 16, 2012 : 9:41 a.m.
University of Michigan's 'Bat Boy: The Musical' a wild, wacky ride
By Susan Isaacs Nisbett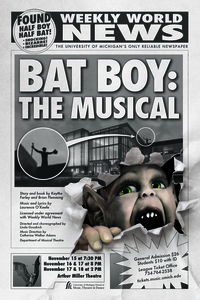 What did you think of the show? Leave a comment and / or vote in the poll at the end of this post:
If you've been aching for an Appalachian Gothic horror comedy with Greek overtones, wacky production numbers, a "Forbidden Broadway" aesthetic and a pedigree that includes licensing "under an agreement with Weekly World News" your ticket is surely "Bat Boy: The Musical," which opened Thursday night at the Arthur Miller Theatre in a production by the University of Michigan Department of Musical Theatre.
When three stoner-spelunker siblings discover a creature half-boy, half-bat in a West Virginia Cave—thank you, Weekly World News—and drag him home to the, ahem, civilized life of Hope Falls and the local veterinarian, who just might know something about his past, you can bet things will get, well, a little batty.
That they do, and more, in this campy, award-winning 1997 show by Keith Farley and Brian Flemming, with music and lyrics by Laurence O'Keefe. Yes, there are longueurs and some sophomoric moments in the more than two hours of the U-M production, directed and choreographed by Linda Goodrich, with music direction by Catherine Walker Adams. But the performances by these Musical Theater B.F.A. students are strong enough to see viewers through them. Still, there's no denying that the show would profit from a few judicious trims or some swifter pacing.
But when the show is at its best, as it is, especially, in the second act, it hums along rather wickedly and gleefully. Farley, Flemming and O'Keefe took their cue from the tabloids and supersized everything in the show. The cast isn't large, but that's because with the exception of the main characters—the Bat Boy (Ryan Vasquez); the veterinarian Dr. Parker (Zachary Thompson); his wife, Meredith (Jane Bruce); and his daughter, Shelley (Ashley Park)—everyone else has at least two roles, including at least one of the opposite gender. The switches are swift and generally hilarious.
The big Broadway numbers—expertly staged and choreographed by Goodrich here, and set in the cave-cum-living room, cum-town hall of Scenic Designer Andrea Bechert—indulge freely in schmaltz and shtick and syrupy sentiment and cliche. But that's on purpose, and only until the moment they don't, pulling back and rewinding with amusing, and often wicked, self-awareness. The numbers are backed by the small ensemble in the pit: keyboards, guitar, bass and percussion.
When Meredith teaches the squeaking, inarticulate Bat Boy language, the lesson leaves him not only suddenly erudite but a proper gentleman, albeit with pointy ears and a penchant for blood meals as well as a good cup of tea, perfectly poured. Here and elsewhere, Bruce plays Meredith with suave assurance and perfect timing, finding humanity in a character that could easily just be a cardboard cutout. She's a real standout. Vasquez gets both the angst and the wryness of his beastie boy; he's a real presence.
A revivalist, the white-suited, possessed-by-the-spirit, very fabulous Jordan Barrow, preaches to a crowd that can't quite master the call-and-response thing (but can get the message of tolerance toward outcasts like Bat Boy that he preaches).
And when Bat Boy and Shelley, who Park plays perfectly as a flouncy but sincere Appalachian Valley Girl, get to love at first bite, it is the God Pan (Dan Tracy, who is also a fussy, dithering Daisy, a school teacher in a snap-front housecoat and shower-cap-like head covering) who presides, along with all the animals of the forest in a clumpingly rapturous Sesame Street-like pageant. It's all outrageous, and the cast, to its credit, lets you really get the text, both spoken and sung.
It all ends badly, of course, this being a Gothic comic tragedy, and actually, a little shockingly, in all-caps headline style. The scene in which All Is Revealed about the Bat Boy's origins goes on too long. But you know tabloid fans: They've got to know everything, down to the last lurid detail.
"Bat Boy" continues through Sunday. For background, see the preview article; for tickets, see www.music.umich.edu/performances_events.