Posted on
Sat, Feb 2, 2013 : 2:34 a.m.
You'll get a kick out of Burns Park Players' seaworthy "Anything Goes"
By Roger LeLievre
What did you think of the show? Leave a comment and / or vote in the poll at the end of this post: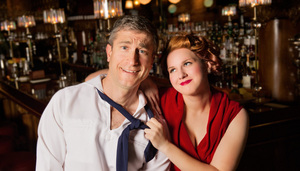 Photo by Myra Klarman
Every winter at about this time I wonder how the Burns Park Players can possibly top the previous year's show, but they always do.
For its 30th anniversary production the group, made up of residents of Ann Arbor's talent-blessed Burns Park area, set sail at Tappan Middle School Friday night with a thoroughly seaworthy version of the zany 1930s shipboard musical "Anything Goes," featuring some of Cole Porter's most memorable music and lyrics, including "It's De-Lovely," "You're the Top," ''Anything Goes," "Blow Gabriel Blow," and "I Get a Kick Out of You."
The show's big production numbers were as big and splashy as one could hope for, and there's even some expertly done tap dancing, a first-act-ending delight.
The 43-member cast, plus 95 children from Burns Park Elementary School, ranged in age from 6-year-old first-graders to the 93-year-old, scene-stealing Fredda Clisham.
Seeing the quality of acting, singing and dancing that's become the hallmark of these annual productions, I have to keep reminding myself that these are non-professionals—neighborhood folks who put on an annual show to raise money to support the arts in Ann Arbor Public Schools.
The production stars Caroline Huntoon as evangelist-turned-nightclub-singer Reno Sweeney. Ann Arbor City Council member Christopher Taylor plays Billy Crocker, a stowaway who has fallen in love with American debutante and heiress Hope Harcourt (Lisa Harris). Clinch Steward is cast in the role of Lord Evelyn Oakleigh, to whom Hope is inconveniently engaged. Joel Swanson plays gangster Moonface Martin, while Talia Glass is his moll Erma.
The gangly, boyish Taylor put the vocal performance degree he earned in 1990 from the University of Michigan to good use. He was as terrific a singer as he was an actor. If that City Council gig doesn't work out, he clearly has something to fall back on. Huntoon and Glass both have big, musical theater voices, and brought plenty of moxie to their roles, while Harris's "Goodbye Little Dream" was heart-rending, the perfect counterpoint to the upbeat numbers that preceded it.
But it was Swanson's Moonface Martin—straight out of gangster central casting—who nearly stole the show. It was as if he was born to the play the role, his rubber-like face capable of an endless variety of expressions. He reminded me of an old-school vaudevillian hoofer. The jail cell number in which Moon tries to cheer Billy up ("Be Like the Bluebird") was priceless, and the kids who provided a kind of convict chorus were adorable in their striped prison garb. Speaking of which, I am in always in awe of the behind-the-scenes job the Players does in getting the small thespians on and off stage without a hitch (the youngsters in "Bon Voyage" were particularly good).
Ann Arbor native and University of Michigan musical theater grad Quinn Strassel directed the show; Eric Lofstrom conducted the terrific-sounding orchestra. Thank designers Jeri Rosenberg and Mark Tucker for the realistic-looing ocean liner set. Credit choreographer Christie Shauder for turning all those neighborhood folks into more-than-credible hoofers.
I overheard someone in the audience tell his friend that the annual Burns Park Players' show "is the social event of the season." Clearly that's true, at least for the neighborhood. But there's nothing like an old-fashioned musical, executed with plenty of verve, to warm folks up on a cold winter night, no matter what part of town they're from.
"Anything Goes" continues through Feb. 9. For more information, see the preview article.