Posted on
Fri, Feb 1, 2013 : 3:07 a.m.
Wynton Marsalis, JLCO ensemble in the groove at anniversary show
By Roger LeLievre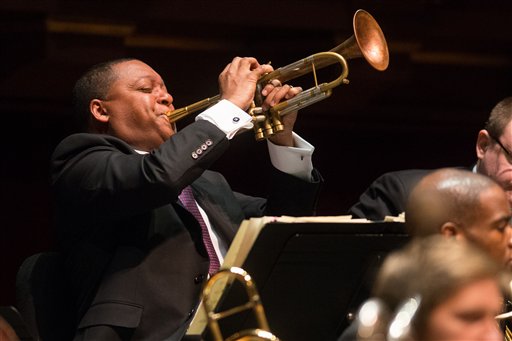 Courtney Sacco | AnnArbor.com
What did you think of the concert? Leave a comment and / or vote in the poll at the end of this post:
When it comes to jazz, many music fans include Wynton Marsalis in the list of the genre's top talents. At a Hill Auditorium show Thursday night marking the 25th anniversary of the Jazz at Lincoln Center Orchestra, it was easy to hear why.
Trumpeter Marsalis - the JLCO's acclaimed composer, educator and artistic director - brought the 15-member big band to town courtesy of the University Musical Society. The program drew from various musical styles and included older compositions as well as those that were, according to Marsalis, "right off the page." Some may have been chosen for their difficulty, and it seemd like the group made a conscious effort to steer away from some of the more obvious repertoire, delving instead into some lesser-known gems.
Because of his name and the prestige of JLCO, Marsalis has always been able to attract some of the genre's top players. Not one to steal the limelight, Marsalis always makes sure there's plenty of opportunity for those players to shine, not only in frequent solos, but in writing/arranging as well, and so it was Thursday night. Here are a few of the 90-plus-minute show's highlights:
• Gerry Mulligan's "Swing House," with solos for great drummer (and native Detroiter) Ali Jackson, trombonist Elliot Mason and alto sax star Sherman Irby. The tune was impeccably played, and the crowd loved it.
• Speaking of Irby, his arrangement of 1920s hit "Yes Sir, That's My Baby," the only vocal number on the program, showed that trombone player Vincent Gardner is just as talented a singer as he is an instrumentalist.
• Ted Nash. Seriously, is there anything musical this guy can't do? On Chick Corea's "Windows" - which he also arranged - he showed his versatility and virtuosity on clarinet and sax. When Marsalis said "We have so much ability up here writing and playing I don't know where to turn sometimes," he wasn't just blowing smoke.
• The poignant "Lonesome Boulevard, another Mulligan tune, arranged by and featuring Paul Nedzela on baritone saxophone. Masterfully played.
• Any time pianist Dan Nimmer, bassist Carlos Henriquez and drummer Jackson played, solo or as a threesome. They sound terrific together.
• Trombonist Gardner's arrangement of Kenny Dorham's lively "Stage West" that closed the show prior to the encore, was chock full of superb solos, particularly from saxman Victor Goines, drummer Jackson, Gardner and Marsalis himself. This was as close to musical perfection as one could get. Each solo brought a well-deserved round of applause from the audience.
• I wasn't able to identify the two selections played as an encore, but they were standouts, as were soloists Walter Blanding (sax) and young Alphonso Horne (trumpet), a rising star if there ever was one.
Since one of Marsalis' missions is to educate, it was nice to see so many younger people in the audience, some of them wearing jackets that proclaimed their affiliation with various student jazz bands. One of them, Western Michigan University trombone student Mike Klepp, was determined to meet Marsalis, and took off for the stage door before the encore even began so he could be first in line.
"He's a big inspiration and why I'm a music student now," Klepp explained. "I'm bound and determined to meet Wynton - that's part of the fun." And the performance? "It was the best show I've ever seen," Klepp said.
Judging from the standing ovations, there are few who there that would disagree.
Note: A special event Saturday will mark the 100th anniversary of Hill Auditorium.
Courtney Sacco | AnnArbor.com