Posted on
Sun, Dec 9, 2012 : 8:29 a.m.
Insult comic Lisa Lampanelli heckles the Michigan Theater crowd
By Jennifer Eberbach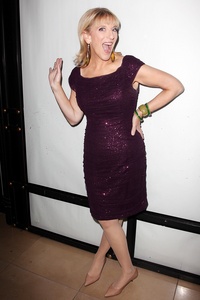 AP
What did you think of the show? Leave a comment and / or vote in the poll at the end of this post:
There are very few comediennes who have mastered insult comedy like Lisa Lampanelli. Her preferred habitat is a comedy niche that is most often occupied by snarly dudes. The "Loveable Queen of Mean," as she bills herself, has often been compared to Don Rickles and Archie Bunker; her big influence is Dean Martin; and she is a favorite of shock-jock Howard Stern. That should give you an idea of how far she can take a joke.
True to form, Lampanelli's performance at the Michigan Theater this Saturday threw hard punches at all sorts of people, races, her gay fan base, celebrities, and even herself. Ann Arbor's crowd got what you would expect from her stand-up—piles of profanity, offensive jokes, and spiky jabs at people who annoy her.
Many fans of comedy are familiar with Lampanelli as one of the premier female roasters out there. She is famous for cutting celebrities down to size on 8 of the New York Friar's Club roasts that air on Comedy Central, and she was roast master for Larry the Cable Guy.
She also came close to making it out of Donald Trump's boardroom with her dignity on the "Celebrity Apprentice." Eliminated from the final four, the show portrayed her as a good competitor but also an emotional basket case who frequently squabbled with the other contestants.
Lampanelli made plenty of fun of Donald Trump and especially co-contestants Clay Aiken, who she got along with, and Lou Ferrigno, who she called the "dumbest person on the planet" at the show. She ripped apart a lot of celebrities, including a story about her Twitter war with Dog the Bounty Hunter's wife that started with a joke about her lady parts. And she told a tale about how badly Mike "The Situation" Sorrentino bombed at Donald Trump's roast. And she shared some tasteless jokes about Zsa Zsa Gabor, Chaz Bono, and Roger Ebert that would surely disgust a lot of people.
You do not tend to buy tickets to one of her shows unless you like that kind of humor. And those in attendance at the Michigan Theater sure seemed to eat it up. Initial gasps of shock, and sometimes even disgust, turned into laughter all night long.
40 minutes into the show, Lampanelli paused to tell the audience that we had passed her test. She wanted to know how far to take the second half. And she found out that her fans in Ann Arbor laugh at everything, no matter how offensive or nasty. She commented several times on how much she was enjoying the crowd.
Nothing was off limits at the show—racial slurs, dirty gay jokes, poking fun at the handicapped. But I could see why she is frequently called an equal opportunity offender. Everyone is fair game.
People in the first few rows found that out. From the start of the show Lampanelli was heckling audience members, including a black security guard who she called "Green Mile" at one point.
Lampanelli spoke with Kevin Ransom for AnnArbor.com's preview of the show about dropping 97 pounds after weight loss surgery, a topic she used to poke fun at herself at the show.
Mark Mueth of Ann Arbor and his friends were some of the people who got heckled by Lampanelli. He reported after the show that "it was everything I expected it to be. She was just as raunchy as I expected, so she delivered," he said. He had a feeling they might be heckled when he bought third-row tickets to an insult comedy show. "No one wants to sit in the front row of a comedy show! But I was like, I'm not afraid!" he said with a laugh.
His friend Ian Frank of Pleasant Ridge called Lampanelli's heckles "abusively fun."
Although husband and wife Dale and Amanda Hall of Coldwater found themselves a little offended by a couple of the jokes, that did not really bother them at all. "I've watched her stand-up, so I knew what to expect. I love her...My wife didn't really like her joke about shaking babies though, because she runs a day care," Dale said. But Amanda says, "I was ready for it. I can take a joke. You come to the show already knowing that she is going to say things that not everybody is going to like. It's just a joke," she said.