Posted on
Fri, Apr 1, 2011 : 3:27 a.m.
Music and energy drive Propeller's 'The Comedy of Errors'
By Jenn McKee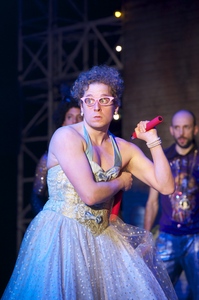 photo by Manuel Harlan
A production of "The Comedy of Errors" with an abbess in a mini-dress habit, fishnet stockings, and high-heeled purple boots? Clearly, this isn't your father's Shakespeare.
But then, that seems to be precisely the point, in a nutshell, of Britain's bold, boisterous, all-male Propeller theater company, now staging "Comedy" in repertory with "Richard III" (presented by the University Musical Society) through Sunday.
One of Shakespeare's earliest works, "Comedy" focuses on two sets of male twins, estranged from birth, who unknowingly find themselves in the same city 25 years later. Inevitably, this leads to several cases of mistaken identity, frustration, and confusion.
One of the most appealing and memorable elements in Propeller's "Comedy" is its music. The ensemble, assuming the guise of a barrio mariachi band — sporting soccer jerseys, sunglasses, and sombreros — plays music on stage as the audience files into the theater; provides a musical backdrop (including brief nods to Belinda Carlisle's "Heaven on Earth" and Spandau Ballet's "Gold") for a handful of entrances, transitions and key moments; renders fights cartoonish by way of silly sound effects; and during intermission, audience members are treated to a fantastic lobby performance of Madonna's "Material Girl," among other songs, by the group. I was so impressed (as I also was while watching "Richard III" the night before) with the terrific vocal abilities of these actors. I would have happily listened to them sing all evening. (A completely extraneous revival number in the second act, performed by Tony Bell as a conjuror-turned-Southern-evangelist, is a bit incongruous, but the music's so irresistibly infectious that you happily forgive the possible overreach.)
Of course, the ensemble primarily harmonizes and plays instruments in support of the play, helping to establish and maintain a high level of energy from the outset. Frankly, the play — far from Shakespeare's strongest — profits tremendously from it.
For things inevitably begin a bit sluggishly, as the Duke of Ephesus (Richard Clothier), after being marked for execution while traveling in the city of Ephesus, tells the long tale of how he came to be separated first from his wife, one of his twin sons, and one of the boys' twin servants, when the twins were just babies. Because the Duke's story holds the key to all that unfolds, director Edward Hall must let the tale be told simply and without distractions.
And while vaudevillian pratfalls and smackdowns (both Antipholuses beat their servant Dromios liberally) permeate the first act, the scenes that hit the mark most squarely, in terms of comedy, involve the show's increasingly baffled lovers. Specifically, Robert Hands' portrayal of Adriana, wife of Antipholus of Ephesus (Sam Swainsbury), is spectacular. Like a force of nature, he haughtily stomps around the stage in heels and skin-tight leggings. Hands' delivery and reactions are hilarious, but he also makes Adriana sympathetically vulnerable and endearing, so that in the play's final moments, when the truth finally comes to light, Adriana's embarrassment is both palpable and sweet.
Meanwhile, Adriana's sister, Luciana (David Newman), gets her best comic moment to shine when she mistakenly thinks her brother-in-law is making a pass at her in an early scene. (Of course, it's really Antipholus of Syracuse, played by Dugald Bruce-Lockhart.)
Indeed, the whole cast is terrific (and recognizing them from their wildly different roles in "Richard III" is a wonderful bit of fun), as are Michael Pavelka's design elements. The actors playing female roles wear wigs, in some cases, as well as bright lipstick, earrings, and accessories, thereby making them far more visually feminized - and thus more campy, fittingly — than the actors playing female roles in "Richard III." The non-ensemble men assume a more throwback '70s look, meanwhile, with the Dromios in happy face t-shirts and rolled up jeans, and each Antipholus sporting a bright, flowery shirt with a vest.
Regarding the set, the stage frame scaffolding, with draped, colored lights and graffiti-covered, corrugated walls, efficiently place us in the atmosphere of a somewhat seedy border town.
There are a few moments when "Comedy" tries too hard — like when Bell crosses the stage naked with a lit sparkler protruding from his backside — and the slapstick violence becomes a bit redundant. But by keeping the pace brisk, the energy high, and the music flowing, Hall and his marvelous cast offer up one of the more entertaining productions of "Comedy" that you're ever likely to see.
Jenn McKee is the entertainment digital journalist for AnnArbor.com. Reach her at jennmckee@annarbor.com or 734-623-2546, and follow her on Twitter @jennmckee.