movie review
'Scream 4' is fun, but suffers from some of the same horror shortcuts that it mocks
Posted on Sat, Apr 16, 2011 : 5:35 a.m.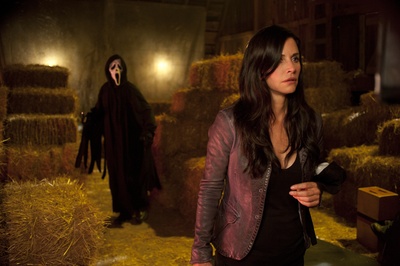 Dimension Films
The clever, witty opening scene of Wes Craven's locally filmed "Scream 4" reminds you, in short order, why the original "Scream" trilogy enjoyed such blockbuster success in the 1990s: The in-joke laughs and scares are plentiful and sometimes even simultaneous; and again and again, Craven and screenwriter Kevin Williamson skillfully lure the audience toward conclusions that are shockingly, enjoyably proven wrong.
But even this fun sequence bows toward more bland and familiar conventions in the end, thus summing up the "Scream 4" viewing experience in a nutshell: it generally provides a pretty entertaining ride, despite some lazy narrative shortcuts.
The film is set in the present, which is to say, about 10 years after the events depicted in 2000's "Scream 3." We catch up with the series' main surviving characters, like Sidney (Neve Campbell), who's written an inspiring, bestselling survivor memoir; Dewey (David Arquette), who's been promoted to sheriff and, along the way, unwittingly charmed the similarly offbeat Deputy Judy Hicks (Marley Shelton); and Gale (Courteney Cox), who's struggling to find meaning in her now-strained, 10 year marriage to Dewey, and in her failed attempts to write a novel.
Though Sidney has seemingly transcended her past and left the tragedies of her hometown (Woodsboro) behind her, she returns for a book tour stop on the anniversary of the original murders — a headline-grabbing scheme cooked-up by Sidney's young, pushy publicist (Alison Brie). But as soon as Sidney arrives in Woodsboro, friends of her young, adolescent cousin, Jill (Emma Roberts) — who's creeped out by the way death surrounds and follows Sidney — start dying in gruesome ways at the hands of yet another Ghostface killer.
Not surprisingly, "Scream 4" aims to reflect our current techno-crazed culture: an iPhone app transforms any caller's voice into Ghostface's; Ghostface still calls victims, but now texts them, too; webcams — including one that's perpetually strapped to the head of high school movie geek Robbie (Erik Knudsen), who unapologetically streams each moment of his adolescent life — play a role; and Facebook earns a drive-by cameo in the dialogue of one scene.
Despite these cultural updates, though, and a brand new list of horror movie "rules" that are both adhered to and thwarted, "Scream 4" was primarily created in the mould of its predecessors, and the film's push-pull tension between being faithful to the old and also modern and new is the primary source of "Scream 4"'s problems.
For instance, the new, adolescent characters (Hayden Panettiere's Kirby is by far the most appealing) feel like slightly altered retreads, while the tried and true franchise stalwarts — Sidney, Gale, and Dewey — get disappointingly short shrift. There's neither time nor opportunity to emotionally connect with Sidney, and where she is at this point of her life; and we're told about Gale and Dewey's marital difficulties, and Deputy Judy hovers as an empty threat, but we don't really get a sense of what they're really experiencing, and where they're headed. Wiliamson and Craven thus seem to rely too heavily on fans' previous investment and familiarity with the characters, employing a kind of narrative shorthand that leaves them emptily floating through complex issues.
But the main characters aren't the only casualties. Mary McDonnell, as Sidney's maternal aunt, is barely there even during the little bit of time that she's on screen, uttering strange statements like, "No one asks about my scars." And a few of Williamson's stabs at horror humor fall flat.
Nonetheless, many of the movie's jokes do hit their mark, and once again, Williamson and Craven do a good job casting suspicion — through lighting, music, and sudden entrances — in the wrong places. Plus, as always, the movie's central mystery, involving the unmasking of the newest Ghostface, is absorbing and suspenseful, leading to a satisfyingly surprising unmasking.
Ultimately, this is what I left the theater with: the thrill of pleasure that can be drawn from an engrossing, nutrition-free bit of entertainment. But something that one young woman in the opening sequence mocks — a lack of character development in the recent spate of so-called torture porn horror movies — ends up being what keeps "Scream 4" from reaching its full potential.
What did you think? Vote in our poll and/or leave a comment below: