Posted on
Wed, Jan 9, 2013 : 2:27 a.m.
'The Strange Undoing of Prudencia Hart' will likely tempt (and satisfy) you at Corner Brewery
By Jenn McKee
What did you think of the play? (And how did you like the Corner Brewery as a theater venue?) Leave a comment and/or vote in the poll at the end of this post: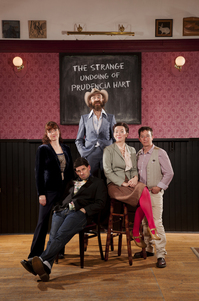 photo by Simon Murphy | courtesy of the National Theatre of Scotland
If sitting in a bar isn't, by itself, enough to make
The National Theatre of Scotland
's "The Strange Undoing of Prudencia Hart" (presented by the
University Musical Society
) feel like a unique theater experience, just wait until one of the five cast members comes to your table and asks you to shred some napkins by hand to "make snow" before the show gets under way.
You'll use the torn bits soon enough, since the show-with-music begins when a stuffy, buttoned-up academic (the title character) travels through a winter storm to the Scottish/English border town of Kelso for a conference. After Prudencia's presentation, she reluctantly concedes that the heavy snowfall has made a hasty exit from Kelso impossible, so she and a despised rival step into to a nearby pub—which turns out to be only the first stop on a haunting journey that leads Prudencia into the underworld. (At the risk of giving away surprises, I'll leave it at that.)
Much of the show unfolds by way of rhymed couplets, underscoring Prudencia's passion for, and advocacy of, border ballads, which she feels have been reduced to mere "discourses" by her academic peers.
But the verse averse should fear not; humor and a charming sense of playfulness pervade "Prudencia," hooking audiences at the start—not only with the aforementioned, audience-generated snowstorm, but with fun, theatrical illusions like Prudencia's car ride to Kelso (cast members hold flashlights for headlights, and one throws "snow" while another makes his violin bow a windshield wiper), and a motorcycle journey, created with help from an audience member and a wind-whipped scarf. (The show is a fantastic clinic in prop usage and placement.)
"Prudencia"'s whimsy tapers off as the story darkens, naturally, and a few segments within director Wils Wilson's two-and-a-half-hour production feel over-long (a scene focused on a group of hard-partying bar rats, to name one). Generally, though, "Prudencia" is a highly entertaining, arresting evening of theater.
The cast—all of whom play multiple roles, except for Melody Grove (Prudencia)—consists of terrific, fiercely committed performers who "play it big," as both the venue and the story's tone dictate. So although the show affectionately mocks both academia and contemporary pop culture, its beating heart is the atmosphere created by music (including the verse), lighting, and movement (designed by Janice Parker). No matter where you sit in the Corner Brewery, actors will most likely be pushing past you at least a few times during the course of the evening, as they forge a broad, varied world within the space.
And to its credit, "Prudencia"—written by David Greig—takes some surprising turns, imbuing it with suspense and the genuine feel of an adventure. Composer and music director (and cast member) Alastair MacRae provides the show's mesmerizing music, which shifts from lively reels to haunting ballads (with an extra dash of Kylie Minogue here and there). Actress Annie Grace offers one of the show's musical highlights, playing a mysterious woman that Prudencia encounters while looking for lodging in the storm.
Yes, the show features some audience participation, but it's generally the "sing along, wave your arms in the air" variety, which should be all the easier while nursing one of the Corner Brewery's beers during the show. (The bar, in the performance space, is open before the show and during intermission, and dinner is available for purchase in the other half of the Corner Brewery before the show starts.)
Performances of "Prudencia" have reportedly been sold out for a while, and it's no wonder. With its seductive promise of music, humor, whimsy, adventure, an unconventional setting and, well, beer, it's a night of theater unlike any other you're likely to encounter.
"The Strange Undoing of Prudencia Hart" continues through Jan. 13. The run of the play is sold out, but for possible ticket availability, check ums.org. For background on the play, check out our preview article.
Jenn McKee is the entertainment digital journalist for AnnArbor.com. Reach her at jennmckee@annarbor.com or 734-623-2546, and follow her on Twitter @jennmckee.