Posted on
Sat, Jan 19, 2013 : 2:28 a.m.
'The Meaning of Almost Everything' at the Purple Rose shows a different side of Jeff Daniels
By Jenn McKee
What did you think of the play? Leave a comment and / or vote in the poll at the end of this post: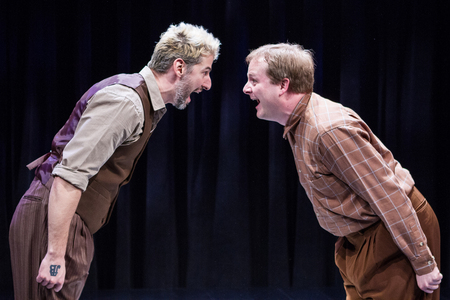 photo by Sean Carter Photograph | courtesy of the Purple Rose Theatre Co.
In
Jeff Daniels
' new play "The Meaning of Almost Everything," now having its
world premiere
at the
Purple Rose Theatre
, two men on a bare stage hash out philosophical questions like, "Is nothing nothing or is nothing something?"
The quick, scripted response to this is, "You're beginning to annoy me" - and the tone and content of this exchange should give you a sense of what you're in for, should you decide to check out Daniels' latest venture: deep, sometimes paradoxical questions served up in a fast-talking, absurdist comedy package.
And while the 70-minute play defies synopsis, one of the two men (Matthew Gwynn) wants to stay where he is—a safe, blank place where he won't face hardship or pain—while the other (Michael Brian Ogden) argues for leaving to face the inevitable ups and downs, and uglinesses and beauties, of life.
The actors in "Meaning" are, simply put, the show. Set designer Gary Ciarkowski just provides a black stage, with a closed curtain along the back, while props designer Danna Segrest needed only supply about three small items. As a result, the actors' pronounced physical movements and snappy verbal pacing are paramount to keeping the audience engaged.
Director Guy Sanville generally succeeds at imbuing the comic, sometimes vaudevillian bits with airy lightness. (Ogden even mugs and says "ah cha cha," a la Jimmy Durante, after delivering one punchline.) Yet sequences like the slo-mo combat by strobe light feel too expected and familiar, despite some cute, original touches by Gwynn and Ogden.
Indeed, the two actors carry the show with admirable fearlessness, approaching shoe-huffing and philosophical conundrums with equal gusto. Ogden peppers Gwynn with probing questions, comically conveys frustration, and fulfills his role's physical demands with sure-handed skill; and Gwynn, as the man who must ultimately make this wrenching choice, is both hilarious and endearing, sometimes in the same moment.
That said, I found that despite the show's brevity, my engagement waxed and waned throughout. Some interactions were more intellectually absorbing (either because of Daniels' writing or the staging or both) than others; the sheer nature of the play's dialogue eschews emotional involvement; and because the questions raised, as well as the responses, aren't particularly new or groundbreaking, the presentation of them ultimately makes or breaks them.
Helping the effort is costume designer Christianne Myers, who dresses both men in brown, while discerning which is more the "straight man" by virtue of style and fit. And Quintessa Gallinat's sound design, paired with Noele Stollmack's lighting design, gives the men's locale an ethereal, sometimes haunting, atmosphere. (Theatergoers who might sit in the first row should note that there's some audience participation in the show, in the form of both actors, at different times, asking for a specific item that plays a role in the show.)
"Meaning" ultimately proves that Daniels is a playwright who's willing to take a risk, and venture in new directions, and that's admirable. So while the show itself feels uneven, in the end, you can't help but admire the courage and intellect that drives it.
"The Meaning of Almost Everything" continues through March 9 at the Purple Rose. For background, check out the preview article; for tickets, see the Purple Rose website.
Jenn McKee is the entertainment digital journalist for AnnArbor.com. Reach her at jennmckee@annarbor.com or 734-623-2546, and follow her on Twitter @jennmckee.