Posted on
Tue, Nov 20, 2012 : 5:01 a.m.
Chelsea River Gallery showcasing talented artists under 40
By Jennifer Eberbach
Chelsea River Gallery got curious about what young artists in the region are making, so they put out a call for submissions—only the second they have ever done—to artists under the age of 40 from Michigan and the Midwest.
The 10 examples selected for "10 Under 40," on display through Dec. 22, reveal how diverse art making is across a generation. Some opt to experiment and invent new ideas, while others explore traditional and well-tread artistic territories with a fresh pair of eyes.
Three of the 10 were awarded cash prizes after a jury of avid art patrons voted for their favorites. First place was a tie. Martin Thoburn and Chris Sandon's highly contemporary collaboration, "Exquisite Motion Corpse," is an interactive video installation that the audience can control, while Helen Gotlib's aesthetically masterful botanicals and female nude explore traditional subject matter in new ways. In second place, Brian Spolans' drawn and painted imagery creates an entire universe of characters, situations, and environments.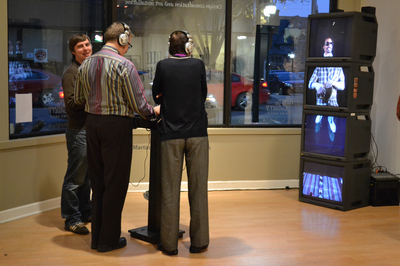 People at the opening reception did not stop playing with "Exquisite Motion Corpse." A tower of 4 TV monitors play clips of different heads, torso, and legs in motion set to a soundtrack of beats. By working controls—a custom-made panel with an iPad—you can swap them to create different hybrid people. Thoburn and Sandon have displayed a similar work before; however, this is version 2.0. It was a good move to include more people, props, and costumes, because it better captures the sense of spontaneity they were going for.
Sandon commented at the reception that the idea was "to make an exquisite corpse with video." It is an interesting update of the old parlor game that surrealist artists liked to play—they would create hybrid creatures by taking turns drawing on a folded piece of paper. In Thoburn and Sandon's artwork, the audience is invited to participate in such spontaneous creativity. In my opinion, the addition of audience participation makes this artwork more interesting than the originals.
Not long after Sandon spoke to AnnArbor.com, he did something spontaneous: He was soon parting the crowd dressed as a gigantic firefly. The costume is one of his many disguises he wears as a member of Spontaneous Art, an interactive performance art group with collaborators Trevor Stone and Natalie Berry. The group is featured as a special guest of the exhibition. He was later found giving "Psychic Firefly Readings" on the second floor.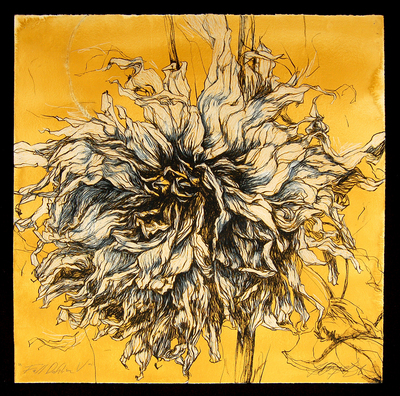 Helen Gotlib's botanicals and female nude hung quietly compared to her fellow first-place-winners' artwork. But their captivating aesthetics—her subdued colors, beautiful lines, and masterful techniques—make them stand out visually. Hers is a beautiful and thoughtful exploration of two well-tread subjects. Although flowers and nudes are traditional subjects in art, Gotlib's skillful interpretation breaks with tradition in some ways.
In a previous interview she gave AnnArbor.com about two years ago about similar artworks, she said that she prefers to depict botanicals that are odd in some way—she lets flowers dry up, for example. "Botanical paintings are commonly about traditionally beautiful plants like roses, peonies or mums in full bloom. I'm more interested in plants that look odd. Even if it's a traditional flower, I like to let it dry so that it changes from that common images of the flower that everyone can imagine," Gotlib explained in the previous article.
Third-place winner Brian Spolans thinks "we live in a really complicated world," he said during a phone interview. The universe he creates in his artworks is just as complex. A variety of characters occupy fantastical-looking landscapes—mounds of earth dotted with futuristic pods—going about different tasks, jobs, and other activities. His series of artworks encourages gallery visitors to get curious about the narrative behind it.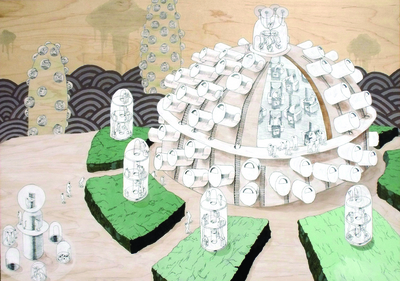 For him, "I think I'm trying to paint a picture of myself as a contemporary person. I love technology, but I hate it. I love going out to see nature, but I don't fully understand it," he said.
Spolans also said he did a lot of thinking around his own relationships with the man-made spaces he inhabits, nature, and how he relates to others in space. Sometimes the characters are isolated, but they are also connected to one big system.
One thing he thought a lot about was social media, "especially Facebook," he says. "I can be sitting alone behind my computer or even sitting there with my family in the same room and also have little communications with friends and family from across the country on a regular, although brief, basis."
Investigating people's relationship to places is a theme that not only shows up in Spolans' works but in other artworks as well. Taylor Mazer's highly detailed and intricately drawn pen and ink drawings of urban spaces in Chicago, as well as a couple landscapes, explore how we all see the world from a unique perspective.
strong>Matthew Derezinski's series of digital collages, featuring his original photography "draws upon my interest in decaying architecture, nature and the Mid-Western landscape in which I live," his artist statement reads.
Dylan Strzynzki depicted empty homes around Leelenaw County - he grew up in Traverse City. Strzynzki, who is Gotlib's husband, painted modest homes that he spotted on the Sleeping Bear lakeshore this summer. "I didn't want to tell an idealized story. I left out the backgrounds, which makes them less bucolic and much more austere. They tell a story about life, not an idealized life but a real life," Strzynzki says. Also on display, two large landscapes depicting a modest home and two large paintings of pipework represent "side trips" he took as explorations in painting.
Toko Shiiki explained at the reception that her installation of video and photography resulted from "an internal journey," she says. Working alone, she captured herself interacting with symbols that have popped into her mind during therapy. "It is really about having a conversation with my childhood self. I'm asking her to take my hand as we take a journey together." A musician and member of local art-rock band October Babies, she got an enchanting song in her head one day. It plays along to a motion-activated video that further explores her journey.
Another artists who uses video in her artworks is C. Jacqueline Wood. Her multimedia installation establishes a relationship between a tangible object—a piece of paper framed on the wall—and digital interpretations of it—a video of her scanning 20 pieces of paper. An academic and conceptual piece, it is visually simple enough that non-insiders can access the idea.
There are also other works in the show that are aesthetically strong. Mari Ogihara's clay sculptures beautifully portray organic forms—from female nudes to abstract biological forms. In her statement, she talks about how clay reminds her of human skin. "Instead of representing the figure anatomically, I am more interested in using the piece as a canvas to explore various painterly decorations on its surface," she says in her artist statement. Her painterly way of applying glazes and airbrushing is what makes them visually interesting.
And Sudandyo "Lilik" Aprilianto's series of brightly colored characters have a thoughtfully playful aesthetic that grabs your attention. The artist, who moved from Indonesia in 2009, has always been interested in "art for the people" and working without limits, as he explains in his artist statement. "My art practice is about creating strange and unique characters that are playful and imaginative," while he explores topics like "human interaction, power, war, and contemplation," it reads.
There is a sense that we will be seeing these 10 emerging artists again and again as they reach the prime of life. The exhibition at River Gallery does a good job of introducing a new generation of adult artists.
Meet the artists at an informal gathering at Chelsea River Gallery, 120 S. Main St. in Chelsea, on Dec. 1, from 4-6 p.m., right before Chelsea's annual Hometown Holiday parade.