Posted on
Wed, Jul 13, 2011 : 5:56 a.m.
Shadow Art Fair organizers promise a high quality group of vendors this summer
By Jennifer Eberbach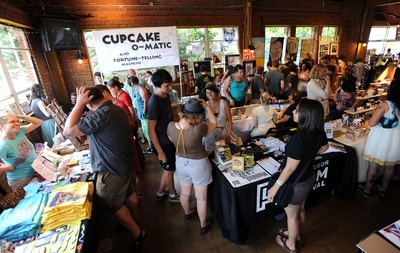 AnnArbor.com file photo
Ypsilanti's
Shadow Art Fair
organizers the
Michigan Design Militia
received so many quality vendor applications this time that it was hard to cut them down to the 40 artists and other vendors participating in this summer's event, they report. This summer's fair will take over the
Corner Brewery in Ypsilanti, on July 16 from noon to midnight
, with booths selling arts and crafts, nonprofits promoting causes, a full lineup of music out in the back beer garden, and a new round of specially crafted "Shadow Brew."
"For the first time we had to meet twice to do the jurying," co-organizer Jennifer Albaum says. "We took a first pass, and then we had to come back and meet again to whittle it down because there were so many goods ones."
Fellow co-organizer Melissa Dettloff says, "people are starting to really get what we are going for ... Although the number of applications we get has been relatively the same over the years, we're starting to get more from people who understand what we are looking for and what we like."
The Michigan Design Militia's taste is known for being a bit odd and funky. There are always a number of unusual, offbeat artists and offerings mixed together with more traditional things at their fairs. Co-organizer Mark Maynard agrees with Albaum and Dettloff that one of their favorite submissions to this summer's fair is a videotaped flip book picturing a "pooping wizard" created by Johnny Apricot. Maynard thinks that the poop joke art is "a perfect example of applicants really understanding what our taste is like." If that does not quite fit your own personal taste, have no fear. There will be plenty of non-scatological things to buy or enjoy at the event.
Some of the other offerings the event's planners are especially looking forward to include a booth for the Cuba Skate! project, a non-profit created by Miles Jackson and Lauren Bradley after they both studied abroad in Havana, Cuba as students at the University of Michigan. Skateboards painted by artists will be sold at the Shadow Art Fair, and the money will buy skateboards for kids in Cuba.
PREVIEW
Shadow Art Fair
Who: Michigan Design Militia and a variety of local creative types.
What: Art, crafts, nonprofit booths, music, beer and more.
Where: Corner Brewery, 720 Norris St., Ypsilanti.
When: Saturday, July 16, noon-midnight.
How much: Admission is 2 cents.
Popular with last year's crowd, the
Ann Arbor Film Festival
will host another
"Cinemasports"
contest this summer. Teams of people will make 3-minute films the day of the event, and then the day's films will be screened for the crowd in the evening. Participating filmmakers (you don't have to be an expert) arrive at the Corner Brewery at 10:30 am to get a set of mystery "ingredients" to include in the film. Then they have 10 hours between 11 a.m. to 9 p.m. to create their 3-minute film. Sign up ahead of time on the Ann Arbor Film Festival's website or show up the day of the event. But know that spots during the screening are limited, so it is a good idea to register in advance.
The Michigan Design Militia has experimented with the format of the Shadow Art Fair the past couple of times. Last summer, they held events at three locations instead of containing it only to the Corner Brewery—a kinetic sculpture race at SPUR Studios and music, puppets, and performance art at the Dreamland Theater. And last December, they threw a "Krampus Costume Ball" to celebrate the holiday season instead of hosting artists and vendors.
This summer, the Shadow Art Fair returns to its previous format—all of the day's happenings will take place at the Corner Brewery instead of spread out across town. Dettloff explains that a big part of why they decided to keep it all in one place this time was "feedback we got from people that it was just too overwhelming to try and decide where to be and when. Everybody ended up missing something they wanted to see at a certain point in the day."
Keeping everything at the Corner Brewery is also easier on the organizers and their volunteers. "Instead of being scattered, it's easier for us to manage things if we are all here," Albaum explains.
As for the "Krampus Costume Ball," Maynard says "people loved it" and "we plan to do it again." Annarbor.com photographed some of the crazy, creative costumes people made and wore to the holiday party. "There was everything from a pink bunny, to two giant yetis, to time-traveling wizards," he recalls. So, instead of having two vendor-oriented fairs each year, they are leaning towards developing the Krampus party as their recurring wintertime event.
"I think we originally started the Shadow Art Fair during a time when there wasn't really anything like it around here. But during the winter, there are a lot of people doing events and lots of holiday sales. We like having events where people get to know each other and build community, more so than we like the commerce of it," Maynard says. They are happy to help artists and vendor sell their wares at the summer fair and leave wintertime sales in the hands of others.
Keep an eye on the Shadow Art Fair's website and Facebook page for updated information on this summer's vendors, happenings, and a final music lineup.