Posted on
Sat, Jul 3, 2010 : 5:51 a.m.
Summer Shadow Art Fair connects to more of Ypsilanti
By Jennifer Eberbach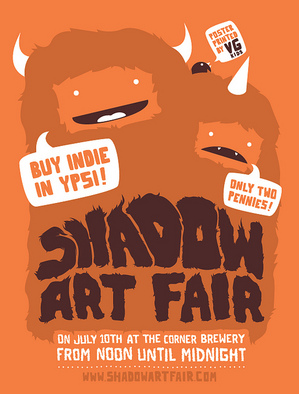 Ypsilanti's Shadow Art Fair organizers, the Michigan Design Militia, figured out a way to showcase more art and music than ever before, without actually growing the size of this summer's biannual event, taking place July 10 from noon to midnight.
That might seem like a contradiction in terms — to grow while staying the same size. They are pulling it off with a little help from their friends and a couple of vegetable oil-powered buses.
The Corner Brewery, at 720 Norris Street, remains the official venue for the Shadow Art Fair, and it will continue to host around 40 artists, craft vendors and organizations, as well as other fun activities and a full lineup of music. However, for the first time, three additional local venues will host complementary performance art and music events congruent with the Shadow Art Fair. Two veggie-powered BTB Party Buses will shuttle people between events at SPUR Studios' parking lot at 800 Lowell Street, the Dreamland Theater at 26 North Washington Street, Savoy at 23 North Washington Street, and the Corner Brewery.
Shadow Art Fair shuttled people to the Dreamland Theater on a BTB Party Bus for the first time last December, to showcase Dreamland's puppet show "History of Ypsilanti," a project funded by the annual Shadow Arts Grant ($2010 will be awarded this year). Big Ten Burrito donated this summer's free bus service, which will run from 6 p.m. to midnight.
"We decided to test it out more this summer because the beta version worked so well," co-planner Jennifer Albaum says, who is joined by fellow Michigan Design Militia members Mark Maynard, Molly Mast Koss, and Melissa Dettloff, and new planning committee member Chris Sandon.
"There was a lot of pressure on us to do the event at the Corner Brewery bigger. People would talk about closing the street in order to feature more artists, but we didn't want to change it that much. We decided that we would rather keep the Shadow Art Fair the way it is and do more stuff at other venues instead," Maynard says.
Albaum thinks their new "hub and spokes" approach to collaborating events at different venues can help the fair attain its main goal of "building an art community," she says.
Watch a slideshow of images from the Shadow Art Fair group on Flickr:
"The Shadow Art Fair is still what happens at the Corner Brewery," but "involving different venues and people who are doing their own thing it is a way to build an art community, which was the whole reason we started the Shadow Art Fair. People can now easily travel between these venues, which opens it up to whole new communities of artists who can come out and participate," Albaum explains.
"One way we responded to the pressure we were getting to grow was by using our contacts in the area who we've already worked with in the past, have relationships with, and know share a sense of the Shadow Art Fair's vibe," Mast Koss elaborates.
In a lot of ways, the Shadow Art Fair is really a community-wide effort. This year, area events organizers, including Forest Juziuk, Patrick Elkins, and Ian Fulcher, helped put together this summer's diverse music and performance art programming, participating venues offered up performance space, and VG Kids has been a long time sponsor. The people who participate as vendors or performers are integral to making the show dynamic and successful, from organizations like the Ann Arbor Film Festival and FLY Children's Art Center to all of the individual artists, craftspeople, performance artists, and musicians who take part.
Shadow Art Fair vendors will be selling all sorts of art, crafts and wares at the Corner Brewery from the time the fair opens at noon until it closes at midnight. A lineup of live music will happen in the back beer garden from 3 to 9 p.m.
As at past fairs, you can expect "a big mix of things," according to Dettloff. "A lot of it is more traditional looking arts and crafts, with more unusual things and interactive things mixed in," she says.
There will be a number of vendors who are doing activities that you can participate in. Visitors can look forward to a kid operated fortune-telling booth, a "Cupcake O' Matic" cupcake-making machine created by Ruth Marks and Sarah Lennon, and well-executed but unflattering portraits done by Reverend Aitor.
From noon to 2 p.m., kid's can participate in an art-making session offered by FLY Children's Art Center.
The Ann Arbor Film Festival will challenge people to make their own films on the day of the fair with "Cinemasports," which they are presenting in partnership with Cinemasports on the West Coast. Participants who register in advance will be given a film assignment at 10:30 a.m. at the Corner Brewery. The resulting films that people create will be screened at 9:30 p.m. after the bands wrap up, and there will be a $100 grand prize awarded.
There is a rumor going around that this summer's special Blackberry White Ale Shadow Brew, served at 6 p.m., is the best that the corner beer brewers have ever concocted. There will also be more of it to go around than usual, but still be advised that supplies are limited.
Head over to SPUR Studios for a human-powered "Art Race" in their parking lot. Teams of people who want to build sculptures that you can physically jump into and race around a track are invited to participate. Check the event website for further details about joining the race.
"Art Race" creations will be put on display for the public to see at 2 p.m. The races, called "kinetic sculpture races," will begin at 6 p.m. with preliminary time trials and one-on-one races, and the main event will happen at 8 p.m. Teams that come up with the most creative design or win the race can expect more than the crowd's admiration — prizes will be awarded, including a $200 grand prize. DJ Forest Juziuk of Dark Matter will kick out some tunes from 6 to 9 p.m.
Race mastermind Sandon, who is also a manager at SPUR Studios and member of Dirty Bros. Quality Productions, "used to be a cameraman for dirt track racing. I liked the vibe of everyone just hanging loose outside during the day like Hunter S. Thompson or hanging out 70's style," he says. The race at SPUR Studios "replaces dirt track racing with people assembling weird art pieces that they can jump in and race around," he explains.
The Dreamland Theater will feature a number of performance artists and puppetry from 6 to 9 p.m., including "Haphazard Theater" at 8:30 p.m. Then there will be a special episode of live puppet talk show "Dreamland Tonight," from 10 p.m. to midnight, for "adults only," according to Maynard, whose puppet persona performs in the show.
"In the past, little kids have come to watch performances of "Dreamland Tonight," which has been fun. But since it is happening late-night, we decided to make it for adults only and use all of the ideas that we couldn't do before because there were kids there," Maynard elaborates.
After "Dreamland Tonight" concludes, bands Blood Mambas, Suicide by Cop, and Paper Mice will play from midnight on, at the Dreamland Theater.
Savoy will host bands that are "too loud for the Corner Brewery" from 6 to 9 p.m., including Thom Elliot, Strange Brew, Sam Dour, and Our Brother the Native.
Jennifer Eberbach is a free-lance writer who covers art for AnnArbor.com.
Shadow Art Fair participating venues:
View Summer 2010 Shadow Art Fair in a larger map