Posted on
Thu, Sep 2, 2010 : 5:11 a.m.
Sidetrack Bar and Grill remains a favorite for quality pub food
By Julie Halpert
File photo
I've enjoyed my prior visits to Sidetrack Bar and Grill, a popular dining destination in Ypsilanti's historic Depot Town, but found the cigarette smell a big negative. Michigan's new law banning smoking in restaurants makes this restaurant an even better destination.
Sidetrack, which has been owned by Linda French for the past 30 years, provides a wide variety of pub fare: burgers, sandwiches, quesadillas, soups and salads, as well as hearty dishes like mac 'n' cheese and baby-back ribs, that many patrons happily wash down with a beer. Sidetrack offers 16 beers on tap and more than 50 in bottles. And there's built-in entertainment here: the trains that whisk by on the track that sits beside the restaurant.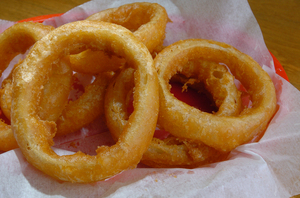 File photo
To take advantage of Sidetrack's best features, you should abandon any plans of watching calories. One of my favorites is the homemade beer-battered onion rings. Gigantic rounds, they're thick, a little bit greasy, delicious and, as my daughter pointed out, the onion doesn't slide out from the skin when you bite into them. The mozzarella cheese sticks are equally as good, with a fresh, not frozen taste, oozing with hot melted cheese. Hand cut sweet potato fries are another, slightly healthier, indulgence. The only fried dish that failed on a recent visit was the regular fries, which arrived limp and undercooked instead of well done as my husband requested.
The tomato bisque soup was heavenly. Thick and creamy, perfectly seasoned, with big chunks of tomatoes, it was as good as I've had in far more upscale restaurants. The house salad also was a standout, full of fresh greens, and tomatoes that tasted like they'd been plucked from a nearby garden. I especially liked the blue cheese and ranch dressing. Those same healthful ingredients were part of the very berry spinach salad, a new offering that wasn't substantial enough to be a main course salad. The thin, uninteresting raspberry walnut vinaigrette dressing was served on the side and didn't add much to the mix of fruit and greens, along with bland chicken breast.
RESTAURANT REVIEW
Sidetrack Bar and Grill
56 East Cross, Ypsilanti
734-483-1035

Hours: 11 a.m.-2 a.m. every day.
Plastic: Visa, Mastercard, American Express.
Liquor: Yes.
Prices: Inexpensive. Some sandwiches are only $6.50. Many dishes are in the $8.00 range.
Value: Very good.
Noise Level: Loud.
Wheelchair access: Yes.
But the rest of our meals were first-rate, including the Louisiana whitefish sandwich, fresh fish cooked in a flavorful, spicy corn meal with a tangy sauce. The classic club sandwich featured fresh turkey on wonderful toasted wheat bread.
Baby-back ribs are always a highlight here. I can't get enough of the tender pieces of meat that easily peels off the bone, smothered in sweet, syrupy barbecue sauce.
Though the food was nearly flawless, we weren't able to enjoy our dining experience as much as we'd like because of the server. Along with a couple of mistakes in orders, we waited an excessive amount of time for our entrees, desserts and our bill —Â with no apologies. It's a shame that the service was so poor on this visit, but the food here is as good as ever.
Julie Halpert reviews restaurants for AnnArbor.com.