concert preview
with jukebox:

Ann Arbor's Sonic Lunch adds musical spice to Thursdays downtown

Posted on Sat, May 29, 2010 : 5:55 a.m.
In the mood for something extra-tasty for your mid-day meal this summer? Then feast your ears on Sonic Lunch, the free concert series that returns Thursdays from June 3 -Aug. 26 at the corner of Division and Liberty streets.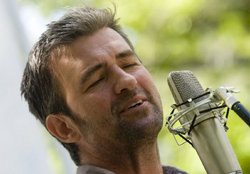 file photo
"It puts a soundtrack to the city for the summer, at least over lunch," said Rhonda Foxworth, marketing manager at Bank of Ann Arbor, which sponsors the event, with support from the Main Street Area Association and local radio station WQKL (107.1-FM).
This is the third year for Sonic Lunch, which not only draws top local and some national talent, but also downtown workers, moms and their kids, students, and all manner of other passersby attracted to the beat of the music.
Some of the local bands sure to generate a crowd are The Macpodz (June 3), The Ragbirds (July 29) and My Dear Disco (Aug. 12). Also on the schedule is Stephen Kellogg and the Sixers (June 10), a Massachusetts-based rock band that should be familiar to Ann Arbor audiences from its past appearances at The Ark and Blind Pig. The group is touring behind a new CD, "The Bear."
Tim Marshall, President / CEO of Bank of Ann Arbor, said that not only does Sonic Lunch offer great entertainment, it also makes sense from a business point of view.
"The long-term success of Bank of Ann Arbor is based on the over all vibrancy of Ann Arbor. We believe that supporting the local arts and culture adds to the vibrancy of this community," he said.
Foxworth said the name Sonic Lunch was an attempt to capture the flavor of the event.
"The thought was we wanted to give it something fun, youthful, a kind of hip feel, and give it a real name, besides just 'Music in the Park,'" she explained. "Something people could kind of grab a hold of."
The bands are chosen by local music promoter Matthew Altruda, Fleming Artists' Christianna LaBuz, and 107.1 morning personality Martin Bandyke, who will be on hand to introduce some of the acts.
"We're bankers and we don't always know what's super cool," Foxworth joked.
PREVIEW
Who: Variety of popular local and national music acts.
What: Outdoor lunchtime concert series.
Where: Liberty Plaza, at the corner of South Division and East Liberty streets in downtown Ann Arbor.
When: Thursdays from 11:30 a.m.- 1:30 p.m., June 3-August 26 (except for the week of Art Fair).
How much: Free.
"(Bandyke) is a big part of Sonic Lunch — he's been working with us all year to pick bands and give approvals and stuff like that … it's a real partnership, particularly with Martin and Chris Ammel over at Ann Arbor Radio."
Last year several restaurants in the downtown area offered Sonic Lunch specials; however, Foxworth said this year area restaurants are bringing the food to the park. Each week a different Sonic Lunch partner restaurant will bring boxed lunches to sell in Liberty Plaza. Sonic Lunch partners so far include Conor O'Neill's, Café Felix, Sabor Latino, Blue Nile and Argiero's. Le Dog is kicking off Sonic Lunch on June 3 by offering hot dogs for 50 cents. Visit the Sonic Lunch website for coupons and restaurant partners.
Meanwhile, she said she expects the event to be even more popular this year.
"We've got some top-notch performers coming. We think we're going to draw bigger crowds. There's lots to chose from and everybody has their favorites," Foxworth explained.
The lineup: June 3 - Macpodz (jazz, rock and soul) June 10 - Stephen Kellogg & The Sixers (rock) June 17 - Enter the Haggis (Toronto-based Celtic rock band) June 24 - Daisy May Erlewine & Seth Bernard (acoustic folk from mid-Michigan) July 1 - Theo Katzman (My Dear Disco guitarist) July 8 - Jill Jack (Americana / folk rock from Detroit) July 15 - Jamie Register & The Glendales (Ann Arbor soul-funk) July 22 - (Art Fair - no Sonic Lunch) July 29 - The Ragbirds (folk-roots music from Ypsilanti-based group) August 5 - Laith Al-Saadi (Ann Arbor rock and blues) August 12 - My Dear Disco (danceable electronica) August 19 - Greensky Bluegrass (Kalamazoo bluegrass band) August 26 - Baskery (alt-punk band from Sweden)
Listen to a selection of songs by the artists performing at this year's Sonic Lunch series:
Macpodz performing during Sonic Lunch last year:
Getting to Sonic Lunch:
View Larger Map