Posted on
Fri, May 6, 2011 : 8 a.m.
Sonic Lunch announces season lineup
By AnnArbor.com Staff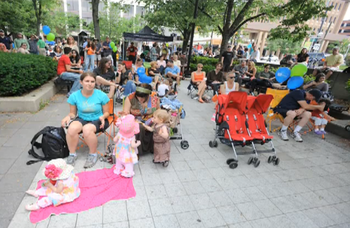 AnnArbor.com file photo
Sonic Lunch, the free outdoor concert series that's been a popular summer attraction in downtown Ann Arbor in recent years, has announced its lineup for the season.
Once again, concerts will take place on Thursdays from noon-1:30 p.m. in Liberty Plaza, at the corner of Liberty and Division streets.
Sponsored by the Bank of Ann Arbor, the series starts June 2 and runs through Aug. 25, with a break for the Ann Arbor Art Fairs.
"We are super excited with the quality of the musicians that we've been able to attract for our 2011 Sonic Lunch concert series with a nice mix of local, national, and international artists," Timothy Marshall, President and CEO, Bank of Ann Arbor, said in a press release. "We feel strongly that a vibrant community helps make for a better economic climate for all of the businesses and residents in our area. Our support of the local arts and culture certainly adds to that vibrancy. By contributing the necessary resources into a community event like Sonic Lunch, Bank of Ann Arbor helps make our town a better place in which to live and work."
Bands playing at Bank of Ann Arbor's Sonic Lunch include local and regional favorites along with several nationally touring acts. The full schedule follows, with descriptions from Bank of Ann Arbor.
The schedule
June 2: Brian Vander Ark, lead singer of the Verve Pipe and their monster 1997 hit "The Freshman", started his solo career in 2003. As a solo artist his talent for storytelling, expressed through his lyrics and acoustic melodies, shines through. brianvanderark.com/flash.php
June 9: Shout Sister Shout brings together singer / songwriter phenomenon Rachael Davis and old-time country swing and blues band Steppin' In It. The collective talent offers "tribute to the smoky, sophisticated sound of 1930s and '40s jazz, with plenty of influence from Cole Porter, Ella Fitzgerald, Billie Holiday, Nat King Cole Trio and Sarah Vaughan." shoutsistershoutmusic.com/
June 16: Laith Al-Saadi has been a staple of the Detroit music scene for most of his adult life. In 2006, he was crowned "King of the Blues" for the Northern Region of the United States by Guitar Center. This makes him one of the top four blues guitarists in the country. Laith and his trio, including Theodore Ribbens on bass and Mark Damian on drums, have been summed up as "one of the best and most polished guitar-driven acts you are likely to find." He plays Bank of Ann Arbor's Sonic Lunch for the fourth year in a row. www.laithmusic.com/
June 23: The Ultrasounds are a powerful indie rock trio who incorporate psychedelic flavors with their influences from bands like The Strokes, Elliott Smith, and Phoenix. They were voted Most Underrated Band by the readers of Ann Arbor's Current Magazine in 2008 and 2009—and Best Rock Band in 2009. www.myspace.com/ultrasounds
June 30: Misty Lyn and the Big Beautiful are part of the rising Michigan indie/folk scene. Misty Lyn pens haunting melodies over simple arrangements that traverse the gothic, literary fringes of American roots music. mistylyn.bandcamp.com/
July 7: Scars On 45 is quickly becoming recognized due to the success of their latest album, "Give Me Something." They are a six-piece English acoustic rock band carrying the influences of groups such as Radiohead, Fleetwood Mac and Death Cab For Cutie. The band delivers a unique sound that they accurately call a "gentle melodic intensity" with an "added allure of co-ed vocals." www.scarson45.com/
July 14: The Ragbirds describe their musical sound as infectious global groove, a blend of folk rock and world fusion that fans are sure to love. Led by fiery front-woman Erin Zindle, they put on a show that is designed to engage the audience on many levels to get people thinking, listening and dancing. This is the Ragbirds' fourth year at Sonic Lunch. www.theragbirds.com
July 28: Canada native Serena Ryder's musical talent ranges between folk, roots, and country. Her album "If Your Memory Serves You Well" has been certified gold and contributed to her winning the 2008 Juno Award for Best New Artist. www.serenaryder.com/
August 4: Philadelphia's Hoots and Hellmouth blend the twisted roots of American music in a fierce and fiery alchemy. Their soulful three-part harmonies comingle with stringed things and foot stomps to build a synergy that bursts from both stage and singers. They're city and country. They're rock and soul. www.hootsandhellmouth.com/index.php
August 11: Chris Bathgate is a prominent American Indie folk singer/songwriter in the Ypsilanti and Ann Arbor area. His signature country-tinged gothic folk has been perfectly honed in his latest critically acclaimed album "Salt Year." www.chrisbathgate.org/
Theo Katzman gained fame as the former guitarist with electro-pop group My Dear Disco. These days, Katzman, known for his soulful voice and a love for melody, has branched out on his own as a solo singer/songwriter. theokatzman.com
August 18: Nervous But Excited is a pleasantly aggressive folk duo with a dead-on harmony; showcasing their voices, guitars, mandolins, violins, and harmonicas. Their original repertoire ranges in topic from smart, introspective narratives to the tactfully political… and yet they still dabble a bit in the love/post-love variety every now and then. www.myspace.com/nervousbutexcited
August 25: "Dancethink Music" started as a concept for the band My Dear Disco, now called Ella Riot, and quickly became a full-fledged movement surrounding them. Hailed as "one of the must-see acts in Detroit and Ann Arbor" by The Detroit Fashion Pages, their high-energy blast of pop, techno, rock, and funk stirs up a buzz wherever they go. www.dancethink.com
The food
Weekly restaurant partners are returning again with box lunches on site. New this year, beverage partners will be on site offering coffee and smoothies.
June 2: Conor O'Neills, Mighty Good (coffee)
June 9: Sabor Latino, Smoothie King (smoothies)
June 16: Jamaican Jerk Pit, Sweetwaters Café (coffee)
June 23: Blue Nile, Lab Café (coffee)
June 30: Squares, Biggby (coffee)
July 7: Taste Our Goods, Biggby (coffee)
July 14: Bar Louie, Sweetwaters Café (coffee)
July 21: ART FAIR
July 28: Sava's, Café Ambrosia (coffee)
August 4: Argerio's, Mighty Good (coffee)
August 11: Jimma's BBQ, Lab Café (coffee)
August 18: Pizza House, Smoothie King (smoothies)
August 25: Ashley's, Café Ambrosia (coffee)
Visit www.soniclunch.com for the latest Sonic Lunch news and announcements. Follow Sonic Lunch on Facebook at www.facebook.com/soniclunch and Twitter at www.twitter.com/soniclunch.
Bank of Ann Arbor serves up Sonic Lunch with support from Ann Arbor's 107one and Perich + Partners.