Posted on
Tue, Oct 16, 2012 : 8:04 p.m.
Stephanie Jass of Milan wins 7 straight on 'Jeopardy!' - 2nd woman to do so
By Bob Needham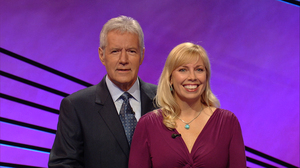 photo courtesy of Jeopardy Productions
Milan resident Stephanie Jass kept on winning on the TV game show "Jeopardy!" on Tuesday, and made a bit of history.
After her day's take of $23,600 took her total winnings to $147,570, "Jeopardy!" host Alex Trebek said her 7 consecutive victories on the show tie its record for wins by a woman.
Although the competition Tuesday did moderately better against Jass than some other nights during her terrific run, she still led after the first round, $6,200 to $3,400 for her closest competitor. By the end of the "Double Jeopardy" round, her lead had increased to $20,600 to $8,000.
The "Final Jeopardy" category was Americana. The clue: "The creator of this comic strip did not like its 1950 change in title, believing it suggested insignificance." In a rarity, all three contestants correctly responded, "What is Peanuts?"
But Jass' $3,000 wager ensured she would return for another day, this time with a chance to become the first woman to win 8 times in a row.
Jass' run will continue on Wednesday's episode. "Jeopardy!" airs at 7:30 p.m. weeknights on WDIV-TV, channel 4 in Detroit.
Bob Needham is director of entertainment content for AnnArbor.com. Reach him at bobneedham@annarbor.com or 734-623-2541, and follow him on Twitter @bobneedham.