Posted on
Fri, Jan 29, 2010 : 1:30 a.m.
"Cyrus" from Sundance Festival gets warm reception in Ann Arbor
By Roger LeLievre
There was little hoopla surrounding Thursday night's screening of the Sundance Film Festival movie "Cyrus" at the Michigan Theater — no red carpet, no dresses to die for, no paparazzi. And that was by design.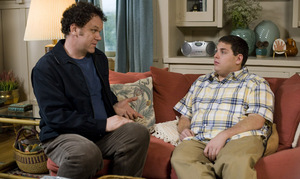 "That's not the Sundance way to show a film … this was not a Hollywood premiere," said Michigan Theater Executive Director Russ Collins. "We wanted to bring the sense of Sundance to Ann Arbor — artsy casual, that's what Sundance is and that's what Ann Arbor is."
According to Collins, the long sold-out screening was attended by around 1,650 people. The Michigan Theater was selected as one of 8 places outside of Park City, Utah, to offer films from this year's festival as part of its new program, Sundance Film Festival USA.
"We're making history here tonight … this is one of the buzz films of the festival," Collins told the full house before the show began.
Mark and Jay Duplass, the 2 brothers who wrote and directed "Cyrus," introduced the film and later answered questions from the crowd.
"You haven't seen the movie," Mark Duplass joked to the audience before the screening began. "Save your applause … this isn't 'Avatar,' you know."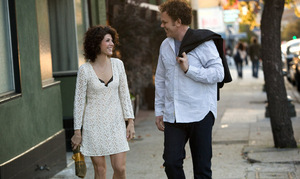 In "Cyrus," John C. Reilly plays a lonely divorced man who finds the woman of his dreams in Marisa Tomei, but her manipulative 21-year-old son, played by Hill, could be an obstacle. The Fox/Searchlight-backed production is the first mainstream movie from the Duplass brothers, who have earned indie-film cachet with titles such as "The Puffy Chair."
John C. Reilly and Marisa Tomei meet in "Cyrus":
After the 92-minute movie ended, the Duplass brothers, plus Jonah Hill, who played the film's title character, and film editor Jay Deuby, from Northville, conducted an informal Q & A with the audience. Hill was wearing a University of Michigan baseball hat that he said was a gift from his girlfriend, a U-M student.
They deftly fielded questions on casting, filmmaking, the film's conclusion and even its "philosophical underpinnings," which Mark Duplass answered.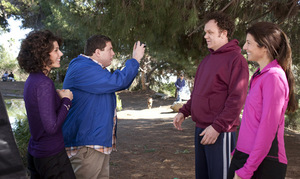 "We really wanted to make a new and interesting love story, in particular a love triangle," he explained. "We thought it would be interesting if we replaced 1 of the legs of the love triangle with this non-romantic element, this bizarre 20 year-old musician, highly intelligent, highly emotionally evolved, with a little bit of darkness in that 40-yard stare."
Cyrus shows off his musical side:
Audience members seemed pleased, both with "Cyrus" and with the opportunity to enjoy a little of the Sundance magic so close to home.
"It's exciting that it's in our backyard and we can take advantage of it without too much trouble," said Diane Tamblyn of Ann Arbor. "It's neat to be at a theater that's sold out for a movie. It's been a while since I've seen that," added her husband, Pat Tamblyn.
Dan Kukulka agreed. "I feel privileged that it came to Ann Arbor," he said.
Joe Devereaux, a local film fan who said he tries to catch most of the independent movies the Michigan Theater offers, also came away impressed.
"After seeing Mark Duplass give a brilliant performance in 'Humpday' a couple of months ago, I was interested to see his screenwriting and directorial turn. I thought the film was outstanding. I loved the performances, especially by John C. Reilly. ... I thought their filmmaking genius was very evident. The film was so well-written and they did such a great job picking the cast. I thought they were interesting, bright, smart young men."
Ann Arborite Mike Hunt had perhaps the most succinct review of all as he left the theater.
"Two thumbs up," he said, simply.
If you can't get enough of Sundance, the Michigan Theater will screen another Sundance selection, "Bilal's Stand," directed by Michigan native and U-M grad Sultan Sharrief, at 6 p.m. on Sunday.
Roger LeLievre is a freelance writer who covers entertainment for AnnArbor.com.
Want more "Cyrus"? Read about the "Cyrus" Sundance premiere after-party, listen to John C. Reilly and Jonah Hill's musical improv at Sundance and watch the Associated Press' interview with Marisa Tomei from earlier this week: