Posted on
Sat, Jan 29, 2011 : 2:52 a.m.
'Cedar Rapids' plays to packed Michigan Theater on Friday for Sundance USA
By Jenn McKee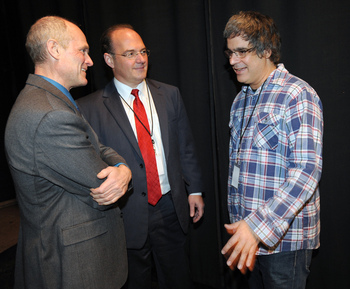 Lon Horwedel | AnnArbor.com
The Ann Arbor area has been building a pretty diversified film resume in the past few years.
After playing Boston in "Conviction," Berkeley in "Youth in Revolt," and Illinois in "Trust," to name only a few, the area also assumed the guise of Cedar Rapids in the new movie of the same name, which was presented to a sold-out crowd at the Michigan Theater on Friday night, as part of s 9-city Sundance USA program.
Yes, "Cedar Rapids" is currently having its premiere at the 2011 Sundance Film Festival in Park City, Utah, but it also played in Seattle on Thursday night as part of Sundance USA (while another 2011 Sundance selection, "Win Win," played at the Michigan). Yet because "Cedar Rapids" was shot locally, the Michigan Theater scored two Sundance USA film screenings instead of the standard one, and on Friday night, "Cedar Rapids" director Miguel Arteta ("Youth in Revolt") was on-hand — as he had been in Seattle the night before — to answer questions from the crowd after the show.
Filmed in late 2009 in Saline, Dexter, and Ann Arbor's Clarion Hotel, "Cedar Rapids" focuses on Tim Lippe (Ed Helms), a sheltered, small-town Wisconsin insurance agent whose horizons are expanded when he's asked to attend a business conference in the big city of Cedar Rapids. Once there, he's befriended by Joan (Anne Heche), a mom looking to temporarily escape her life; Deansie (John C. Reilly), a crass, loud party guy; and Ron (Isiah Whitlock, Jr.), a serious, married-to-the-job guy who has a soft spot for "The Wire."
"('Cedar Rapids') has fun with its characters, but it never makes fun of them," said Arteta before the screening. "It has a lot of affection for them. And I love this story of friendship. It's kind of like 'The Wizard of Oz' of insurance. It's like, Ed Helms' character has to go to the Emerald City of Cedar Rapids, and he meets three motley (people) that he has to befriend."
"To me, what attracted me about the script is that it told a story about how you can be kind, but not be a chump," Arteta said later. "Those are the kind of people I'm looking for in my life, and that's what I'm hoping for myself."
In this video, Arteta discusses the on-screen chemistry of his four lead actors.
Arteta and his team originally planned to shoot the film in Iowa, but shortly before "Rapids"' shooting was scheduled to get underway, Iowa's film rebate program suffered a scandal that resulted in a temporary freeze.
And while you might think Michigan's aggressive film incentives was the sole draw for Arteta and his team, another factor was the preponderance of "holidomes" - atrium-style hotels - that have a pool located right in the center.
"Michigan has the most of those," said Arteta.
"Rapids" marks the second time Arteta has worked in Ann Arbor, since he'd previously shot part of "Youth in Revolt" in the area; and "Rapids" is the fourth film he's premiered at Sundance, indicating that although he's working with big stars these days, his indie storytelling instincts have remained intact.
"In ('Rapids'), Ed Helms' character goes on a crazy journey, but he's not punished because he (did) drugs one night, in the way that big Hollywood movies often do," said Arteta. " … In some ways, I wanted to make it a really sweet film that was very foul-mouthed."
In this video, Arteta addresses the appeal of Helms' on-screen persona.
Before the screening, Michigan Theater executive director Russ Collins introduced Ann Arbor Mayor John Hieftje and Cedar Rapids Mayor Ron Corbett, both of whom spoke briefly. Here's a clip of Hieftje presenting Corbett with a key to the city that doubles as a bottle opener.
After the screening, Arteta took several questions from the crowd and offered these insights.
ON A SHOT THAT WAS SUPPOSED TO BE SET ALONG THE CEDAR RIVER: "It was very tough to try and cheat that shot. But it was very important for us because (the 2008 flooding) in Cedar Rapids was very serious, and we (wanted) to mention it. And something that made me fall in love with the script is that the character of Tim sees the good in everything. I love that speech that he gives (in the scene) about how insurance agents have a noble cause, when you think about it."
ON THE FILM'S TITLE: "Phil Johnston wrote the script. He was a weatherman in Des Moines, and then he was a field reporter, doing pieces about things happening in Iowa. And I think he fell in love with 'Cedar Rapids,' and he really stuck to his guns. It's not the most marketable title in the world. But neither was 'Fargo,' right?"
ON SCRIPTED DIALOGUE VS. IMPROVISATION: "John C. Reilly is a very wily improviser. … It's hard to find a role for John that he'll be excited about, because he's done so many great things. But I got the best compliment from him. We were shooting once at 6 in the morning in the bar, and (Reilly) said, 'I've played a lot of stupid characters, but this one is the stupidest.'"
ON A FUNNY MOMENT ON THE SET: "We did play a prank on the four (stars). We were coming out to work on the large ceremony at the end, and Ed's assistant volunteered to jump in front of them naked. … I went up to them (on the previous take) and said, 'It was good, but your faces, you don't seem solemn and serious. It's a heavy time, … the weight of the world is on you. Let's do another one. Come on, guys.' And they came out, and they were so scared. It was so fun to play (their reactions) in slow motion over and over again."
ON WHITLOCK, WHO ACTUALLY STARRED IN "THE WIRE," PLAYING A CHARACTER THAT'S A FAN OF "THE WIRE": "Those lines (about the show) preceded Isiah's casting. Those were in the original script. We actually thought we'd have to take them out when we cast him, because it would be too meta. But I'm glad we didn't take them out."
At one point, attendees who worked as extras and played conventioneers in the film were asked to stand up, and one of the pack was Sandra Gittleson, a local water color artist who has now worked as an extra on a handful of different films shot in Michigan.
"I thought it was good," Gittleson said of "Rapids" (despite the fact that a scene in which she played a more featured role was left on the editing room floor). "You know, all those scenes they did in the hotel rooms, we didn't really know what was going on, so it was interesting to see those blanks filled in, and see everything put together."
As of now, "Rapids" is slated to open in theaters in Detroit on February 18, and Ann Arbor March 4.
Jenn McKee is the entertainment digital journalist for AnnArbor.com. Reach her at jennmckee@annarbor.com or 734-623-2546, and follow her on Twitter @jennmckee.