Posted on
Fri, Jun 11, 2010 : 5:30 a.m.
The Ark: intimate, comfortable and an Ann Arbor treasure
By Roger LeLievre
Editor's note: This is one in an occasional series of profiles of local live-music venues.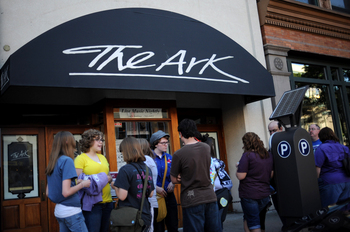 Melanie Maxwell | AnnArbor.com
The Ark has been around for so long — since 1965 in 3 different incarnations — it might easily be taken for granted. Luckily, it has some pretty loyal fans who appreciate how special Ann Arbor's nationally known acoustic-music-and-more venue is.
AnnArbor.com stopped by during a recent concert — by singer-songwriter Jonatha Brooke — and asked some of the folks in the crowd — regulars, newcomers, locals and a surprising number of out-of-towners — why they like The Ark.
Not surprisingly, several referred to the club's intimacy. With a capacity of around 400, it's easy to get up close to the performer. And more than one said it would be a disaster if The Ark, now in its 45th anniversary year, ever closed.
Members/regulars Ellie Cruze, and her husband, Kevin Hart, estimated they see 12-20 shows at The Ark each year.
"If it's not at The Ark I don't want to see it any more. No more stadiums, no more arenas, no more Hill Auditorium; I just want to go to The Ark," said Hart.
For Cruze, it's The Ark's intimacy. "I saw Joan Baez; I had my feet on the stage. Oh my God! That was so wonderful. That's huge," Cruze said.
"It's the intimate atmosphere," agreed Kristen Boardman of Ann Arbor. "I hate enormous venues and will not go see a concert there, but I will absolutely come here," she said. Her husband, Robert Boardman, also likes The Ark's vibe. "I love the informal atmosphere, these tables, (and) I can drink. It's relaxing, I can stretch out, interact with the artist. You aren't stuck in a seat like a straitjacket."
Fort Wayne, Indiana, resident Scott Young found out about The Ark from his friend Paul LaPoint of Sylvania, Ohio. "I need to keep track of who's coming more often. I drive up from Fort Wayne to the Michigan Theater but this is my 1st time (at The Ark). … In Fort Wayne, we don't get people like Jonatha Brooke."
Jeff Reece, who started attending shows at The Ark in 1988, became a volunteer in 1999 and has been on The Ark's board for the last 4 years, was also in the crowd to see Brooke, by his count the 34th concert he has attended at the venue this year.
"I love live music. And to be able to come to this listening-room environment, to see artists (who) are only $15 a ticket, is unbelievable. Even people you never heard of before blow you away in this place. You wonder why they aren't more mainstream, they just have so much talent. … I have so much passion for this place it's hard to even describe it," he said.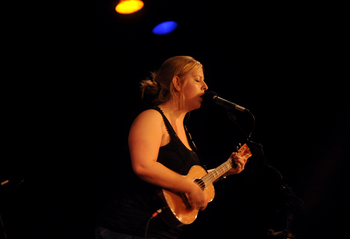 Melanie Maxwell | AnnArbor.com
Since The Ark offers over 300 live shows a year, with some bigger names also presented at the Michigan Theater, it would probably come as no surprise that plenty of tickets have been sold since 1965. But how many? Ark marketing director Barb Chaffer Authier came up with a rough estimate.
"We think we've sold somewhere in the ballpark of 1,250,000 tickets over the years," she said. "I think 2,300 different performers / bands is a good estimate for how many artists we've presented at The Ark."
So if you haven't been to The Ark lately — or ever — why the heck not? Or, if you have, stop and think about what The Ark means to you. Chances are it might be more than you think.
"I only wish I would have started coming sooner. I've only been coming the last 10 years or so," said Ann Arborite Shelley Larned. "I really can't imagine not having it here. I probably come a couple of times a month.
"I think it's just such a treasure and I hope people don't take it for granted. I'm just in awe every time I come here. We're just so lucky to have this place. Such an intimate setting, the acoustics are so amazing, and just to be able to sit right up by the stage, you can't beat that. You can't compare it to any other place else, I think."
Roger LeLievre is a freelancer who covers music for AnnArbor.com.
The Ark is located at 316 South Main Street in downtown Ann Arbor. Details: The Ark website or 734-761-1451.