Posted on
Mon, Dec 19, 2011 : 2:41 p.m.
A new kind of art gallery in Ypsilanti - The Parlour Room
By Richard Retyi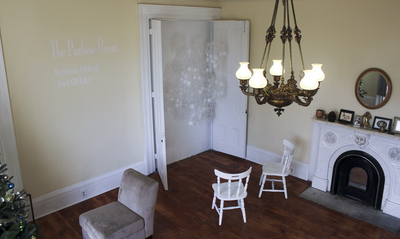 The Parlour Room
There's a new kind of gallery in Ypsilanti exploring alternative spaces to display art.
Mary Ayling
hopes that her apartment gallery,
The Parlour Room
can be a place for local artists to exhibit, art lovers to visit and a gathering place for artists of all disciplines. There will be snacks.
"When I use the term apartment gallery, I get a range of responses from blank stares to intense questions," says Ayling. "Alternative spaces are pretty natural in Chicago, but they seem to be rarer in this area."
Ayling is an artist and former gallery owner who grew up in Ohio and attended the Columbus College of Art and Design before moving to Chicago where she plugged herself into a rich artistic community. When she moved to Ypsilanti with her husband this fall, Ayling established The Parlour Room in their downtown apartment, hoping to get involved with the Ypsi/Ann Arbor art community.
"Chicago has a great history of alternative spaces," Ayling says, "from huge living spaces to an artist's purse."
The Parlour Room is Ayling's alternative space — a blank-walled room in her apartment dedicated to art. Each artist is free to use the space as they wish, utilizing the walls, a fireplace and Ayling's double doors to nowhere.
"When we moved in, there were double doors that opened to an unfinished wall," Ayling says. "I thought it was cool, so I painted the doors and finished the wall, and now it's a great feature of The Parlour Room."
photo by David Ayling
Artist, graphic designer and Ayling's longtime friend Kristen Althoff's piece "em>End of Life," currently occupies the double doors in The Parlour Room — Ayling's first exhibit in the new space.
For artists exhibiting in The Parlour Room, Ayling produces a video, a text-based interview and offers tons of photos on The Parlour Room website, where artists and those in the community can comment on the work and begin discussions.
The Parlour Room doesn't have regular hours, but Ayling accepts appointments for individuals or groups to view the exhibit and explore the space.
"Each exhibit lives online as well as in the physical space," Ayling says."I've only been in Ypsilanti for a short time but I'm already discovering what a great art community we have here and in Ann Arbor. I have my own workspace at the Spur Studios, where I've met some people already, and I'd love to eventually connect my Chicago community with the art community in this area."
Ayling cut her teeth in Chicago working at the Caro d'Offay Gallery in Wicker Park before opening her own gallery with four friends called Fill in the Blank. The storefront gallery was an adventure for Ayling and her friends, who each had a different expertise from web and graphic design to glass blowing.
It was "gallery by committee" and Ayling quickly learned how to put on a quality art show. They exhibited artists like Mark Porter, Gregg Davis and Meghan Kerr over three years until this past August when Ayling and her partners closed the gallery to pursue other opportunities.
The Parlour Room has artists lined up through June of 2012 with exhibits from Marty Burns, Chelsea Cossu and the artist behind The Cosby Sweater Project, but Ayling is always accepting submissions.
"Anyone interested in showing can email me a proposal," Ayling says. She just needs a brief description of the project, a few images, a list of books the artist is currently reading ("You can tell a lot by what people are reading") and what the artist's favorite snack is.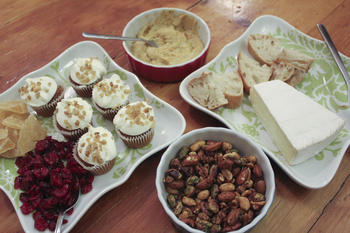 photo by David Ayling
Ayling doesn't mess around when it comes to snacks. It's not a fridge of soda and a plastic bowl full of Sun Chips — it's the kind of stuff you'd find at a graduate-level wine and cheese party at a university with an underfunded athletic program.
Ayling's ultimate goal is for likeminded artists and people interested in art to form an active community where people can share their work, offer insight and inspiration and ultimately help each other grow. One of the biggest hurdles is visitors.
"It's a nice place," Ayling says with a laugh, "and I'm a nice person."
For an unfamiliar concept like an apartment gallery, getting over some of the awkwardness of viewing art in someone's home might take some time, but it's well worth any initial discomfort. The Parlour Room is a unique space, and Ayling is an experienced curator who hopes to learn more about the Ann Arbor and Ypsilanti art scene and get more involved.
"I'm always open to meeting new artists," Ayling says.
Send her an email and check it out. Don't be shy. And eat the snacks.
Richard Retyi writes the bi-weekly-ish column "Lie to Your Cats About Santa" when he's not working his day job as the social media manager at Fluency Media in Ann Arbor. Retyi is an amateur artist who has twice exhibited at Shadow Art Fair, creating chapbooks and spray-paint stencils. He regularly updates his personal website at RichRetyi.com but if you want tweets about cats and Subway sandwiches, follow him on Twitter at @RichRetyi. His favorite snack is lasagna.)