Posted on
Wed, Nov 14, 2012 : 5:10 p.m.
The Head and the Heart to co-headline Ann Arbor Folk Festival
By Bob Needham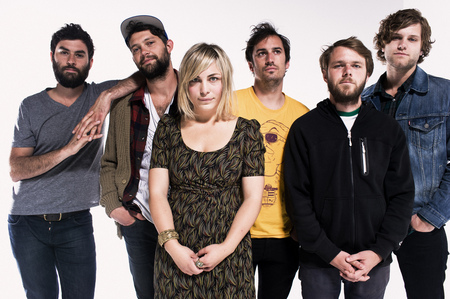 The Ann Arbor Folk Festival has announced a replacement headliner for the
canceled act The Civil Wars
: Seattle acoustic folk-pop band
The Head and The Heart.
While The Ark, which sponsors the festival as its main fund-raiser, had earlier announced most of the scheduled performers, the newly announced full schedule also has some other additions, including Trampled by Turtles and Delta Rae to the Friday night lineup, and Brother Joscephus and the Love Revolution on Saturday. The Head and the Heart will lead the Saturday lineup, a slot initially held by The Civil Wars before the duo canceled its entire tour.
The festival takes places Jan. 25 and 26 at Hill Auditorium. Ticket presales are current under way; tickets go on sale to the general public Nov. 30. For more information and full ticket details, see The Ark's website.
Following is the full lineup, with descriptions provided by The Ark:
FRIDAY, JANUARY 25

CITY AND COLOUR

City and Colour is Canadian songwriter Dallas Green. The name comes from Dallas, a city, and green, a colo(u)r. His voice is unmistakable: deeply intriguing and immediately identifiable once you've heard it. When he's not playing in the post-hardcore Canadian band Alexisonfire, Dallas Green can be found touring as City and Colour, selling out thousand-seat venues across his native North America and respectably-sized European shows weeks in advance, including an April 2011 performance at the UK's Royal Albert Hall which sold out in just hours. City and Colour recently released his third album, "Little Hell," which, he says, explores the little heavens and hells of romantic relationships, and "the things you do to get through them both." The music of City and Colour embodies an unusual combination: it is strongly stamped by the influence of the Canadian indie rock musicians with whom he has played for most of his career, yet completely comfortable and personal in its acoustic dimensions. City and Colour is the Friday night headliner for the 2013 Ann Arbor Folk Festival.

RODRIGUEZ

Rodriguez, aka Sixto Diaz Rodriguez, Rod Riguez, and Jesus Rodriguez, released a pair of albums, "Cold Fact" and "Coming from Reality," in 1970 and 1971. His music was influenced by Bob Dylan's, but it had the hard edge of his native Detroit and was often political in nature. It went nowhere in America, and Rodriguez eventually dropped out of the music scene, earning a living as a demolition worker while pursuing a PhD in philosophy at Wayne State University. But the story turned out to have a Part Two. Abroad, Rodriguez was discovered in several countries, most notably of all in South Africa. There, the songs on "Cold Fact" became anthems of the anti-apartheid movement, and Rodriguez acquired a cadre of fans who circulated a false rumor that he had died. After running unsuccessfully for the Detroit city council, Rodriguez came back to public notice in his home country after a documentary, "Searching for Sugar Man," explored the circumstances surrounding the death hoax and won notice at the Sundance Film Festival. Now, Rodriguez is back, with a new album, successful tours, and an appearance on "60 Minutes" to his credit. His personality, idealistic and eccentric, is like a time capsule from the 1960s, and the word "unique" is insufficient to describe his talent.

TRAMPLED BY TURTLES

Trampled by Turtles is a group of musicians from Duluth, Minnesota. When they formed in the early 2000s, all the members were playing in rock bands and just wanted to play acoustic music as a break from their regular gigs. Soon, as they became fascinated by folk songs, bluegrass, fiddle tunes, and other traditional forms, the side project became the main project. Trampled by Turtles began writing original songs, and, they say, "The band gradually became more comfortable in its own skin and ... the songs began to reflect that." They show up regularly in the upper reaches of Billboard magazine's bluegrass charts, but you can hear the Rolling Stones and Nirvana in their music, too, if you listen for it. Trampled by Turtles has performed at the Coachella, Stagecoach, Bumbershoot, and Telluride Bluegrass, and Newport Folk festivals, among others, and nobody can grab hold of a festival crowd like this band! They exemplify the strength of the new mixtures developing between traditional music and the rock universe. DELTA RAE

Delta Rae is a six-person folk-rock band from Durham, North Carolina, that includes siblings Ian, Eric, and Brittany Hölljes. The band's name came from a story their mother made up about a girl by that name who calls the Greek gods to Earth. The Hölljes siblings grew up partly in North Carolina and partly in the San Francisco Bay Area, and both places contributed strands to their musical DNA. After college, they moved into a house in the forest and set about finding their musical voice. Their early shows were legendary. "A lot of times we'd come down off stage and sing something in the middle of the audience, or be screaming out as opposed to singing in order to convey the emotion, to find something primal that will affect people," Ian recalls. Their energy, their awe-inspiring four-part harmony singing, and a group of strong, honest original songs led them to the doorway of the major label Sire Records, which released their debut album, "Carry the Fire," in the summer of 2012.

CARL BROEMEL

Carl Broemel appeared on Rolling Stone's 2007 list of 20 New Guitar Gods, but that doesn't cover his divine presence. A linchpin of the phenomenally successful Louisville neo-psychedelic rock band My Morning Jacket, he has released two solo albums as well as contributed to Wanda Jackson's comeback album "The Party Ain't Over." Solo, he plays acoustic instruments and takes a more introspective approach. "It takes a lot of time to know your mind," Carl says and that Zen-like statement informs his latest solo release, "All Birds Say." The album is an intimate collection of musings on life, reflecting on things as they are and making no judgment on how they should be. The music of Carl Broemel gives pause for introspection but stops well short of preaching. It inhabits little fractured moments that invite the listener into thoughtful contemplation that in turn gives rise to epiphanies on larger themes. Sometimes, Carl says, it's the spaces in between, the subtleties and ambiguities that provide us with the most meaning.


FRONTIER RUCKUS

Who's the next breakthrough Americana band? Southeast Michigan's own Frontier Ruckus is looking like a strong candidate and has been getting lots of national attention. In the words of Cleveland Scene, Frontier Ruckus "delivers spirited, acoustic-based roots music driven by David W. Jones' banjo and fleshed out with saws, horns, and other left-field touches. Frontman Matthew Milia's vocals convey a dreamy, twangy quality, like someone who's wandering aimlessly through the woods at night. He recalls Michael Stipe in his vivid wordplay and oblique imagery." What's unique about this band is that they use country instrumentation to depict not a rustic utopia but life along the interstate as most of us live it. They've got an deep lyrical streak, and each of their albums so far has been brilliantly original in concept. Rolling Stone thinks Frontier Ruckus has "the perfect recipe for Gothic Americana," and this Folk Festival performance could be where this new recipe comes together.

BROWN BIRD

Brown Bird is the Rhode Island duo of former shipyard worker David Lamb and MorganEve Swain. "Brown Bird," writes Charles Booth, "is better listened to in a room made of wood. Of course, it is easy to download the code and listen to the band on small computer speakers, but what is the point? You miss the warm layers of guitar, banjo, violin, double bass, cello, and bass drum (wooden rim) which hangs thick over their latest full-length effort, 'Salt for Salt.'" Pared down from a band to a duo, Brown Bird is a modern folk ensemble whose live performances embody surging waves of intensity. Their arrangements, featuring various instruments—banjo, cello, double bass, percussion—have an appealing sparseness. The music of Brown Bird is rooted in American tradition, but they're unafraid of genuine experiment, and you might hear shades of the Near East in their melodies. Add in searching, intelligent lyrics, and you have a new act of stunning originality in the world of folk music.

COLIN HAY, MC

Colin Hay is a master of the one-man show. Armed with an acoustic guitar, his rich memorable voice, and decades of road experience, Hay is an entertainer in the true sense of the word. His show takes his audience on a journey through song and stories, and that journey is an experience not to be missed. "Hay is funnier than most stand-up comedians, so he'll split your sides and then drop a heartbreaking ditty on you," says the Houston Chronicle. The set list for his solo shows mixes tracks from his extensive catalogue as a solo songwriter, new music, and, of course, from his time with the monumentally successful Men At Work. "I've been singing, playing guitar, writing songs, and trying to entertain people since I was 14 years old." says Colin. "I feel, at the present time, that I may, on any given night, be getting the hang of it!" Colin Hay serves as master of ceremonies for both nights of the 2013 Ann Arbor Folk Festival.

SATURDAY, JANUARY 26

THE HEAD AND THE HEART

An exciting new discovery of Seattle's famed Sub Pop label, The Head and the Heart came together in the summer of 2009 and has exploded like a supernova across the folk-rock scene. Josiah Johnson, Jonathan Russell, Charity Rose Thielen, Kenny Hensley, Tyler Williams, and Chris Zasche got to know each other at open mic nights at Seattle's Conor Byrne pub, and it all felt right. The strength of Josiah, Jon, and Charity's vocal harmonies makes you feel as though these three were born to pour their voices together. Americana meets The Beatles in the band's songs, whose lightness belies the depth of ache in the lyrics when you sit down to really listen. The Head and the Heart's shows are breathless fun. The band has accepted nearly every show offered to them in the past year, from backyards strung with Christmas lights to coffee shops, open mics, and high school classrooms in Middle America, and from the first months of the group's life, their reputation as a phenomenal live band has preceded them wherever they play. There is in this music a counter-cultural optimism, with roots that grow deep and melodies that lodge themselves far into that place inside you where the head meets the heart. We are delighted to welcome The Head and the Heart as Saturday night's headliner for the 2013 Ann Arbor Folk Festival.

LUCINDA WILLIAMS

Lucinda Williams was named America's best songwriter by Time and few would dismiss the assertion out of hand. Beginning with a couple of albums of straight Texas blues in the late 1970s, Lucinda has built an unparalleled catalogue of great songs over a career now in its fourth decade. She's done searing rock confessionals, put herself out there with introspective folk to match the best of them, hit the common denominator of commercial country with "Passionate Kisses" and some terrific storytelling songs, delved into R&B and gospel, made straight blues that bears comparison with Janis Joplin—and she was really Americana before there was such a category. "Even when I was playing open mic nights by myself I'd be sitting up on stage with my Martin guitar doing 'Angel' by Jimi Hendrix' or 'Politician; by Cream alongside Robert Johnson and Memphis Minnie songs," Lucinda recalls. "It never occurred to me to pick just one style." Now Lucinda comes to town with her much-awaited new release, "Blessed," and the material that's seeped out from it so far is sensational. Her music has been called "Gothic," and "darkly damaged," but there's a cathartic confessional quality to it that in the end is deeply positive and inspiring.

DAR WILLIAMS

Dar Williams is a longtime Ark favorite who finds the personal in the political and the universal—and sets folk commitment to great pop tunes. Dar has always kept audiences guessing. Are her songs autobiographical? They're so vivid, and they seem so personal, that you assume they must be. But Dar says that she prefers to write about and for other people. Her songs tell stories of politics, religion, sexuality, and family, and the grassroots activism she has practiced often finds its way into her music. Dar comes to the 2013 Ann Arbor Folk Festival with a new album, "In the Time of Gods." Its lyrics traffic in the complex and mysterious world of mythology, which aligned with other issues the singer-songwriter was grappling with. "I'm interested in power right now," Dar says. "I'm in my 40s, and I'm shocked that the café conversations I had in my 20s-'Somebody has to do something!'- are now my responsibility. I see people who are actually doing things that you always dreamed somebody would do, and I can help make that a reality. So the stakes are higher, in a good way, but you also see the shadow, the reckless behavior, where a person can lose it all in a weekend."

FRANK FAIRFIELD

Frank Fairfield is a young man and old-time folk musician who plays fiddle, guitar, and banjo while singing and hollering. He's a word-of-mouth sensation who channels the spirit of another era in his spellbinding live shows. From California, Frank sings tunes he has worked hard to collect from around the world, as well as his own well-dusted ditties. His eclectic sets feature soaring hillbilly ballads, arcane rambling songs, and murder ballads delivered in a reedy tenor. Still in his 20s but steeped in the pre-War Americana of Mississippi John Hurt and Dock Boggs, Frank cut his teeth as a street performer in L.A., and he has a raw intensity and quick-fingered technique that makes your hair stand on end. Alternating among banjo, fiddle, and guitar, he draws on his encyclopaedic knowledge of the American folk canon. Frank has opened for Fleet Foxes, and his growing corps of admirers includes Ry Cooder and Greil Marcus. Call it American Primitive or just call it folk music—it's a phenomenon.

THE STEEL WHEELS

On the road and in the studio, The Steel Wheels are tapping into Americana traditions and creating fresh-sounding acoustic music. The band's new album, "Lay Down Lay Low," succeeds in capturing the fire-in-the-belly spirit of the band's mesmerizing live shows while fine-tuning carefully crafted lyrical stories that surprise the ear and linger in the heart. Acoustic instrumentation escorts the listener into a slow dance or a full-throttle ride, while lead vocals from Trent Wagler soar and find the perfect complement in supporting vocals from mandolin player Jay Lapp, with bass player Brian Dickel and fiddler Eric Brubaker joining for soul-thrilling harmonies. " The last Steel Wheels album, "Red Wing," ranked in the Americana Music Association's Top 100 Albums of the Year in 2010 after spending 13 weeks on the Top 40 Americana radio chart "Red Wing" also cracked the EuroAmericana Top 10 and Folk charts and racked up five Independent Music Awards nominations, winning Best Country Song. This is a young band rooted in the deepest traditions of American music, yet totally contemporary, and they are going places.

BROTHER JOSCEPHUS AND THE LOVE REVOLUTION

Brother Joscephus and the Love Revolution play jazz-fueled music, featuring complex arrangements with a gritty soul and a gospel heart. Since 2007, they have been on a musical mission to make the world a more righteous place! The two main visionaries of this 12-piece explosion of love, Brother Joscephus and his eccentric cohort the Right Reverend Dean Dawg, dip heavily into a gumbo rich with New Orleans rhythms, old-school soul, classic rock stylings, and feel-good gospel music. They combine all this with a message of righteousness, urging us toward acceptance and love for one another. From their home base in Brooklyn, New York, BroJo has brought its Love Revivals to cities all over the country. When you combine the music and the message with a one-of-a-kind high-energy stage spectacle, you've got the makings of a revolution! Take it from a publication as straight-arrow as The New Yorker: "This big, Brooklyn-based, New Orleans-inspired gospel soul-rock congregation brings a righteous message of love and rhythm."

DREW NELSON

Grand Rapids native Drew Nelson joined the Navy and started playing his songs all over the world. He lists his influences as "Greg Brown, Peter Mulvey, Tom Waits, Patty Griffin, Lyle Lovett, Richard Shindell, Andrew Calhoun, Kat Eggleston, John Gorka, Jan Krist, Ralston Bowles, U2, Bruce Cockburn, and, well . . . Dylan, Dylan, Dylan." He's opened for John Gorka, a big fan, at The Ark, and has toured with Melissa Etheridge and Edwin McCain. Signed to the prestigious Red House label, Drew recently released the album "Tilt-a-Whirl." A fly fisherman and world traveler, he writes as a witness to the lives and journeys of those he has met along the way, mixing Americana and roots rock with traditional folk styles.

COLIN HAY, MC

See description for Friday, January 25.