Posted on
Thu, Aug 4, 2011 : 9:54 a.m.
The Penny Seats' first outdoor play messes with Shakespeare
By Jennifer Eberbach
New amateur repertory theater company The Penny Seats is gearing up for its first play, "Goodnight, Desdemona (Good Morning, Juliet)" by Canadian playwright Ann-Marie MacDonald. It will play at the renovated band shell at West Park on Aug. 5-7 and 11-14.
The theater company's president, Lauren London, plays the lead character, Constance Ledbelly, a modern-day assistant professor at Queen's University who is mysteriously transported into the worlds of Shakespeare's famous tragic plays "Othello" and "Romeo and Juliet." Convinced that the plays are really comedies, the awkward heroine searches for proof.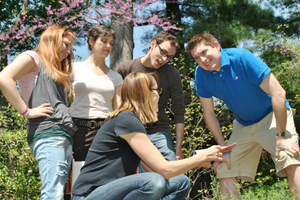 Although the play uses certain scenarios and dialogue that appear in the original versions of Shakespeare's plays, once Constance is thrown into the picture everything changes. Her interventions lead to humorous results, making the play a true comedy.
"Constance come and mucks everything up," explains Jacqui Robbins, the play's director. "It's like when you're watching a horror movie and the character says something like, 'I'll go and check,' and you yell out, 'No! Don't do that!' In one scene, she literally does that as Iago is handing Othello the pillow to kill Desdemona. She tells them they are about to make a huge mistake," Robbins explains. Then, her intervention changes the course of the characters' fate.
Roy Sexton (Othello/Tybalt/Professor Claude Night) enjoys the way the play messes with Shakespeare's original plays. "We've gotten to a point of comfort with this piece where we are having fun with it, and I think the audience will too because most people are remotely familiar with these pieces from reading them in high school. They'll have enough familiarity to know when we are going astray," he says.
Set in a "dream-like" space, "it gets more and more absurd as the play goes on," Robbins says. "It's a little like 'Wizard of Oz' for grown-ups."
Russ Schwartz (Iago/Ghost/Juliet's Nurse) was the one who suggested the play to the rest of The Penny Seats folks. "Often times when you do outdoor theater, people expect Shakespeare or very classical theater. This takes that concept and turns it completely on its head. We are going to start with Shakespeare and then go in the opposite direction and turn in really modern and funny," he says.
The Penny Seats have added and changed a few things to make the play their own, according to the cast and crew. Choreographer Victoria Gilbert created a dance number at the beginning of the play during which the cast sings an original song written by Zach London, Lauren's husband and company board member. "Everybody who is a part of this company has a very strong musical background. So, we really wanted to highlight their talent. When Zach created this song for us, it was just a perfect way to highlight everyone's musical talents. It would be a shame not to include music in our first year," Gilbert says.
Robbins says they choose this particular play for their inaugural season because "it fit into a lot of different things we are going for. It's really funny in a smart way. We wanted something that we could put our own mark on and have fun with. There are a lot of plays where the best you can do with them is to follow the script exactly, but this play has room for us to add things and have fun playing around with it," she explains.
Also appearing in the play are Matt Cameron (Romeo/Chorus), Sarah Leahy (Juliet/Student/Cypriot Soldier), and Melynee Saunders Warren (Desdemona/Ramona/Mercutio/Servant).
Reflecting on founding the theater company, London says that "there was a niche for quality amateur theater here in Ann Arbor. In the midst of a town that is rife with fantastic professional theater and community theater, we felt that we could add something to the mix. Many of us have acted with community theaters in town, and some of us have acted professionally, but we also have pursued medicine, law, and other professions and sorely missed being able to do theater on a consistent basis. Creating The Penny Seats has given us that chance."
The cast and crew are looking forward to doing a show at the renovated band shell at West Park. "West Park is a venue that has been a little bit reborn. The Blackbird theater has broken it in with their Shakespeare West productions. I think we are a part of what I hope will be a renaissance of outdoor summer theater in Ann Arbor. We're just thrilled about it!" London says.
As a nonprofit, the company has relied on donations to get up and running. They did a Kickstarter campaign and a cabaret fundraiser at Mediterrano Restaurant early this year to raise funds. Being donor funded helps keep ticket prices low. Tickets to the show at West Park cost $10.
Local caterers What's Cooking will provide boxed picnic meals that attendees can pre-order and pick-up at the event. You are allowed to bring your own alcohol to the park, as long as you drink responsibly.
7 p.m. performances of "Goodnight, Desdemona (Good Morning, Juliet)" will be held on August 5, 6, 11, 12, and 13. 2 p.m. shows happen on August 6, 7, 13, and 14. Tickets and information about picnic dinners are available at The Penny Seats' website, www.pennyseats.org. Tickets are also available through Brown Paper Tickets, at (800) 838-3006.