Posted on
Wed, Jul 20, 2011 : 11:42 a.m.
The Ravens Club an appealing upscale destination
By Julie Halpert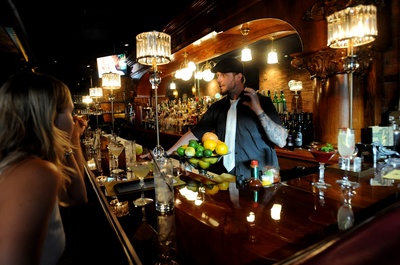 Melanie Maxwell | AnnArbor.com
NOTE: This week, during the Ann Arbor Art Fair, the Ravens Club is among those restaurants offering a special menu
.
While Vinology is known for its wine and Black Pearl for its martinis,
Chris Pawlicki
wants "to light the world on fire with our old-fashioned cocktails." Pawlicki is one of the owners of The Ravens Club, which opened on May 13 on Main Street. He hopes the restaurant will be a "gastro-pub, delivering great service and great food."
Pawlicki said his restaurant is aiming for a prohibition-era feel, and made the 100-year-old bar in the center a focal point. But aside from some period light fixtures and a song that played in the background from that era on our first visit, there was no real indication of that in the ambience.
It was still welcoming, though, with black ceilings and wood throughout creating a dark, intimate feel. Though prices are on the high end, the vibe is casual. There were even some families with young children dining there on our first visit.

The menu focuses on the popular trend of healthful, locally sourced ingredients used throughout the offerings — starting with the cocktails, prepared with fresh juices. In addition to a full wine and bar list, there are eight drinks with catchy names like The Scofflaw and the Pink Lady. Served in martini glasses and in bright hues of lime green and cotton-candy pink, they're pleasing to the eye.
I ordered The Last Word, and enjoyed how the fruity lime complemented the gin. My husband regretted his choice of The Ravens Club,which had an overpowering, medicinal taste.
I could be happy here with the small plates alone, including the grilled flatbread, topped with fresh vegetables and mozzarella cheese. The special soup of the day, white onion soup, was outstanding. Instead of the French version laced with heavy cheese, this was light and well seasoned, full of flavor. Don't skip it if it's offered when you dine here.

RESTAURANT REVIEW
The Ravens Club
207 S. Main St.
734-214-0400


Hours: Tuesday-Thursday, 4-10 p.m. for kitchen; bar is open to 1 a.m. Friday and Saturday, 5-10 p.m. for kitchen; bar open until 2 a.m. Sunday, 5-9 p.m. for kitchen; bar stays open until 1 a.m. Closed Mondays.


Plastic: Visa, Discover, Mastercard, American Express.


Liquor: Full bar.


Prices: Moderate to expensive. While small plates are in the $8-$10 range, entrees cost as much as $25 and are served a la carte.


Value: Very good.


Noise level: Medium.


Wheelchair access: Yes.
Even the seasonal mixed greens were expertly prepared, tossed in a delicious homemade Russian dressing. I especially liked the addition of the hearts of palm. The savory chicken pastry lived up to its name, with a unique combination of roasted chicken and sweet potatoes encompassed in a sweet crust.

One appealing thing about the Raven's Club is that it features a variety of entrees you don't routinely see. One of the best of these was the shrimp and grits, where crunchy cornmeal complemented the shrimp.
The last time I had the chance to sample rabbit was when I was a teenage exchange student in France. The Ravens Club's confit of rabbit didn't disappoint, made moist and flavorful by a delicious sauce.

That same outstanding taste and texture was present in the Cornish game hen, served with cornbread. We also sampled some of the more traditional entrees, including the scallops, which could have used some punchier seasoning. The house turkey, one of three sandwiches offered here, was fresh (though very salty), delightful when paired with Cafe Japon's amazing bread.




My husband's butternut squash ravioli was a more healthful choice, but I think layering on a more substantial sauce would have enhanced the dish. The walleye en papillote was served with an unappealing, bitter anchovy sauce over a bland fish.

Don't miss dessert here. The standout was the rhubarb cobbler, where fresh fruit was surrounded by a sweet chunks of sugar. The chocolate decadence was like eating pure fudge — spectacular.

Service on both our recent visits was prompt, and servers had a cheery demeanor. With the exception of just a couple of dishes, The Ravens Club seems to be well on its way to achieving Pawlicki's goal of delivering both high-quality food and great service.
Julie Halpert reviews restaurants for AnnArbor.com.