Posted on
Thu, Dec 6, 2012 : 9:49 a.m.
Holiday concerts, indie crafts, and special events fill this weekend with cheer
By Jennifer Eberbach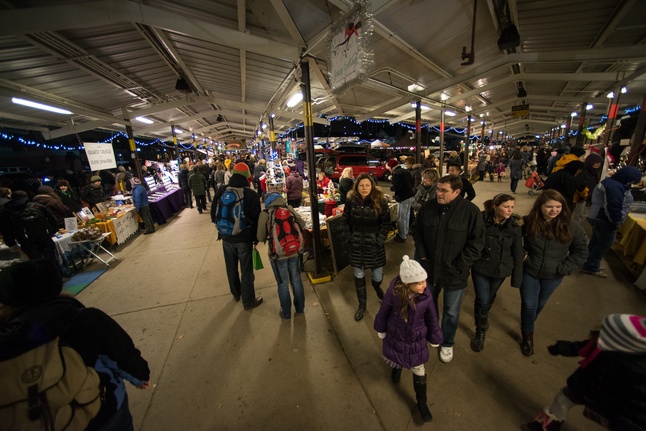 Courtney Sacco | AnnArbor.com
The holiday season is suddenly in full swing. For a couple of weeks already, the Ann Arbor area has been partying at parades and festivals, stocking up on gifts at local shopping events, and enjoying wintertime-themed performances and concerts.
The spirit of the season continues this weekend with music, theater, arts & crafts sales, and other special events.
FRIDAY
The Ann Arbor Symphony Orchestra hopes to start a new tradition this year. On Dec. 7 their First Annual Holiday Pops Concert, at Hill Auditorium starting at 8 p.m., will feature choirs from Huron High School and Pioneer High School, as well as men's choral group Measure for Measure.
Also on Dec. 7, head over to another new event, the Holiday Greens & Gift Market at the Ann Arbor Farmers Market. The outdoor event will feature artists, food, fresh trees and greens for sale. Take a photo with Santa, make s'mores, and ride the "Jollie train," from 4 p.m. to 9 p.m. While in Kerrytown at the greens market, join the Kerrytown Caroling Party by the clock tower every hour on the hour, from 6 p.m. to 9 p.m., and sing along. A SmartPhone QR code will link you up with lyrics to the songs.
SATURDAY AND SUNDAY
An indie scene favorite, D.I.Ypsi Handmade Holiday Fair, returns again this year, on Dec. 8 from 11 a.m. to 7 p.m. and Dec. 9 from noon to 6 p.m. at Corner Brewery. Handmade art created by 36 artists from around the region should entice holiday gift shoppers. Shop, drink craft beer, and grab a meal - vegan food catered by the Lunch Room. A quarter at the door will benefit FLY Children's Art Center.
Indie arts & craft fair Tiny Expo has a new home this year. The annual day-long sale, on Dec. 8 from 10 a.m. to 7 p.m., moves to METAL and Pot & Box at 220 Felch St. Find fun and sometimes funky gifts for the holidays that are handmade by local area artists, artisans, and craft-makers.
On Dec. 8, St. Francis of Assisi Catholic Church will host A Holiday Concert, with Measure for Measure and the UM Men's Glee Club, at 8 p.m. The two groups—a choral ensemble started by glee club alumni and the current glee club, respectively—"will each sing their own seasonal repertoire and will then combine to sing the magnificent "Ride On, King Jesus" by Moses Hogan," according to the event's announcement.
Local ceramist and art educator Kate Tremel will hold her 6th annual Kate Tremel Studio Sale with Friends at her studio at 627 Gott St., on Dec. 8 and Dec. 9 from noon to 5 p.m. Come for ceramic art and pottery, handmade garments, encaustic works, and book arts. This year, friends participating in the sale include Jean Buescher Bartlett, Monica Wilson, Nancy Green, Julie Bedore, and Michele Montour.
On Dec. 9, Art in the Barn returns for another annual arts and crafts sale at the Yellow Barn, from 10 a.m. to 5 p.m. 25 artists will have all kinds of items for sale, including photography, sculpture, textiles, glass, and jewelry this year, according to the event's announcement.
A Hanukkah Celebration at the Jewish Community Center, on Dec. 9 from 10:30 a.m. to noon is for the whole family. The celebration will include candle lighting, singing, dancing, bounce houses, games, and a Hanukkah Shop, according to the event's announcement. Everyone is invited to attend.
ALL WEEKEND LONG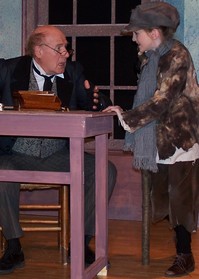 What would December be without
'A Christmas Carol'?"
The classic story of Ebenezer Scrooge by Charles Dickens will be performed by
Wild Swan Theater
company at Washtenaw Community College's Towsley Auditorium in the Morris Lawrence Building. Shows on Dec. 7 start at 10 a.m. and 12:30 p.m. See it on Dec. 9 at 2 p.m. and 4 p.m. The Wild Swan's version of the classic is adapted by Jeff Duncan (Scrooge) with an original musical score by composer Tom Schnauber.
Artist-made ceramics make great holiday gifts. Get your fill at the annual Yourist Studio Gallery Holiday Sale all weekend long. More than a dozen ceramists from the Community Studio will be featured. On Dec. 7, from 5 p.m. to 8 p.m., a preview sale and reception will include a meet-and-greet with the artists. Shop the sale on Dec. 8, from 10 a.m. to 6 p.m., and Dec. 9, from 10 a.m. to 5 p.m.
In Saline, Two Twelve Arts Center will have artworks by their affiliated artists for sale. At their Holiday Sale 2012 you will find handmade pottery, jewelry, paintings, fiber art, and more, according to the event's announcement. A reception on Dec. 7, from 7 p.m. to 9 p.m. will give you a first look at the items for sale. And shop the sale Dec. 8 through Dec. 15 during open hours, 10 a.m. to 6 p.m. any day but Sundays.
Youth Dance Theatre of Michigan brings another holiday classic to life at Chelsea High School this weekend. Youth Dance Theatre of Michigan's 15th annual production of "The Nutcracker" will feature young dancers, aged 8 to 18 years old, choreographed by YDT Artist Director Wendi DuBois. See the ballet Dec. 7 at 7 p.m., Dec. 8 at 2 p.m. and 7 p.m., and Dec. 9 at 2 p.m. at the high school's Performing Arts Complex. Come early on Dec., at 12:30 p.m., to meet the cast - in costume - for "Sugar Plum Tea" and treats.
THE BEST OF THE REST
• The Polar Express Pajama Storytime and Party at Barnes & Noble is an interactive reading of the holiday classic that lets the kids really get into the story.
• Have A Christmas Tea at Gordon Hall care of Dexter Historical Society.
• Celebrate A German Family Christmas at Kempf House Museum.
• There will be arts & crafts for sale and craft projects for the kids at STEMTech@Ypsilanti Middle School Holiday Arts & Crafts Show.
• Take a workshop on Holiday Greens at Mattaei Botanical Gardens.
• Hear Nature Tales - Winter Tales at the Leslie Science and Nature Center and do hands-on nature activities.
• Buy art, crafts, and other gifts at the Grass Lake Sanctuary Volunteers' Annual Holiday Arts and Crafts Show, held at the Aprill Wellness Center.
• The Activity Center at Hudson Mills Metropark will become Santa Central.
• Catch the movie 'Elf' at the Michigan Theater's on-going Free Holiday Classic Film Series. Admission is free.
• Listen to the Ann Arbor Civic Chorus sing at A Winter's Journey: Songs of Warm Hearts & Bad Weather at Forsythe Middle School.
• Learn how to bake pizelles (Italian holiday cookies) at Downtown Home & Garden.
• Check out the "Cookie Walks" in Ann Arbor or Ypsilanti.
Something to add to this list? Email entertainment@annarbor.com