Posted on
Thu, Nov 15, 2012 : 5:45 a.m.
Today is your chance to see Mike Birbiglia onstage and drink wine to help HARC
By Ann Dwyer
BOOKS
The Jewish Book Festival continues at the Jewish Community Center until Nov 18. There are Lunch with the Author events throughout the week. Many events are free and open to the community. Lunches with the author: $10 in advance, $15 at the door. Get a complete schedule at www.jccannarbor.org. 2935 Birch Hollow Drive, Ann Arbor. 734-971-0990.
LECTURE
The Penny Stamps Speaker Series continues at the Michigan Theater. 5:10 p.m. Artist Chris Jordan speaks on "Running the Numbers." An exhibit currently showing at several University of Michigan locations, "Running the Numbers" looks at contemporary western culture through statistics. Each image portrays a specific quantity of something: 2 million plastic bottles (five minutes of U.S. bottle consumption), 106,000 aluminum cans (30 seconds of can consumption), etc Free. 603 E. Liberty St., Ann Arbor. 734-668-8397.
TALENT SHOW
See kids perform great feats of...various stuff at "Festifall 2012," Ypsilanti High School's showcase of talents. 6-8 p.m. Anticipated highlights include: Dance team, Jazz club, French café with waiters and French music, a Day of the Dead Fiesta, choir performances, poetry readings, art displays and much more. Free. 2095 Packard Road, Ypsilanti. 734-714-1080.
FUNDRAISER
Benefit the HIV/AIDS Resource Center by drinking wine and buying stuff at the "Annual Ann Arbor Wine Cellar" at Vineyard Church of Ann Arbor. 6:30 p.m. This is a tasting, raffle and silent auction. $60 at the door. Raffle tickets: $10. 2275 Platt Road, Ann Arbor. 734-477-9135.
FILM
Universal Pictures will present the 100th anniversary special event: "To Kill a Mockingbird" at Quality 16 and Rave motion pictures. 7 p.m. Gregory Peck plays Atticus Finch, a lawyer in a racially divided Alabama town in the 1930s. The event will feature a special TCM-produced introduction and historical commentary featuring Osborne. $12. Q16: 3686 Jackson Road, Ann Arbor. 734-623-7469.
THEATER/COMEDY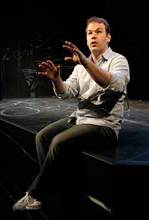 Photo by Joan Marcus
Mike Birbiglia brings his one-man stage show, "My Girlfriend's Boyfriend" to the Michigan Theater. 8 p.m. Comedian and "Sleepwalk with Me" star, co-writer and co-director Birbiglia re-visits a lifetime of romantic blunders and miscues that most adults would spend a lifetime trying to forget. $35. For more information, visit
www.michtheater.org
. For tickets, visit
www.ticketmaster.com
. 603 E. Liberty St., Ann Arbor. 734-668-8397. Read about it
here
.