Posted on
Sat, Jul 9, 2011 : 5:56 a.m.
Jetty Rae, Stella!, Ella Riot and more
By AnnArbor.com Staff
Tonight is Day 20—only two days left!—of Top of the Park, the popular, free (donations welcome) outdoor happening featuring music, movies, kicking back, running into friends, and a variety of other attractions.
Each day in cooperation with the Ann Arbor Summer Festival—which presents Top of the Park as well as main-stage ticketed events—AnnArbor.com is publishing a rundown of the night's happenings. Here's an overview of tonight's schedule, followed by a more detailed look at the events and attractions:
OVERVIEW

5-8 p.m. - KidZone - kids activity tent
5-6 p.m. - Retreat: Yoga
5 p.m. - Jetty Rae - indie pop
6 p.m. - Stella! - Americana/folk
7 p.m. - The Saints of Soul - R&B/Motown
9:30 p.m. - Ella Riot - indie pop/rock
11 p.m. - After Dark: DJ powdrblu

ENTERTAINMENT DETAILS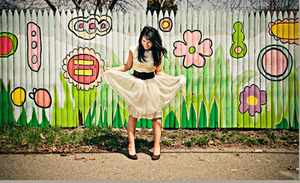 Jetty Rae - 5 p.m.
Jetty Rae is a singer and songwriter originally from Northern Michigan who weaves soul, folk and a little bit of Jetty into a beautiful tapestry of notes. She released her first full-length album "Blackberries" in 2007, her first EP entitled "Nobody" in November 2009, and 2011 will see the release of 3 more albums including a children's album called "La La Lu and the Lazy Moon". Most recently, Jetty Rae shared the stage with Sarah McLachlan, Miranda Lambert, and Courtyard Hounds at Lilith Fair in Detroit where she was handpicked by Sarah McLachlan and Terry McBride as the featured local artist.
Read a feature story about Jetty Rae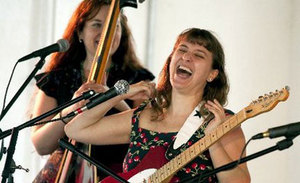 Stella! - 6 p.m.
Stella!, a four-piece, all-women, American roots band from Detroit has been referred to as a singer-songwriter super group. Featuring Jo Serrapere (Uncle Earl and Jo Serrapere and the Willie Dunns), Jen Sygit, Diana Ladio (String Cheese), and Laura Ann Bates, Stella! boasts four songwriter voices blending three-part vocal harmonies with accomplished musicianship.
Performing since: 2009.
Home base: Detroit/Ann Arbor/Lansing.
Style of music: Americana.
Members:
Jo Serrapere
(guitars, percussion, vocals),
Jen Sygit
(guitars, banjo, ukulele, vocals),
Laura Bates
(bass, vocals),
Diana Ladio
(fiddle).
Backstory behind the band's name: Name of Jo's baby daughter and her love of Elia Kazan movies (i.e. "Streetcar Named Desire").
Day jobs: Jen, Laura and Diana are full-time musicians. Jo is a clinical psychologist.
Favorite road food: Road or not it's sushi.
Favorite stage outfit: vintage dresses.
Musical hero: Patsy Cline and Tom Waits.
Website:
www.thestellagirls.com
Facebook:
www.facebook.com/Stella#!/pages/Stella/219191894781280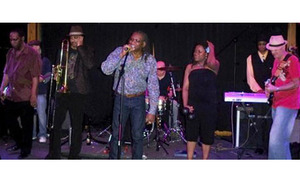 The Saints of Soul - 7 p.m.
Simmer a thick stock of old-school drums, phatback bass, crunchy guitar, and savory keys. Add a smokin' hot 3-piece horn section, a pinch of blues, jazz, and rock, and bring to a boil for scorching sonic feast.
Performing since: 1998.
Home base: Detroit.
Style of music: Motown, classic soul, R&B, funk.
Members:
Levi Johnson Jr
: lead vocals;
Rib Stone
: lead vocals;
Paul Voss
: guitar, vocals;
Chris Spooner
: bass;
Jason Bonaquist
: drums;
Keith Ponchar
: percussion;
Asim Khan
: superbone;
Billy Furman
: sax, flute, vocals;
Bill Kalinowski
: trumpet.
Backstory behind the band's name: Someone once told us that our live shows are like religious experiences.
Day jobs: Some of us have one, some of us don't .
Musical hero: James Brown, Aretha Franklin.
Website:
www.thesaintsofsoul.com
Facebook:
www.facebook.com/TheSaintsofSoul
Twitter:
www.twitter.com/TheSaintsofSoul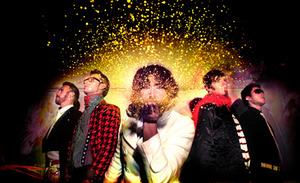 Ella Riot - 9:30 p.m.
Formerly My Dear Disco, Ann Arbor's Ella Riot fuses electro-pop, funk, rock, and techno into a distinctive sound the band members have dubbed "DanceThink." In the past three years these local favorites have launched to national attention, playing Lollapalooza, SXSW, and campuses around the country. Ella Riot delivers smart, catchy compositions that inspire a full-out explosion of expression, sound and movement on the dance floor.
Performing since: 2006.
Home base: Ann Arbor.
Style of music: DanceThink.
Members:
Michelle Chamuel
(lead vocal/keys),
Tyler Duncan
(synth/bagpipes/vocal),
Robert Lester
(guitar/vocal), and
Mike Shea
(percussion).
Backstory behind the band's name: Ella Riot was born out of trying to describe intense energy, positive force, and bright lights.
Favorite road food: fresh veggies if we can find them, local cuisine...especially southern BBQ.
Favorite stage outfit: Our cleanest, best smelling outfits—things can get stinky on the road.
Musical heros: Michael Jackson, Brazilian Girls, Max Martin, Ella Fitzgerald, Daft Punk, Imogen Heap, Stevie Wonder.
Website:
www.ellariot.com
Myspace:
www.myspace.com/ellariot
Facebook:
www.facebook.com/ellariot
After Dark with Professor Purple - 11 p.m.
After Dark puts a new "spin" on festival moonlighting. Every Friday and Saturday night, The Grove at Top of the Park hosts a late-night chill lounge after the stage bands stop playing. An exclusive showcase of guest DJs will be spinning tunes, and drink specials will be offered until midnight in this cozy outdoor lounge. Ages 21+.
Tonight:
DJ
Professor Purple
plays electro and house music.
OTHER ATTRACTIONS
Retreat: Yoga - 5-6 p.m.
A series of mind-body sessions at Top of the Park, the "Retreat" alternative happy hour lets you enjoy a relaxing late afternoon workout with classes in Yoga, Tai Chi, Pilates, Gyrokinesis, Capoeira, Middle Eastern Dance, and dance fitness. Led by experienced practitioners, all sessions are free, and take place each weekend in the gardens and courtyards surrounding Ingalls Mall.
Today:
Yoga (please bring your own mat) with A2 Yoga.
KidZone - 5-8 p.m.
As described by the festival, "An interactive area for our youngest concert-goers, the Kidzone tent provides a fun and safe area for children and their parents to discover and explore a wide variety of hands-on activities with different community partners. From getting temporary tattoos, creating homemade instruments, or jamming out rock band style, KidZone offers different nightly activities for families at Top of the Park. Open nightly 'til 8:00 pm."
Special note — free wifi:
New this year, AnnArbor.com in partnership with
20/20 Communications
is providing free public WiFi access utilizing WiMax services broadcast from the top of Tower Plaza at Top of the Park for the duration of the 2011 Summer Festival. Look for the AnnArbor.com Public WiFi SSID and get connected!
Top of the Park takes place in front of the Rackham Building on East Washington Street. In addition to the daily entertainment, a variety of local food vendors will also be on hand each night. For more information, see the
Summer Festival website
, and watch AnnArbor.com for
complete coverage of festival events
.
View Larger Map
MAINSTAGE TONIGHT
Pink Martini
Hill Auditorium, 8 p.m.
Tickets: $25-55. Information:
www.annarborsummerfestival.org
Preview article from AnnArbor.com