Posted on
Fri, Feb 11, 2011 : 8:39 a.m.
Two Ann Arborites up for classical Grammy Awards on Sunday
By Bob Needham
It won't be part of the prime-time telecast, but don't forget that Ann Arbor has a rooting interest in Sunday's Grammy Awards, which aim to honor the best in recorded music.
Earlier in the day, before the TV broadcast of the highest-profile categories, the Grammys in classical music (and other less commercial genres) will be presented. And two residents of Ann Arbor, composer Michael Daugherty and conductor John McLaughlin Williams, have recordings up for awards.
University of Michigan Professor Michael Daugherty is one of the highest-profile and most-performed composers of contemporary classical music, and his works are nominated for five Grammys this year.
Daugherty is nominated for "Best Classical Contemporary Composition" for his piece "Deus ex Machina." In addition, an album that includes that piece along with another Daugherty work, the "Metropolis Symphony," received several additional nominations. Recorded by the Nashville Symphony with conductor Giancarlo Guerrero on the respected Naxos label, the album received nods for: "Best Classical Album"; "Best Orchestral Performance"; and Terrence Wilson and Guerrero were nominated for "Best Instrumental Soloist(s) Performance (with Orchestra)." Also, the album's producer, Blanton Alspaugh, was nominated for "Producer of the Year, Classical," for his work on the Daugherty/Nashville Symphony album along with several other projects.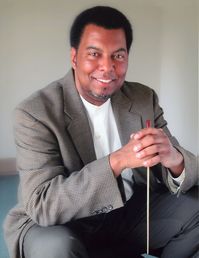 John McLaughlin Williams — a high-profile conductor who moved to Ann Arbor last year and has already won one Grammy Award — was nominated along with Eliesha Nelson and the Northwest Sinfonia under "Best Instrumental Soloist(s) Performance (with Orchestra)" for the "Concerto for Viola and Orchestra" from "Quincy Porter: The Complete Viola Works." That album was also nominated for "Best Chamber Music Performance."
Both Daugherty and WIlliams said this week they plan to attend the Grammy ceremony in Los Angeles.
In one other local angle, David Frost was nominated for classical producer of the year, for a body of work that includes a recording of the U'M's Evan Chambers' work "The Old Burying Ground," performed by Kenneth Kiesler and the University of Michigan Symphony Orchestra.
Watch AnnArbor.com for an update on how the Daugherty and Williams recordings fared, and check out the live webcast of the ceremony on the Grammy Live website starting at 4 p.m. Sunday. The classical winners are also usually briefly flashed on the screen during the Grammy telecast, set for 8 p.m. Sunday on CBS.