Posted on
Wed, May 12, 2010 : 5:50 a.m.
"A Very Potter Sequel" next likely online sensation for U-M's Team StarKid
By Jenn McKee
Note: This story contains language that may not be appropriate for children.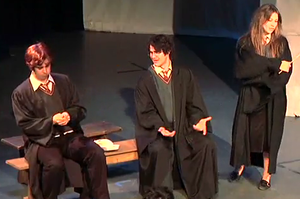 When Team StarKid — a group of (mostly) theater students, now graduates, from the University of Michigan — debuted an original show about a certain young wizard in April 2009 ("A Very Potter Musical"), they had no idea where the fan-made parody would take them.
Yes, the Basement Arts production of "AVPM," due to high demand, got an extended run; but when Team StarKid made the musical available online for friends and family via YouTube, it drew more than 100,000 views in a few weeks' time (the first video segment is currently at 1.5 million), and later earned a place in Entertainment Weekly's Top Viral Video Countdown, as well as a nomination for YouTube Video of the Year. (See a sample at the end of this post.)
So to say the show "blew up" is a bit of an understatement. And the show's creators — Matt Lang, Nick Lang, and Brian Holden wrote the script, and Darren Criss and A.J. Holmes wrote the songs — quickly found themselves in the spotlight.
The success poised the Starkids for another online hit with their follow-up show: an original musical comedy called "Me and My Dick," which premiered last October after four months in development. The show focused on an adolescent boy's relationship with, ahem, his body and sexuality.
"There was an earlier, one-act version of the story called 'Penis Play,' and before that, it was a joke that existed for years among our group of friends," said Holden. "We're hoping to get the show into the New York Fringe Festival, but if that doesn't happen, then we'll seek another way to do the show. We really want a future for it."
Building on the notoriety that Team StarKid earned with "AVPM," "Me and ...." scored more than 100,000 views on YouTube in its first week last June, and the show's soundtrack — when released via iTunes in March 2010 — quickly landed a place on the original cast recording Billboard chart, between "Rock of Ages" and "Phantom of the Opera," thereby getting the attention of celebrity blogger Perez Hilton.
What was the effect of Hilton's mention on his site?
"Our views on YouTube went up a ton!" Holden wrote in an e-mail interview. "I think that it really just helped with exposure. All my friends who follow celebrity gossip were very excited for us."
Holden now lives in Los Angeles, doing improv comedy while also auditioning for voiceover work and laboring over the highly anticipated StarKids live-on-stage premiere of "A Very Potter Sequel," which happens May 14-16 at 7 p.m. at U-M's Walgreen Drama Center's Studio One.
And before you ask, tickets are long gone. With room for only 100 people at each performance, the StarKids, in late March, posted an online video asking those who wanted the free tickets to send an e-mail request on April 3 only.
Want to guess how many e-mails the StarKids received? 4,000. And because each person could request up to four tickets, demand far outstripped supply.
Yet when dealing with an iconic character created by someone else, you must tread carefully. For this reason, the StarKids have carefully noted that "AVPM," and now "Sequel," are unofficial fan parodies, and they have never charged for tickets to the shows.
"We've never been threatened with a lawsuit or anything like that," said Holden. "We're just very cognizant that this can be a tricky situation, regarding rights of one's work, and we do our best to make everything fair."
The 40-person "Sequel" team — now holed up in Studio One for what they're calling "Camp Hogwarts" — is preparing to take the show to a Harry Potter fan conference, called Infinitus, in Orlando in July for its official premiere. Following that, "Sequel" will be posted on YouTube.
But since "AVPM" referenced events that took place over the course of all seven of J.K. Rowling's Harry Potter books, what's left to explore in the sequel?
"Sorry, we need to keep that under wraps," Holden said.
Oh, if only there was a Harry Potter expletive.
Here's the start of the original "A Very Potter Musical":
Jenn McKee is the entertainment digital journalist for AnnArbor.com. Reach her at jennmckee@annarbor.com or 734-623-2546, and follow her on Twitter @jennmckee.