Posted on
Tue, Aug 24, 2010 : 5:55 a.m.
Vienna Teng performing Ark benefit, setting music aside and moving to Ann Arbor
By Kevin Ransom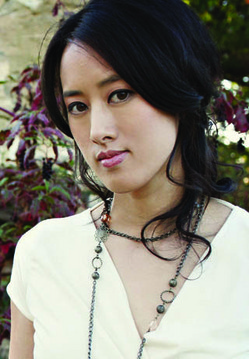 For local fans of Vienna Teng, we've got some good news and some bad news.
The good news is that she is moving to Ann Arbor in September. The bad news is that she is mostly setting aside her music career — at least for a while.
Teng has enrolled in the Erb Institute for Sustainable Enterprise at the University of Michigan. It's a three-year, dual-degree program that includes an MBA from the Ross School of Business and an MS from the School of Natural Resources & Environment.
In short, that means she'll be studying "green" businesses, to better learn how she can make more of a difference in an area that has, in the last couple of years, become her great passion — trying to solve environmental and social issues within the context of for-profit companies.
She knows her decision comes as a surprise to fans of her textured, ambitious, piano-based chamber folk. And she knows that that some fans and fellow musicians alike are baffled that she is giving up a career as a successful independent musician who has built up a loyal, discriminating audience — particularly in Ann Arbor, where she has been a favorite for the last several years.
But the seed for this new path was actually planted about 10 years ago, when she heard a lecture at Stanford University by Amory Lovins, co-author of "Natural Capitalism: Creating the Next Industrial Revolution."
PREVIEW
Vienna Teng
Who: Classically-trained pianist and delicate, emotive singer.
What: Sophisticated, sometimes complex, piano-based chamber-folk.
Where: The Ark, 316 S. Main St., Ann Arbor.
When: 8 p.m. Saturday.
How much: SOLD OUT.
"That's when my interest in environmental sustainability really kicked in, and I sort of filed it away while I devoted my time to writing, recording and performing," says Teng, who will perform a sold-out fundraiser show at The Ark on Saturday. "And since The Ark sort of took me under their wing, booking me a lot, I got to come to Ann Arbor often, and sat in on classes at the Erb Institute.
"And their approach just seemed like such an intelligent one. So, last year, I began to feel like my music was giving me permission to move on, and do this other thing for the time being. It just felt like it became something that was more important for me to immerse myself in," says Teng during a recent phone interview.
"I do believe that I am very fortunate to have a career in music, and to have the audience that I have, and I wouldn't walk away from it if this other field wasn't incredibly important to me," Teng adds. "But I actually think my music will benefit , and I will feel more satisfied, creatively, by stepping away from it for a while.
"I did some songwriting last year, but I just found my curiosity laying elsewhere — I was always drifting away to read about the carbon credit market, and about applying business principles to non-profit groups," she says with a laugh.
So, what does this mean for Teng's musical future? "I'm not exactly sure," she says. "I have this pipe dream that, after I graduate, I will be able to do both — like, spend six months a year doing one and six months doing the other — but I know that very few people get to live that kind of existence.
"So, it's possible that I'll be working in an office at a desk job for a few years, paying my dues" — and playing music on the side. That won't be a new experience for Teng, 32. She already has a degree in computer science, and spent a few years as a software engineer before quitting her job in '02 to devote herself full-time to music.
Teng does want to do the occasional live performance, but Ann Arborites shouldn't expect too many local shows from her during the year ahead. "I can't promise any regular gigs right now — I'll be spending the first year really digging into my studies as much as I can. And then, after that, maybe I'll see about doing something regular."
While Teng did some composing last year, and did some collaborations with other writers, she says her next album probably won't be released until after she graduates. "I'm a slow writer to begin with, so it probably won't be before then."
A classically trained pianist, Teng has been growing more ambitious on her recent recordings. Her last release, "Inland Territory" from '09, was her most complex album to date, one that she created with the help of her friend and producer Alex Wong. On "Territory," they cultivated a sophisticated soundscape that drew on such disparate elements as a string orchestra, tape loops, found-object rhythms, lap steel, horns and polyphonic choirs.
But her piano is usually right up front, as she unspools intricate, cascading melodic lines and nimble counterpoints. And her vocals are typically delicate and supple, but she can also sing in a forceful, emotive fashion.
In the past, Teng has talked about how her grandmother — a Chinese immigrant — had frowned on Teng pursuing a career in music, and instead strongly advised Teng to become doctor or an engineer, and find a husband with a PhD. And her parents are both well-educated professionals who have / had careers in high-tech fields. Her mother works for Apple, and her father was an engineer for IBM and other companies in Silicon Valley before retiring.
"So, my grandmother is now very happy that I am going back to school, and am pursuing this new direction — that I have 'come to my senses,' so to speak," says Teng with a laugh. "Although, that certainly is not why I'm doing this — to please my family. I'm doing this because it's something I believe in, and something that I hope will help me to be able to make a difference in terms of solving some of our social and environmental problems."
Teng knows where she will be living when she starts her U of M adventure, but, obviously doesn't want it to be public information.
"Let's just say I will be living dangerously close to Zingerman's — so I'll have to be careful that my wallet doesn't empty out too fast."