event preview
Water Hill Music Fest returning for a second year of songs and community spirit
Posted on Tue, May 1, 2012 : 11:45 a.m.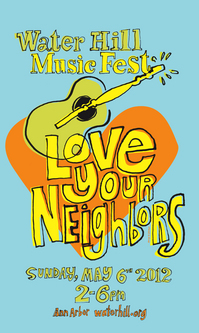 Not too much will change as the Water Hill Music Fest approaches its second year.

Why would it?

With last year's inaugural event generally considered a remarkable success, minor tweaks—and even more music—are the only differences expected this time around.

If you missed it last time, the Water Hill Music Fest is quite different from most music festivals. It takes place throughout a city neighborhood—in this case, the area immediately northwest of downtown Ann Arbor. On Sunday afternoon, dozens of residents of the neighborhood will play music on their porches for the enjoyment of visitors, who move from house to house. A specific performance schedule will be available for listeners to plan their afternoon.

And that's pretty much it. Paul Tinkerhess, who owns Fourth Avenue Birkenstock with his wife, Claire, dreamed up the festival and got it going last year, and he's overseeing things again this time.

"We're operating under the theory that the less we do as organizers, the more the event will be owned by the neighborhood, and so far that seems to be happening," Tinkerhess said in a recent interview. (He's declined a lot of requests for publicity, including some from national outlets, to keep the event on a neighborhood-friendly scale.)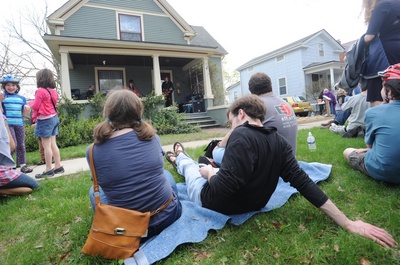 Melanie Maxwell | AnnArbor.com file photo
The biggest change is that some generous neighborhood residents have agreed to open their homes to festivalgoers needing to—um—relieve themselves. Claire Tinkerhess came up with the idea (and the name) for the Water Hill Water Closets, in which about a half-dozen designated houses will offer access to their bathrooms for those who need it.
The idea of portable toilets came up after last year's festival, but Paul Tinkerhess noted this concept can save time, energy and money, and fits right in with the festival's neighborhood orientation. It creates "the opportunity to be generous with one another," as he put it.
The neighborhood's Hunt Park also has restrooms, and other locations may be available as well; details will be available in the festival program.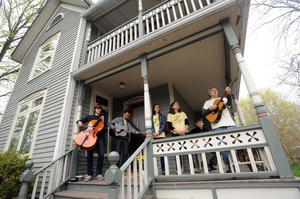 Melanie Maxwell | AnnArbor.com file photo
Under the terms of the festival, the performer or at least one member of each performing group must either live or work in the
Water Hill neighborhood, which is bounded by Miller Avenue, Sunset Road, Brooks Street and the Ann Arbor Railroad tracks
.
Tinkerhess said this week that the festival has signed up more than 260 musicians, playing at 77 different locations. Last year's event had about 60 locations.
"It's going to be bigger. It can't possibly be better. We're just hoping it will be as good, in a new way," Tinkerhess said.
T-shirts featuring the poster design by neighborhood resident Kate Uleman will be for sale at Big City Small World Bakery on Miller Avenue, and in the neighborhood, to recover costs of the festival. Programs will be available on the festival day at Big City and from festival volunteers.
Parking is free and available on many streets in the neighborhood, but walking or bicycling are recommended alternatives.
PREVIEW
Water Hill Music Fest
Who: A host of local musicians, playing varied styles, who either live or work in the Water Hill neighborhood of Ann Arbor. For a full schedule, watch the festival website or pick up a program in the neighborhood the day of the festival.
What: Four hours of music played on front porches for the enjoyment of passers-by.
Where: Water Hill, the area bordered by Miller Avenue, Sunset Road, Brooks Street and the Ann Arbor Railroad tracks.
When: 2-6 p.m. Sunday, May 6. Rain date: May 13.
How much: Free.
It's worthwhile to browse the
list of performers
, which includes a handful of names of regional and even national appeal (the Chenille Sisters, Dick Siegel & the Brandos, Khalid Hanifi and George Bedard) alongside well-known local acts (The Ron Brooks Trio, Los Gatos, Corndaddy) plus a bunch you've never heard of, but you'll be glad you did.
Among some of the attractions:
• At least three different pianists, one of whom had retired from playing but was encouraged back into performing for the festival.
• Several younger performers, including Magdalen Fossum, the young musician who has been featured at an Open Stage Showcase at The Ark.
• Maypole dancing at Belize Park, on the corner of Summit and Fountain streets.
• A don't-miss new feature being billed as "Solar Powered Musical Fortune Telling."
• One location will offer "live-band karaoke," in which festival attendees can sing along to a selection of songs played by a backing band.
For more information on the Water Hill Music Fest, see the fest's website or Facebook page.
Check out a multimedia feature on last year's event here.