Posted on
Mon, Jul 16, 2012 : 10:21 a.m.
What is in store for the Shadow Art Fair - this year and beyond?
By Jennifer Eberbach
On the surface, this summer's Shadow Art Fair seems like it will be familiar. But beneath the surface, changes might be brewing. The event's planning committee, The Michigan Design Militia, is doing a lot of thinking about what the event could become this summer and in the future.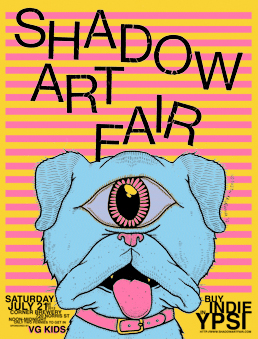 This summer's annual Shadow Art Fair will look a lot like it has in past years. Artists and vendors will populate one side of the Corner Brewery in Ypsilanti with tables full of their wares for sale. Artists will interact with the crowd through art or video projects that are frequently a little off-the-wall. Live music and films provided by the Ann Arbor Film Festival will entertain guests in the back beer garden. People will imbibe themselves with specially-crafted Shadow Brew. A new addition to the lineup this year, several comedians will perform in between bands.
The 12-hour-long event, on July 21, runs from noon to midnight. All of the action happens at the Corner Brewery in Ypsilanti.
"We've crossed a line and now we don't know where we are going to end up," says co-organizer Mark Maynard of possible developments behind the scenes. Over the years, "we've wanted to keep it small, but the idea we keep hearing from people is to do something bigger," he explains.
Fellow co-organizer Melissa Dettloff has listened to a lot of feedback from Shadow Art Fair attendees when they talk about making it bigger. "Everyone always wants to tell you what it could be. They say, you guys could do this or that and it would make it so much more than it is. But we have always (resisted) and just made it whatever we wanted it to be," she says.
PREVIEW
Shadow Art Fair
Who: Local artists, artisans and other vendors.
What: Offbeat, Ypsilanti-based alternative to the Ann Arbor Art Fair.
Where: Corner Brewery, 720 Norris St., Ypsilanti.
When: noon-midnight Saturday, July 21.
How much: Donations encouraged. For more information, see www.shadowartfair.com/
"The reality is that we are always asked the question, why aren't you trying to make money? And we might finally give in,"
Chris Sandon
, another co-organizer, says.
The group has its eyes on two potential corporate sponsors, who could possibly be a part of this summer's fair. It would be the first time that the fair received support from big companies, although they have collected donations and support from guests and local businesses or organizations such as VG Kids or the Ann Arbor Film Festival.
However, if the Shadow Art Fair is going to open itself up as a venue for companies to advertise commercial products, its organizers want to maintain some creative control over how corporations would market their goods at their community-based, DIY-style event.
"If they are going to be here, we want them to do something weird and fun, not just try to sell things. We have to be able to tweak it to be interesting," Sandon says.
If corporations end up showing up, the organizers would rather see them do funny things that would fit the event's quirky personality; simply handing out products would be too lame.
"A lot of other art fairs are doing it as businesses, which is maybe right for them. But that means they are not doing it as people who want to change things and make things interesting. I think that is the advantage that we have. It's fun to think of this as a giant art project and not a business," Maynard says.
Corporate sponsorship could open the door for a potential growth spurt. "We are talking about multiple venues and multiple days," Maynard says.
In fact, they experimented with growing the fair a couple of years ago. The small group of organizers ended up spreading themselves thin between happenings at the Corner Brewery, SPUR Studios, Dreamland Theatre, and Savoy. It was too much for them to do on their own.
"We were scrambling between different venues, and it wasn't fun for us," Sandon says. "We don't have a staff like the Ann Arbor Art Fair," and rely completely on volunteers to pull it off.
Although many independent vendors make good money selling art and wares (like T-shirts or soap) at the Shadow Art Fair, the organizers are always trying "to push more people to do weird interactive art stuff instead of just selling [stuff]," Sandon says using an expletive.
Sandon and friends that he regularly works with as a performance artist always have quirky interactive pieces up their sleeves. Vinnie Massimino and Martin Thoburn are expected to contribute interactive video pieces to this summer's fair as well. And Maynard has an idea for a "man-scaping station," (yes you heard me right) which would be a good example of how far they are willing to go for a giggle and some fun times.
At this point, it could go a few different ways. The fair could blow up into a larger event. It might just stay the same. I asked them if they would ever abandon it if the "art project" was over. It was a hard question to answer.
"If it ever wasn't interesting, then we are not going to keep doing it," Sandon answers.
Maynard jokes that on the other hand it could become "bigger than the Ann Arbor Art Fair and Burning Man combined." I don't think they will enter into any major decisions lightly.
If you were them, would you seek corporate sponsorship? What would you like to see the Shadow Art Fair become if it were to change? Leave a comment below: