Posted on
Tue, Jul 2, 2013 : 10:41 a.m.
Keeping it free: A volunteer's-eye view of the Ann Arbor Summer Festival
By Richard Retyi
Rich Retyi | Contributor
"We're hoping really hard that we can stay open."
Volunteer coordinator Sara Sanders takes me into the lobby of the Mendelssohn Theatre to escape the rain. The weather has been terrible the last few days. Basements flooding, U-M athletes mobilizing into street-team heroes—and canceled music and twilight movies at Top of the Park, the outdoor component of the Ann Arbor Summer Festival. Sanders and her volunteer crew are optimistic that today's Friday showers will stop, the clouds will part and the show will go on.
The Ann Arbor Summer Festival is in its 30th year—bigger and better than ever. And that costs money.
The costs of the Ann Arbor Summer Festival
The festival's annual budget for 2013 is approximately $378,000, which includes direct program expenses, not administrative or overhead costs. Costs include: seasonal staff ($98,000), special outdoor attractions ($60,000), artist fees ($50,000), staging, audio, tents and equipment ($47,500), security ($35,000), movie licensing ($4,500), etc.
Though more than 50 percent of the festival's total revenue comes from ticket sales and concessions, two factors keep Top of the Park—named for when it was held on the top deck of the Fletcher Street parking structure—free and fabulous: volunteers and individual donations.
Someone has consulted the weather and makes the call: The festival will go on. Sanders and I return outside, the rain has stopped, and the sky is a lighter shade of gray than it was 15 minutes ago.
When she's not coordinating some of the 300 seasonal volunteers at the A2SF, Sara is a Girl Scout troop support specialist. She is one of a handful of paid staff brought on each year to organize A2SF volunteers, who serve as ushers for indoor shows as well as staff to collect donations, answer questions, distribute information and be all-around helpful souls.
Volunteer roll call
Volunteers range in age, occupation and background. Corey Fellabaum is a 19-year-old student studying meteorology at Ball State in the fall. He grew up in Ann Arbor and decided to get involved in the A2SF after volunteering for years at the Ann Arbor Art Fair.
Fellabaum generally works as a greeter, standing near the entrance of the festival to answer questions and solicit donations. If you've visited Ingalls Mall during the A2SF, you've no doubt seen the smiling folks in green aprons standing next to 7-foot-tall donation boxes.
"Give three to keep ToP free," is the elevator pitch the greeters are given to tug at the heartstrings of attendees. Fellabaum estimates around 30 percent of people give when walking into the festival.
"It's easier to rove," he says.
Fiona and Addie, age 15 and 16, respectively, are Ann Arbor natives who are on their very first volunteer shift this year.
"It's nice to get out of the house and do something fun," says Fiona.
The duo wear red aprons and carry clear donation boxes. Their instructions are to roam around the grounds, connecting with people and asking them to contribute to the cause. I ask what tips they were given to improve their chances of a successful donation, and they each pull a crumpled handbill from a pocket in their aprons. Rain-soaked secrets to sales.
The suggested donation program started in 2009 as a way to bring greater awareness to the costs associated with producing three-plus weeks of outdoor entertainment. Previously, a single kiosk at Top of the Park had a donation bin and occasional volunteers would work the crowd and pass the hat for cash. These efforts typically brought in around $5,000 per season.
The move to Ingalls Mall brought with it increased costs and more need for support. The "Give $3" program started in 2009, with suggested donations of $3 per individual and $5 per family to help support the festival. In 2012, volunteers collected $51,258 from on-site donations. This year, the goal is $60,000. Good thing the A2SF has Bill Henderson, Susan Henderson and Jill.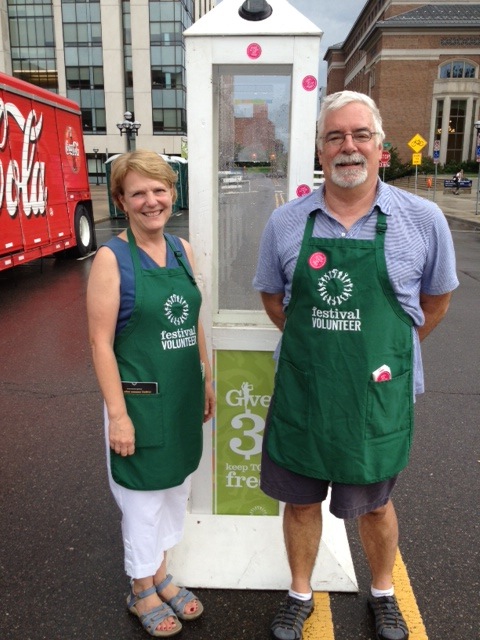 Popcorn is for closers
Bill
and
Susan Henderson
have a background in retail and a passion for the A2SF. You don't stand a chance. Susan is a retired new-ish resident of Ann Arbor, volunteering for her fourth season at the festival. Her husband, Bill, is the manager at 10,000 Villages on Main Street and the duo stand at the entrance to the A2SF on Washington Street, near the beer zone.
"If you can make eye contact, you can get something," Susan says.
"Her percentage is better than mine," Bill laughs. "Being comfortable enough to say hello to them is the first step."
Both are aware of the people who spot them in their green aprons and create a wide berth around the donation boxes. Neither takes offense. They attempt to divide and conquer their stretch of the street by standing wide apart and doing their best to engage festival goers, stay friendly and of course solicit donations. They're extremely nice and pretty good at what they do.
The first time I spot Jill, she's walking from the concessions area, swaying her hips to music and munching on a big bag of popcorn. She's a receptionist in the VP of Government Affairs office on campus and has been volunteering at the A2SF for the last five or six years. We meet at the volunteer tent and she trades her regular green apron for a red roving one and we hit the circuit. A few people avert their eyes when she approaches, but most at least hear her pitch.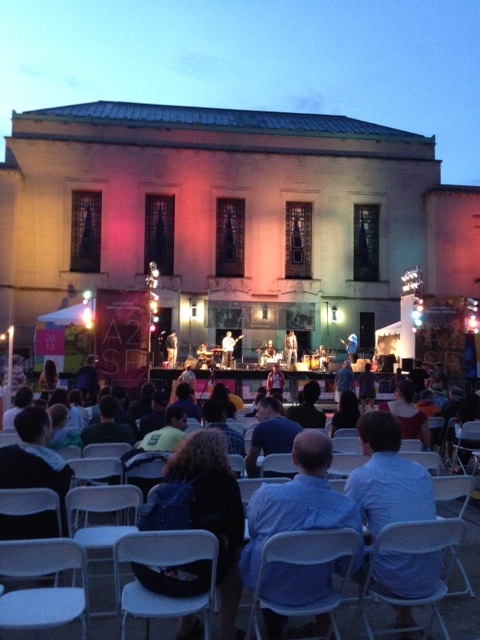 "Give three to keep ToP free," she says. A lot do. One young lady eating a sno-cone comes out of nowhere and dumps a $5 bill and some singles in the slot. Another family stuffs bills in her container. A father and son wearing "I Gave" stickers engage Jill in conversation, with the father lamenting the fact that his son has just chosen to attend Syracuse University rather than U-M. Jill: receptionist, volunteer, donation taker, therapist.
"I love all the local bands that play here," Jill says. She checked out tonight's act on YouTube before heading down to Ingalls Mall to apron up. She gets a few more hits, her box filling up, and as the band kicks into its first song and kids and brave souls start dancing up front, Jill shimmies along the aisle and keeps raking in the dough. One person specifically seeks her out, reaching over the white picket fence of the beer area which separates the tipplers from the tipple-nots, putting bills in the box.
The A2SF runs through July 7. Stop by and say hello to Sara, Fiona, Addie, Susan, Bill and Jill and give $3 to keep ToP free. Or avoid eye contact at all costs. Because seriously, if you lock eyes with these people, you'll do anything for them.
Richard Retyi returns to AnnArbor.com with his new column Hidden Ann Arbor. Rich will write about the hidden side of Ann Arbor and the things locals take for granted. In his day job, Rich is a social media director for a digital marketing agency in Ann Arbor. Read more of his stuff at RichRetyi.com or follow him on Twitter.