Posted on
Sat, Jun 29, 2013 : 5:59 a.m.
Flooding in Ann Arbor: 'We're kind of paying for the sins of our fathers'
By Ryan J. Stanton
Although the rains that inundated Ann Arbor Thursday were quite heavy, possibly qualifying as a 50-year storm event, the flooding that ensued was not a new phenomenon in the city.
Flooding problems in Ann Arbor trace back many years, and they'll take many years to address, said Evan Pratt, Washtenaw County's water resources commissioner.
"It took us 100 years to create these problems, and they're not going to go away in two years," he said on Friday. "These are things you have to chip away at, and you have to eat the elephant one bite at a time."
Pratt said Ann Arbor's storm drainage system wasn't designed to handle the kinds of major storms the city is witnessing with increased intensity in recent years.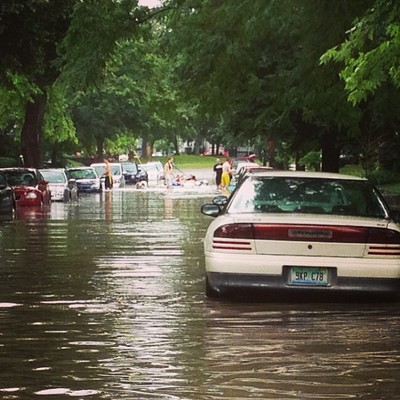 Courtesy of Judy Ramos
"Most of the city was built before stormwater was handled or managed," he said. "What we're finding is the places where we've got flooding problems, the vast majority of them don't have much, if any, detention/storage, so whatever hits the ground ends up having an impact on people."
Unfortunately, Pratt said, it's difficult to try to retrofit stormwater storage into areas that were built out decades ago without stormwater in mind.
In a way, he said, "We're kind of paying for the sins of our fathers."
Matt Kulhanek, who was the city's acting public services administrator on Friday, said parts of the city saw up to 2.5 inches of rain during the storm that rolled through Thursday.
City crews were out Friday morning addressing gravel roads that were eroded, and working with residents on seven reported cases of sewage backups.
Kulhanek said some manhole covers also were displaced during the storm, but those had been replaced and secured, and all traffic signals were functional.
Matt Warba, the city's interim field operations manager, said two of the sanitary sewer backups reported to the city as of Friday morning were on South Forest, two were on Oakwood, one was on Whitewood, one was on South Main and one was on East University.
Mayor John Hieftje noted the backups weren't in some of the other areas of the city that have been affected in the past.
"The other thing we know is the rain was intense in some small areas, and maybe not in others, and most of it came down within a half hour, which was interesting," he said. "It looks like in some parts of the city it was what's called a 25-year storm, and maybe even more in others."
University of Michigan weather observer Dennis Kahlbaum said Friday his calculations indicated the storms were "approximately a 50-year event, with some areas approaching a 100-year event." A 50-year event is one that has a 1 in 50 chance of happening in a calendar year.
Jennifer Lawson, the city's water quality manager, said residents are encouraged to contact the city about basement flooding and storm damage. She said residents' observations, including photos and videos, are helpful to the city to understand stormwater behavior in different areas.
Residents can email photos or video to stormmodel@a2gov.org.
The city of Ann Arbor, in close cooperation with the Washtenaw County Water Resources Commissioner's Office, has multiple efforts underway that involve taking a close look at the city's stormwater and sanitary sewer systems and related flooding problems.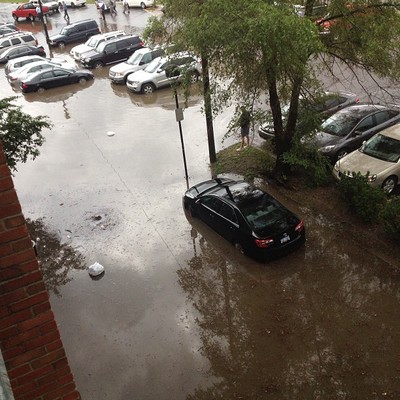 Courtesy of Celia Haven
That includes a
two-year study
that involves monitoring and evaluating stormwater behavior throughout the city.
The study includes intensive data gathering to fine-tune or calibrate the city's existing stormwater model, which will be used to develop recommendations for improving the city's stormwater system.
"The stormwater system we have in Ann Arbor was put in before the Korean War," Lawson said, noting design requirements were different back then.
"We have a lot of pipe that either needs to be changed, rebuilt or improved, and this model project is the first step in that process of really building the science behind our stormwater management system so we can make sound decisions on future improvements to the stormwater system."
Lawson said the city's engineers are constantly looking for innovative techniques for managing stormwater, but the city's philosophy remains that larger pipes are not necessarily the best solution, because all they do is push the water downstream.
In looking at the actual inlets into the storm sewer system, Lawson said, there are areas where there maybe aren't enough inlets or there are inlets that are clogged.
The city is looking at possibly adding new inlets in some areas, and modifying street sweeping and catch basin maintenance programs to combat clogging.
"And as we move forward with any capital improvement projects, we do require stormwater management as a part of these road projects," Lawson said. "Before, oftentimes roads were put in without stormwater detention or stormwater infiltration."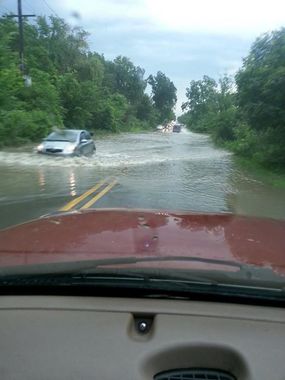 Reader photo
Pratt said the city is doing a good job of incorporating stormwater management into major street reconstruction projects.
He pointed to the ongoing reconstruction of Fourth Avenue downtown, which includes the installation of a stormwater management system that will allow rain to collect in a stone reservoir located under the street surface and infiltrate back into the ground, thereby removing flow from the city's storm sewer system. Water essentially will hit the pavement, flow to the curb, find its way into the nearest catch basin, and then follow a pipe with holes in it and drain into the bed beneath the road.
"Conceptually they're soaking the water into the ground rather than sending it into a pipe," Pratt said. "And they're soaking the water into the ground while they're using traditional pavement."
The city also has plans for major stormwater improvements when it reconstructs Madison Street this summer, replacing the existing composite pavement (asphalt over concrete) with a new full depth section comprised of sand, stone and asphalt layers. The design uses infiltration and detention techniques such as bio-retention (rain gardens) and perforated/upsized storm sewer pipe to achieve improved stormwater quality and reduced flows into the Allen Creek.
Pratt said he also wants to see heightened stormwater standards for new development that reflect the increasing intensity of storms.
His office is working to change its own standards to require ground infiltration for at least the first inch of rain that falls — thinking the more rain that can soak into the ground, the better.
Pratt said he hopes to see more development like the apartment complex that's been approved for 618 S. Main St., the former Fox Tent & Awning property.
Stormwater detention for a 100-year flood is proposed there, with three rain garden/bio-retention areas on the west side of the site. The project increases the property's drainage surface by more than 18,000 square feet, which will be used for stormwater infiltration.
Pratt noted the site is designed so that no stormwater will be discharged into the city's storm sewer system — an improvement over the current system that sends the water into the storm drain for the Allen Creek, which drains out to the Huron River.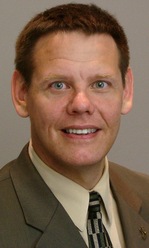 "The city is trying to do their part, and we're trying to work with the city to up the development standards and require soaking it into the ground," Pratt said. "Somebody taught me a long time ago, there will always be a bigger storm — no matter what you design, build or think up. If you build a bigger pipe, there will always be a bigger storm."
Pratt's office recently beta-tested an online flood-reporting application to allow people to use their mobile devices or computers to quickly report flooding problems.
The app is up and running, and can be found here, but it's still being fine-tuned.
The app asks people to enter their name and contact information, time and date of flooding, and description of the flooding. It also allows for uploading photos.
"It was a pretty wet night," Pratt said, summing up Thursday's storm. "I haven't gone back and looked at it, but before that 6 o'clock second burst hit, we already were seeing rain gauges pushing something equivalent to a 50-year storm.
He added, "We are having more intense storms more frequently."
Pratt said progress is being made on possible solutions for the flooding problems around Lansdowne and there will be a public meeting in August to discuss the benefits of different options.
He noted a complete reconstruction of Scio Church Road from Main Street to east of Seventh Street already is planned for 2015 and is expected to include major stormwater management upgrades that will reduce the amount of water that moves over the road into the neighborhood.
That's on a new list of 20 projects related to water quality in the Huron River watershed that Pratt's office is trying to get state funding for right now.
Ryan J. Stanton covers government and politics for AnnArbor.com. Reach him at ryanstanton@annarbor.com or 734-623-2529. You also can follow him on Twitter or subscribe to AnnArbor.com's email newsletters.