Posted on
Wed, Jul 31, 2013 : 10:03 a.m.
With a baby on board, Erin Zindle and The Ragbirds playing Sonic Lunch Thursday before taking a break
By Roger LeLievre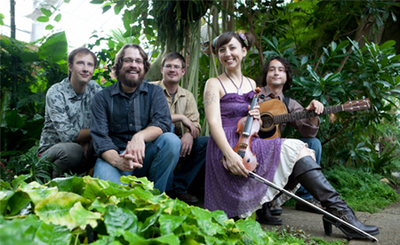 When you ask Erin Zindle, the front woman for Ypsilanti-based folk and world music band
The Ragbirds
, what's new, she doesn't have to think very long to come up with an answer.
"I'm seven and a half months pregnant," she responds during a recent interview. The Ragbirds will play a free show at Sonic Lunch Thursday at noon, and then take a break from performing. Zindle—who is married to Ragbirds percussionist Randall Moore—is due Aug. 20.
"It's kind of a good way to send off I think," she said. "We have some shows booked at the end of September and early October, so we're hoping to get back on the road then, touring with the baby, actually."
Zindle spoke to annarbor.com by phone from Michigan's Interlochen Center for the Arts, where she is in her third summer teaching songwriting to teenagers from all over the world as part of a program headed by another Ann Arbor musician, Dick Siegel.
"Interlochen is such a great place, so rich with inspiration. It's exciting to be here," she said.
Zindle and Moore began their relationship busking on the streets of Ann Arbor with Celtic and Gypsy fiddling over the tricky beats of tambourine, Middle Eastern doumbek and tabla. In 2005 the duo gathered three band mates and began to record Erin's original songs. Erin's brother, guitarist T.J. Zindle, joined the band in 2008 and in 2010 the current lineup came together with bassist Brian Crist and drummer Loren Kranz.
In 2011, The Ragbirds set a goal of $10,000 on the crowdfunding Web site Kickstarter and raised more than $16,000, pledged by 292 backers, to help pay the costs of recording a new CD. "Travelin' Machine'" was released in 2012, followed by the live disc "We Belong to the Love" this past February.
PREVIEW
The Ragbirds
Who: Ypsilanti-based band fronted by vocalist/multi-instrumentalist Erin Zindle.
What: Folk and world music presented as part of Bank of Ann Arbor's Sonic Lunch series.
Where: Liberty Plaza, corner of South Division and East Liberty streets.
When: Noon on Thursday, Aug. 1.
How much: Free. Info: www.soniclunch.com.
Zindle said the band is again turning to Kickstarter, hoping to
raise $20,000 to fund the purchase
of a larger tour bus to accommodate the new baby plus a road nanny. As they have with present and past vehicles, it will be converted to burn recycled waste vegetable oil, thus promoting environmental sustainability.
"With the baby on the road with us and with the road nanny we can't really accommodate the next phase of our touring life with what we have now," said Zindle.
"The thing about me going back to work is I'm not going back to an eight-hour job where I am just gone from the baby off somewhere all day," she added. "I can be with my baby on the road … so we'll have somebody to take care of and put the baby to bed if it's a late show and such. It seems like it will work, in theory. Having never done it before we are going to take it a little bit at a time and figure out what's best for everybody."
Bank of Ann Arbor and Ann Arbor radio station 107.1 are the key organizations behind Sonic Lunch.
"We worked hard to arrange the schedule to get The Ragbirds in before Erin's maternity leave," said Tim Marshall, Bank of Ann Arbor president and CEO, who considers himself a huge fan of the band.
"The Ragbirds are one of only three acts (the other two are Theo Katzman and Laith Al-Saadi) who have played every year since Sonic Lunch started in 2008," he said.
Marshall said he knows just what makes The Ragbirds a favorite band of his.
"They're fun, they're uplifting, it's a positive experience. They make you feel good. Erin is the front woman and who's got more energy and charisma than Erin? The whole team around her are very talented musicians," he said.
He also said he's delighted Sonic Lunch as become such a popular Ann Arbor event so quickly.
"I'm not sure back in those fledgling days we ever thought it would get to the kind of a tradition status that it has achieved in such a short period of time. … Now we have people contacting us who want to participate in the Bank of Ann Arbor Sonic Lunch series."